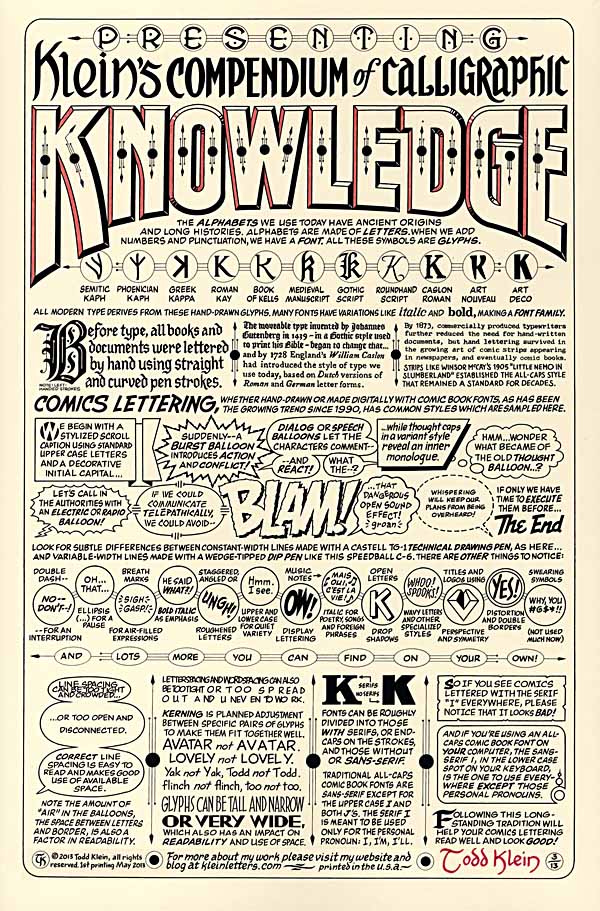 For 20 years, ace letterer Todd Klein has been releasing a series of prints showcasing his calligraphic skills. Many were done with writers supplying the text—Neil Gaiman and Bill Willingham among them—but his new one goes all meta with KLEIN'S COMPENDIUM OF CALLIGRAPHIC KNOWLEDGE and for anyone who knows what a Speedball is, it may be the most wonderful one of all:
I'm pleased to announce that my newest signed print, representing the letter K in my alphabetical series, full title: KLEIN'S COMPENDIUM OF CALLIGRAPHIC KNOWLEDGE goes on sale today, Tuesday, September 17th. Commemorating the 20th anniversary of my very first signed print, "A Lettering Sampler," the new print is also focused on lettering, fonts and font use. As with all my prints, it's 11 by 17 inches, printed in black on sturdy card stock, and each print has hand-painted Indian Red watercolor on the title. Every print is signed in a similar red color. The edition is 300 copies, and sells for $16 plus shipping.

Details of the print creation is here. Info on how to purchase it here.