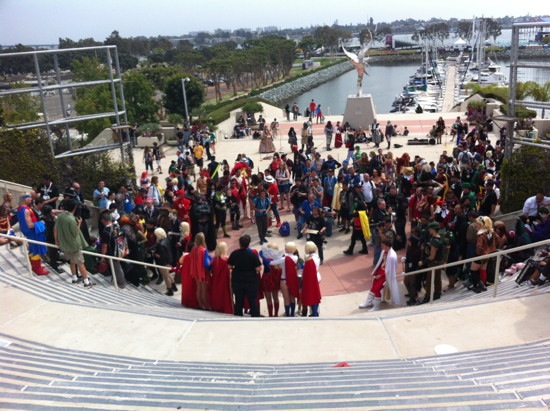 Last week Denise Dorman, wife of veteran artist Dave Dorman, who is best known for his excellent painted covers, wrote a post on her blog, which is called Comic Book Wife. The post was titled: The Hidden TRUTH About Comic Book Convention Earnings: For Creators, Have Comic Book Conventions JUMPED THE SHARK? in which she pointed out that sales for her husband were off at several shows this year, and given the costs of exhibiting—hotels booths, food, travel—it made more sense to stay at home and do actual money making work.
The same was true for San Diego Comic-Con. Normally, we at least cover our costs. This year we spent $7,000 to exhibit at #SDCC, between the booth space rental, hotel, car rental and food expenses. This year, we came home $1k in the hole. So I started asking around…again, I asked equally famous, equally in-demand artists, writers, and creators. The post-mortem was that everyone either lost money on this show or barely covered expenses, and some very famous artists–household names you would know–are questioning whether they will bother returning next year. Even the biggest comics exhibitor with several booths, Mile High Comics, announced they were pulling out next year, in a much-publicized story in the New York Times–admitting they suffered a $10,000 loss at the show this year. (Their status on exhibiting next year may have since changed – I haven't followed the story that closely, but it drives home my point.)

I have slowly come realize that in this selfie-obsessed, Instagram Era, COSPLAY is the new focus of these conventions–seeing and being seen, like some giant masquerade party. Conventions are no longer shows about commerce, product launches, and celebrating the people who created this genre in the first place. I've seen it first-hand–the uber-famous artist who traveled all of the way from Japan, sitting at Comic-Con, drawing as no one even paid attention to him, while the cosplayers held up floor traffic and fans surround the cosplayers–rather than the famed industry household name–to pose for selfies.

This story was picked up by ICv2's Rob Salkowitz in a story called Winners and Losers in the New Convention Economy, where Salkowitz pointed out many salient facts about the changing world of comic cons.
A vanishing way of life.  I followed up with Dorman to get some additional perspective.  She says Dave goes to 6 – 8 shows per year, ranging from San Diego Comic-Con to big regional shows like Motor City Con and C2E2 to smaller local cons.  He's been on the circuit since the mid-80s and usually does good business selling prints, sketchbooks and original art.  A good weekend nets between several hundred and several thousand dollars.
 
But good weekends have been hard to come by in recent times.  The Dormans lost more than a thousand dollars at this year's SDCC and comparable amounts at other large, general interest "pop culture" shows.  This echoes the experience of many fellow pros, she says.
 
"Dave's fans are in their 40s and 50s.  These shows are exhausting and expensive for them.  And a lot of them are still feeling the pinch from the economic downturn.  They were middle class and got wiped out."

And then Bleeding Cool also picked up the story but with the headline "Denise Dorman Asks – Is Cosplay Killing Comic Con?" — and then of course, all hell broke loose. Because this title allowed all the very real concerns over the number, slant and marketing of the current comic-con boom to get tied in with the "Fake geek girl," anti-cosplay feelings which are also running rampant among comics pros and fans.
Denise Dorman's claim that older fans are getting shut out would come as a surprise to anyone who was at Baltimore Comic Con a few weeks ago, where older veteran artists were doing a brisk business. I was standing by Rick Veitch, who hasn't been at a show in years, for a few moments and he was selling original art like crazy. However, almost everyone I talked to was concerned about the growing number of cons, the increasing Norman Reedus-ification of things billed as "comic-con" thanks to Wizard's 20+ show schedule, and the wear and tear of travel and expense. I myself have done three shows in three weeks and I'M DONE, even though I now need to get ready for New York Comic-Con in a few short days.
The BC headline definitely ignited a firestorm of talk on the topic. You can find hundreds of comments on Facebook and twitter. Denise Dorman herself backed away from placing the blame on cosplay alone in a FB comment:
Denise McDonald Dorman For once and for all – I am NOT BLAMING THE COSPLAYERS. I am blaming the SHIFT in the industry from being a COMMERCE-driven event to becoming a SOCIAL event.
A few people storified theirs. here's Jim Zub:
Here's Jill Friedman, with a very handy list of OTHER factors affecting comic-cons:
Here are a few public FB threads
Dave Dorman
Reilly Brown who writes:
Figuring out if a convention will be profitable is an important part of deciding whether to display there at all. Some conventions are certainly better for different things, and sometimes you can earn more money at the smaller shows than the bigger ones if the people coming out are actually the people who are interested in supporting your work, as opposed to the ones who just want to check out the parade.

For instance, this year I've been doing amazingly well at most cons I've participated in, but even so it was my worst SDCC in years. It just attracts a different audience, interested in different things. That's the same reason I stopped attending Wizard conventions years ago.
The sad, simple truth is that some comic conventions really aren't for the comics creators any more.
There's one pro with a particularly juicy thread but it's not public. Let's just say this has drawn a LOT of different views. There's also this piece pointing out the many elements that are changing comic-cons. .
Some people have blamed the Dorman's themselves for not changing with the times. (The last time Dorman was in the news it was for objecting to the breast-feeding cover on Saga #1, something he eventually apologized for.) But the Dorman's are active participants in social media, interacting with fans and announcing show appearances. Clearly using the tools that Apple and Google gave you isn't thew only factor here.
If there's one consensus that I've been covering here for the last 12 months, it's that there are TOO MANY SHOWS for anyone to do all of them. A lot of artists who turned into road warriors because of the money they made, have trimmed back because not all shows make money. The Wizard World tour is particularly controversial element—they have an aggressively media-centered focus, but some artists do very well at them. Other's find them a waste of time and will never go back.
Colleen Doran has written extensively about marketing herself at shows in the past. There are more than 1000 fan events around the world every year. Finding a niche market for yourself that works is a better approach than the shotgun of travel and hotel rooms.
One thing is for sure, the number of shows isn't going to go down in the short term. (I think we may have reached peek con, though.) Word on the street is that Wizard World is expanding it's shows with "Social Con," a series of ancillary events that will target teenage YouTube and Vine stars. While just billing autograph shows as autograph shows doesn't seem to work, given the right marketing, the "Social Dn" model could be very successful and draw a huge teen-aged fandom that wasn't previously present at these kind of events. Are they going to be interested in Dave Dorman's paintings? That's more of a stretch.
The bottom line: being realistic about your audience is one of the most important tools in marketing yourself.