---
Here's the map of the area:
If you're on the subway, take the 7 train to Hudson Yards/34th Street. If you want to beat the crowds out of that station, stand in the front two cars of the train. If you need an elevator, then you'll have to walk along the mezzanine to the far downtown side of the station. Otherwise, I recommend using the bank of escalators.
Once you're outside:
If you're attending as a fan, walk towards 39th street, where you'll be tapped in by ReedPOP staff.
Inside:
You'll be guided downstairs, to Hall 1C. There, you'll go left to get in line for a panel (and eventually, a wristband), or you'll go to the right to get in line for entry to the show floor upstairs. The info desk will have a giant display board listing which panels are available.
If you're a VIP badge holder, or one of the other non-fan groups, then you'll line up outside the entrances to 3-C and 3-E upstairs.
The Big Picture: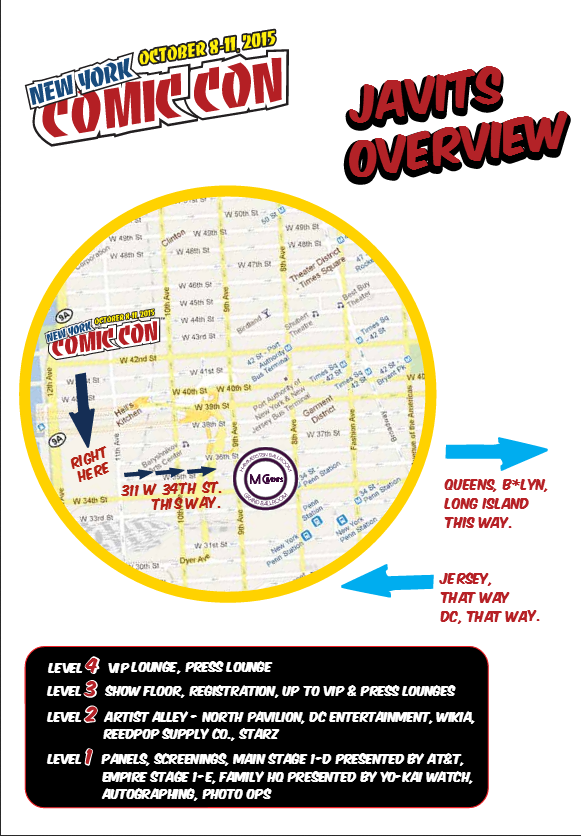 Hammerstein Ballroom is hosting many panels on Friday and Saturday.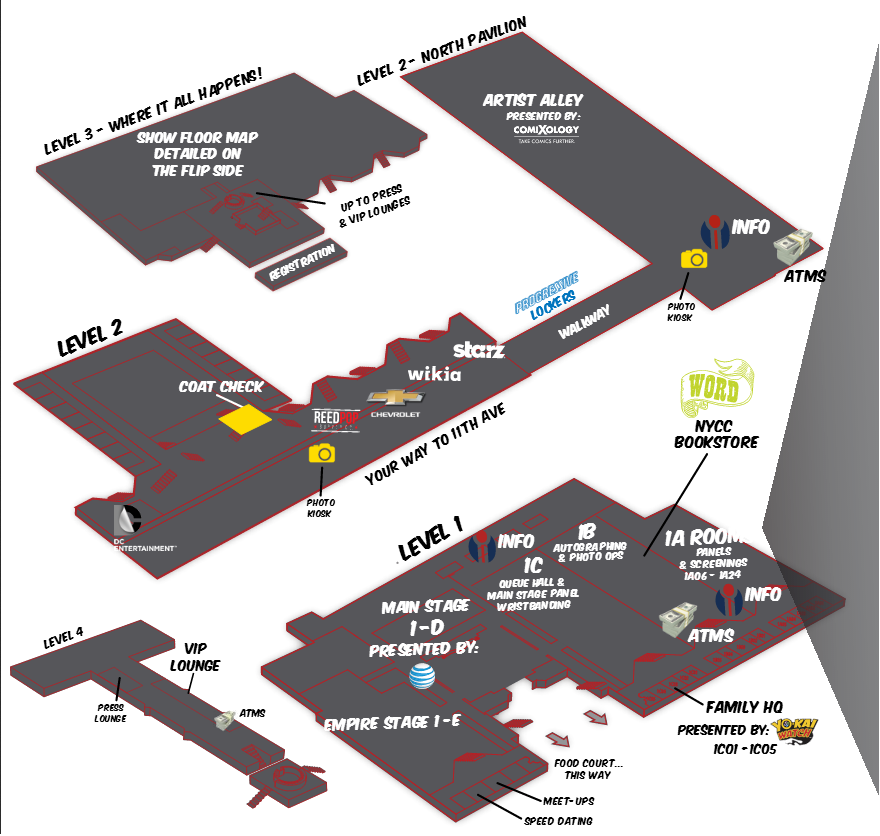 Yes, Progressive Insurance is sponsoring lockers. We'll see how well that works. I hope it does…
The photo kiosks look like they might be backdrops, like you see at red carpet events.
The layout is very similar to previous years.
The only ATMs on the show floor are on the far south side of 3-E. (Chase has two permanent locations, if you'd like to save on service fees. Some retailers will accept credit cards.)
Only one coat check? Sometimes, a satellite location will be placed outside "2-A", near Starz.
Here's the layout for the panel rooms in Hall 1-A.
The Show Floor:

New this year: The Livestream Village sponsored by Marriott and Twitch.
Also, note the four large booths outside the hall, near that big circle and square.
---