As someone who spends more time on the other side of comics—not creating, but consuming—I've long been fascinated with the prospect of contributing my own piece to the form. I simply never knew what the subject matter could be. That was until, I found my muse: a proposal.
Let me back up a moment. Earlier this summer, I got engaged to the love of my life, Eden. We met each other an interesting time in our lives. We were both in our early thirties (I entered my third decade only a few weeks before our first date), Jewish, had mutual friends, and were natives of Phoenix, our home town. Over the next several months, Eden and I became inseparable. Call it love, call it luck, call it some kind of metaphysical power, but I knew that Eden and I were destined to be.
By the middle of June, I had a ring and a plan. After a delicious brunch at one of our favorite joints—El Chorro (yum!)—we walked the grounds and, in the shadow of saguaro, cholla, and the peak of Camelback Mountain, I popped the question. I was nervous. Eden was surprised. It was a magical moment.
Now, I'm the sentimental type, so I wanted a way to commemorate this major milestone in a significant way. And my first thought was to write a comic. Inspired by my pal Jeff Newelt and the comic he wrote to propose to his wife, Erica, I had a template to work off of. (Thanks, Jeff!) Now, I just needed an artist. I've been fortunate at my time at The Beat to get to know the most talented artists in the comics world. So, I knew from the start that I wanted an artist who could capture the moment in a unique way.
The only question was who.
I was so fortunate that I found that artist in Aron Nels Steinke, the creator of the Mr. Wolf's Class series for Graphix (the first volume of which I thought was one of the best comics of last year). There's such an inviting, universal charm to his work that I found appealing. When I interviewed Aron at San Diego Comic-Con earlier this year, I asked him what he thought about the idea of capturing my marriage proposal as a comic. Thankfully, he agreed. I wrote the script Harvey Pekar-style (crude stick figures and dialogue) and gave that to Aron. Though I knew he was swamped already as he worked on the latest Mr. Wolf's Class book, he generously took the time to translate my chicken scratches and rudimentary drawings and turned it into the comic below.
Here is the full comic, which I titled "Banana Pancakes" after our favorite brunch item at El Chorro!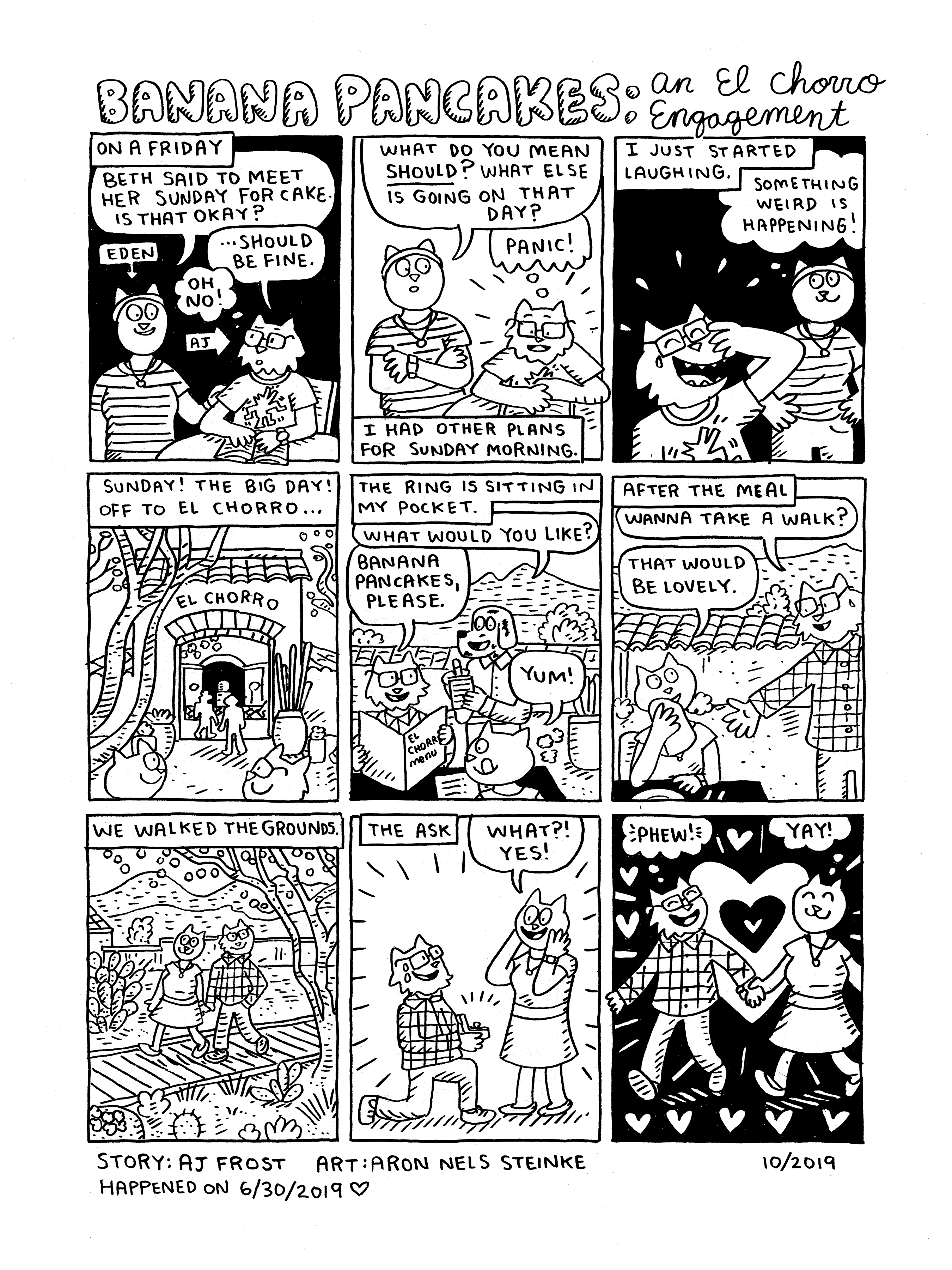 If I don't say so myself, I think Aron is a genius. His attention to detail elevated this comic above my wildest dreams (yes, I do own a shirt with a Keith Haring print on it!). His rendering of Eden and me as cats was an inspired (and cute) choice, and I'm absolutely floored by his rendering of desert fauna.
It was so fun to write this comic and to see it grow from an idea rattling in my mind to a piece that now hangs in our house. And I'm so happy to share it with you, dear reader, here at The Beat. That's the power of love… and comics.