Down and dirty today… too tired, and I'm not even there!  Click the headlines for the links!
The collection was donated to SDSU by Doug Highsmith, Michael Watson, Jack Sword, Donna Barr, and Richard Alf, who was one of the founders of San Diego Comic Con in 1970.

"It's pretty cool," said Jackson.

UC Riverside also donated thousands of comics from its collection.

The collection is so vast, Jackson is taking a sabbatical to focus solely on getting the comics ready for the classroom.
San Diego is still struggling to work out financing plans for a Chargers stadium and expansion of the Convention Center.

While the city continues its work on a stadium plan, the same cannot be said for the convention center.

The expansion was supposed to begin last fall, but the courts ruled the taxing plan was unconstitutional because it wasn't approved by voters.

So right now, there are two major projects the city wants, but the cost to taxpayers is now a billion dollars.
One plan is to build a two-in-one building.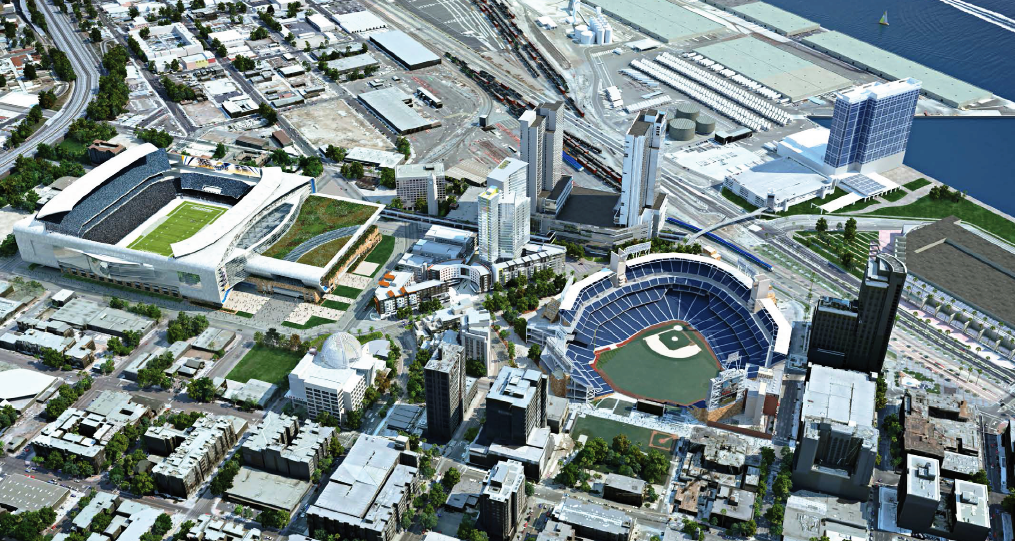 The stadium up top, with a convention center space beneath and to the side.  It would not be connected to convention center, seen to the far right of PETCO Park.
Chargers vs Comic-Con?
The San Diego Union-Tribune polled readers: Chargers or Comic-Con?
Which is more important to San Diego, Comic-Con or the Chargers?
…and their sports reporter opines.
But I grew up here, in Little Italy, with so many other street rats, who easily recall when San Diego's downtown was a sea of white sailor caps, when our major sports teams were San Diego High, the minor league Padres and a sad San Diego State program. Our sports idols were from "somewhere else."
The Chargers' arriving in 1961 changed all that, changed this city's small-time persona, something obviously many thousands who later arrived from "somewhere else" don't give a damn about now. Without them, no Padres.
And another reporter offers an economic analysis:
A good start would be to fully appreciate why funding a new NFL stadium is such a bad business idea for the public.

For openers, it's incredibly expensive. Based on recent NFL deals in mid-sized markets like San Diego's, the Chargers are unlikely to settle for less than a $1.2 billion venue, with just $200 million or so coming from its owners.

About half of the construction cost, say $600 million, would come from the public. The rest, $400 million, presumably would come from fans as "seat licenses" and an NFL loan financed by club seat revenues, along with naming rights from an advertiser.

And the public generally doesn't get an accurate estimate of longer-term costs, such as foregone property taxes, upkeep and operating subsidies, according to a 2012 study of public-private deals by University of Michigan planning and sports management professor Judith Grant Long.

Such hidden costs add 25 percent to the average total project, she estimated. If you're keeping score at home, being average would push San Diego's public tab to $900 million.
"Flying in here today at supersonic speed made me realize a couple things. First, you all look like ants from way up there. And second, flying through the cold, damp marine layer feels the same as eating ice cream too fast—hello, brain freeze! But now that I can see the Tele-Prompters, I can tell you that I wouldn't be anywhere else than right here, welcoming the world to Comic-Con 2015, or as I like to call it, my 're-election trump card.' Here's looking at you, Donald Trump cosplay character there in the back! Awesome.

"I call it my trump card because, as you might have heard, I was able to secure this iconic convention for San Diego at least through 2018, which just happens to be the year when Californians will be shopping for a new governor. But I'm getting ahead of myself.
Beware the Zombies! They Have Personal Injury Lawyers!
But this year, the walk was placed "on indefinite hiatus due to legal matters stemming from the vehicular incident following last year's walk," according to the Facebook page of Zombie Walk.

Matthew Pocci Jr., 48, is set for trial Oct. 13 on a charge of felony reckless driving causing bodily injury.

Pocci was driving with his girlfriend, her sister, and the sister's 9-year-old son during last year's Zombie Walk near the Convention Center when the incident occurred.

Pocci, who is deaf, said he accelerated at an intersection when zombie marchers began pounding on his car and his passengers became frightened. A 64-year-old woman who was taking pictures of the marchers was hit and injured by his car.

Pocci has filed a claim against the city, asserting the San Diego Police Department did not adequately supervise the march to prevent accidents. The injured woman has filed a similar claim.
So… the case moves forward, but the Zombie Walk is halted.
Property rental website Airbnb has seen a near tripling over last year for local reservations booked ahead of this year's Comic-Con International, set for July 9-12 at San Diego Convention Center.

Alison Schumer, spokeswoman for San Francisco-based Airbnb, said nearly 2,200 reservations were booked on the site for 5,800 guests in nearly 2,000 San Diego market listings ahead of this year's Comic-Con. That's 70 percent more short-term rentals than the site normally sees for a typical weekend in San Diego.

In 2014, there were nearly 800 reservations made ahead of Comic-Con for 1,800 guests in nearly 700 listings by owners of houses and apartments.
YMMV.
"We are going to have extra staffing there this year to make sure the citizens are safe. We don't have any specific threats, but we have protocols in place to heighten security to ensure we have a safe event," says Lt. Paul Connelly.

SDPD will be working with federal officials as well as private security guards both in and around the convention center. 130,000 people are expected to attend Comic-Con this year in addition to the thousands who plan to visit without tickets.
STOP! Or you'll go blind!
More on the Naughty America VR "game"…
Andreas Hronopoulos CEO of Naughty America said that each week the company will be releasing new VR porn scenes on the company's official website.

"Our customers want to get as close to reality as they can get, without reality getting in the way."
And that… that's the Fundamental Theorem of Fandom.
Disney/Marvel Tidbits:
"We like the Marvel slate that we have coming up," said Iger. "We think they're unique in many ways and have no concerns [about competition] whatsoever."
Paul Rudd and Kevin Feige talk about Ant-Man, the movie's troubled and length
Other studios now are copying the Marvel game plan, trying to create their own universes. Is it getting too crowded?

FEIGE For the most part, that's been the case since 2003. There was Iron Man, there was Hulk,Punisher – maybe that was 2003 – Daredevil, Fantastic Four, Iron Man 2, Spider-Man 3. There really has been three or four a year almost every year that I've been working here. And I feel the same way I did then. We're just going to continue doing what we're doing. We can't control what other people do. We can get excited about it when [other studios' films are] good and root for them. Because the more of these films that are successful, the more audiences are going to be excited for the next one, especially if they are not delineating between the universes. And as long as ours are distinct – not from everything else because I don't know what everybody else is doing – but from each other, I think our plan that we outlined last October represents a very clear and exciting four-year plan.
…and Disney's Star Wars timetable was leaked. Is it true? Time will tell.
---