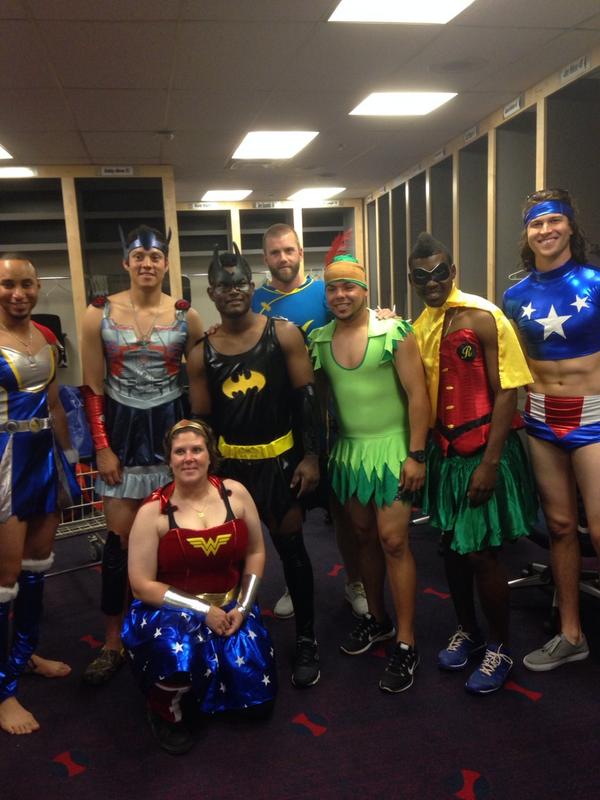 Where is Milo Manara when you need him? The regulation baseball season has seven days to go, which can't come soon enough for NY baseball fans, although the tearful Derek Jeter final sendoff still looms. In another fall ritual, baseball rookies were subjected to generally harmless "hazing."A few years ago this consisted of just wearing a My Little Pony backpack around the bullpen, but since that's practically normal now, the ritual has become much more complicated, as the NY Mets rookies were required to dress as female superheroes for the road trip from Atlanta to Washington.
While even I can't ID all of them from left to right that's Dario Alvarez, Wilmer Flores as Lady Thor, Dilson Hererra as a saucy Batgirl, unknown, Juan Centeno as Lady Green Lantern, unknown and slender rookie phenom pitcher Jacob DeGrom rocking a bold (some called it skimpy) "Pretty Patriot" outfit. Also unknown s Wonder Woman in the front row. Hey, they're rookies who just got called up! I am saddened that we didn't get to see Jeurys Famiglia as Power Girl.
While this is a hazing ritual everyone seems to be taking it with very good humor.
Jacob deGrom and Juan Centeno. Rest will be on blog … pic.twitter.com/PGQnRXEnJX

— Adam Rubin (@AdamRubinMedia) September 21, 2014
Rookie hazing: Wilmer Flores and Juan Centeno pic.twitter.com/E0fp52fK5W

— Jay Horwitz (@Jay_HorwitzPR) September 21, 2014
In case you were wondering, the LA Dodgers rookies had a similar stunt but got to dress as male superheroes.