This might be the closest we'll come to a Hall H for Marvel and Star Wars this year: Disney's Investor Day Presentation this afternoon is expected to include major announcements about the future of Star Wars, The MCU, Disney+, Pixar and the rest of the sprawling Disney empire.
Even Disney has been struggling during the pandemic, laying off 30,000 people and reeling from the closures of their lucrative theme parks. However Disney+ has been a bright spot…and streaming is the future, we kept being reminded. And they own a war chest of the biggest IP in the known universe.
We'll be tag teaming here to keep you abreast of the developments at the event, which is scheduled to go for as long as four hours. Will Bob Iger finally retire for good? Is Black Widow coming to Disney+ instead of a theatrical release? When are the Mutants coming to Disney? Will they cancel the Mandalorian?
Stay tuned!
---
Studio Head Bob Chapek is out to give us a bird's eye look at the buzzwords! Disney will be even more nimble, with content and content delivery, driven by a wealth of research data. The new executive structure will also help deal with consumers' rapidly changing consumption patterns, he says.
Chapek goes back to a schematic that Walt himself made showing storytelling at the heart of all their efforts in all synergies and segments.
Teasing upcoming MCU announcements!
Kareem Daniel is now out to talk about their new media and entertainment distribution division which he heads, and talking more about their market research which helps them allocate annual budgets across platforms to maximize interaction and impact. (I warned ya it would be buzzwords.)
Theatrical distribution helps establish the primacy of the franchises at the heart of their creative flywheel, says Daniel, meaning you can't replicate the splash of a theatrical release on streaming.
Over the next few years, Marvel will release 10 Marvel series, 10 Star Wars series and 15 Disney live-action series, and 15 live-action and animated films to Disney+, he announces! All under this new Disney+ Original logo.
Announcement: Raya and the Last Dragon is coming to Disney+ Premier Access (assuming this means the Mulan price point) and in theaters simultaneously.
And now Rebecca Campbell, Chairman, International Operations and Direct-to-Consumer, is out and to announce there are 86.8 million Disney+ subscribers. Numbers are above guidance for all three streaming services, Hulu and ESPN included.
Michael Paull president of Disney+ and Hulu+ is out to talk devices and apps and so on. They have an extensive device footprint globally — they made deals with Apple, Amazon and Roku, and a brand new deal with Comcast he says. (Little dig at HBO MAX which still isn't on Roku perhaps?) Verizon customers get a Disney bundle for $12.99.
In January Hulu with no ads will come to Disney Bundle for just $6 more, he says.
They are bundling everything across the world! Including a Disney+ bundle that comes with Fortnite. You gotta have something to do on that island.
Campbell comes back to talk about Disney+ expanding internationally, a huge art of subscriber growth. She uses India as an example, marketing to the growing middle class. A big opportunity! They are launching there with Disney+ HotStar, which includes LCOAL content, including Bollywood movies in 7 local languages and the most important cricket events in the world, including the Cricket World Cup. Cricket is huge in India, in case you were not aware.
And here is the news about Star and Star+ their new international streaming platform, kind of Hulu for the world — it will be the sixth brand tile on Disney+. Star will include global hit series, blockbuster films and library content from Disney library and Fox acquisition.
Star launches in February…and along with it comes a price increase for Disney+ in other companies.
Jerrell Jimerson, streaming chief product offer comes out to explain what Star is. It's War for the Planet of the Apes and Family Guy! There are controls for age restrictions to avoid kids learning too much, too soon.
As mentioned, Star+ will kind of be a Hulu/ESPN bundle — offering movies and animation — within Disney+ for international subscribers, it seems.  But there will also be live sports, and local programming. The home screen will include a guide to the live sports events available with current scores!
5:09: Hulu president Kelly Campbell is now out to give a little history and talk about their "clear path towards profitability." It is now a Top 5 TV provider via Hulu Live, which generates $10 per subscriber in ad revenue and costs $65 a month for a sub.
Hulu Originals will continue. Campbell talks about a few new initiatives, including FX on Hulu, which delivers a new younger audience and a premium experience for viewers. FX series viewership has increased 50% over their linear exposure.
Hulu also excelled at political coverage via ABC News Live. Four million people watched one of the presidential debates.
Hulu Original films will also continues — movies like Palm Springs and Run were a success, she says.
ESPN+ will be available within Hulu next year — no need to leave the app. No mention of a price increase. Hm.
Hulu is the undisputed leader in ad supported viewers with more than 90 million. If you use Hulu. as I do, you know that they are the same five ads running one after another and thank god for bundling your insurance.
But it works!  Ad inventory will become available to even more small business, she says.
5:16 – Michael Paul of ESPN+ is now out. They made progress via subscribers, advertising and PPV, with their top ten live events ever all coming in 2020, nine since May.
UFC has been huge for the channel, he says. They have a "best in class" sports strategy.
He's followed by Jimmy Pitaro to talk more about sports. I'll let you know when they start talking cricket again.
Bundesliga, PGA and more. Sports! Sports! Sports!
A lot of talk about ESPN because, contrary to what they are saying, sports viewership has, incredibly, declined in the pandemic, and ESPN is in a weird place.
More coming: a new series all about Tom Brady – a man that will be popular everywhere in the universe.. Also Peyton's Places will continue…—and here is Peyton Manning! The former quarterback has an amiable personality that comes across well. In Season Two he'll be visiting with Bill Clinton, David Letterman and even some sports figures, like Abby Wambach and Big Papi.
They are gonna augment market leadership!
And now  a 10-minute break so I can get a snack and the REAL news begins!
5:36 – And heeeeere's Bob Iger. Since stepping down as CEO he's been overseeing content. Quality holds its value, that has always been their mantra, he says.  Production values and talent for streaming is the equal of theatrical, and they want to create content to reflect the audience that exists around the world, with a multitude of experiences. Diversity, in other words.
5:40 – and here comes the sizzle reel. Which they didn't show us. Sad.
Dana Waldman, the chairman of entertainment, is out to talk about streaming.
Only Murders in the Building with Steve Martin, Martin Short and Selena Gomez.
The Dropout with Kate McKinnon about Elizabeth Holmes.
Ah, so it seems these sizzle reels are ONLY being shown to investors and SELECTED press. Sorry kids, we are not special enough.
• Dopesick about the struggle against drug addiction with Michael Keaton, Roasrio Dawson and Peter Sarsgaard.
All the above will be available on Hulu and Star. David E. Kelley is also working a show for Hulu which is:
• Nine Perfect Strangers, with Nicole Kidman, Melissa McCarthy and Regina Hall, and six other stars.
Returning hits include Ramy, The Great and The Handmaid's Tale which they do show the trailer for.
Handmaid's Tale has been renewed for Season Five.
Adult animation will continue, she concludes, along with reality shows – teased with a shot of the Kardashians, shudder.
5:54 – FX Chairman John Landgraf is out to talk about FX. An impressionistic montage over the primordial ocean of presentations is our reward. FX shows are rated highly on IMDB and Rotten Tomatoes. Overall  average rating on RT is 86%.
But linear is not the optimal home for all these series, he warns — they are scattered all  over the place.  But Disney is gathering them all in one place on Hulu! A permanent streaming home.
Viewership is up 120% over linear and VOD with this home, he says.
COVID-19 has affected production but shows are expected to roll out next year, including Atlanta, What we Do in the Shadows, Archer, and four more seasons of It's Always Sunny in Philadelphia. Fourteen seasons beats Ozzie and Harriet's record.
• NEW SHOWS: The Old Man with Jeff Goldblum; American Horror Stories, a spinoff from Ryan Murphy; Platform, BJ Novak's cultural exploration; Reservation Dogs, new half hour show by Taika Waitati; and Y the Last Man, based on the beloved graphic novel.
New stuff in the pipeline: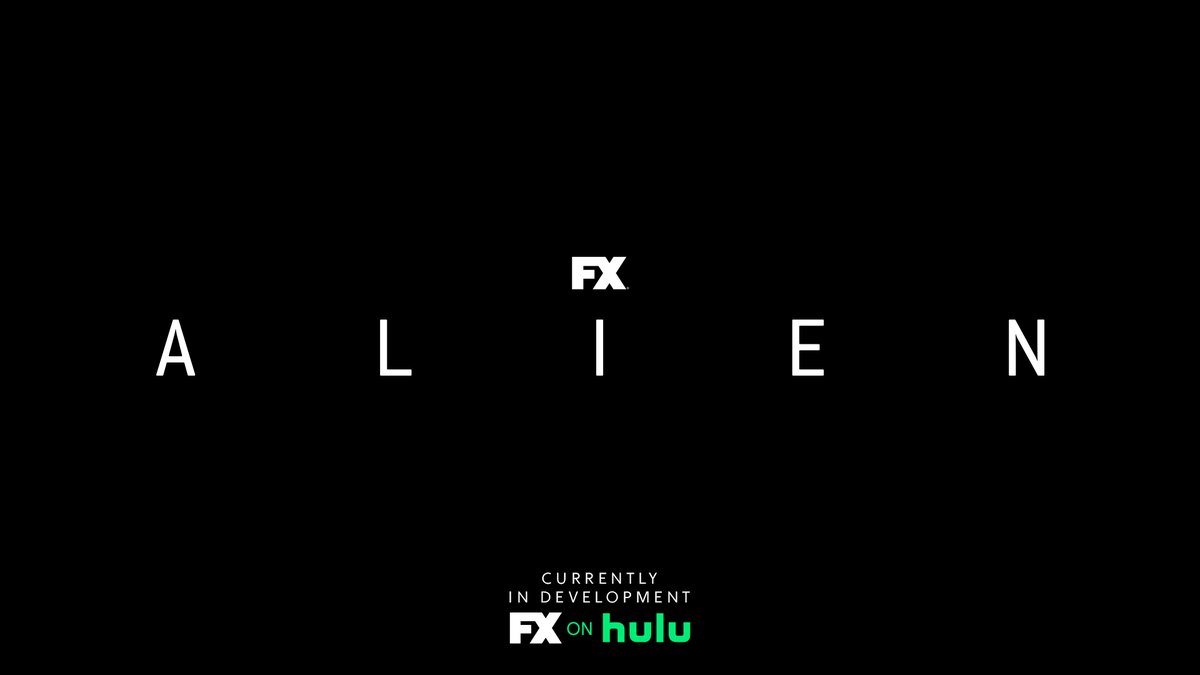 • ALIEN TV SHOW BY NOAH HAWLEY!!! Ridley Scott will be involved. FIRST OMG. A scary thrill ride, we're told. Hawley is the showrunner behind Fargo and Legion so whoah! The show will be set on Earth and live action.
And a sweeping, sophisticated series; A retelling of Shogun, the much loved novel by James Clavell. Tim Van Patten will be involved.
6:05: And now Kathleen Kennedy from Lucasfilm. "We could not be more humbled by the reception to this show," she says of The Mandalorian, which won seven Emmy Awards. They show a sizzle reel for Season Two, but it is impossible to overdose on Grogu.
HERE WE GO! Jon Favreau and Dave Filoni are developing two new shows:
• Rangers of the New Republic
• A show about Ahsoka Tano!
The shows will culminate in an "Event."
6:11 — a break to plug Stagecraft, a new technical tool that allows virtual locations to be made in a soundstage. It cuts down on travel and allows actors to be immersed in the environment instead of just imagining it, and has made shows possible to film during the Pandemic. Mando Season 2 used much more Stagecraft.
• A preview of Andor, the Tony Gilroy created show focusing on Kassian Andor from Rogue One. Diego Luna plays Andor, with Stellan Skarsgaard, Fiona Shaw and many more. Production has just begun. in London.
They are showing the trailer! Hundreds and hundreds of things are coming!
• Obi-Wan! which begins 10 years after the end of Revenge of the Sith and stars Ewan MacGregor. Hayden Christensen returns as DARTH VADER! OMG! The rematch of the century! Deborah Chow is a director.
NO TRAILER SOB SOB.
• The Bad Batch is a new animated show following up on Rebels, about some clone troopers. Was that a Zam Wessel lookalike I see?
• Star Wars Vision; a series of animated short films from leading Japanese anime studios offering a fresh look at the universe
• Lando Calrissian is coming back in a special series — Justin Simien, the creator of Dear White People is making it. PLEASE GOD LET IT BE DONALD GLOVER.
• Leslie Hedlund creator of Russian Doll is doing a new Star Wars show, The Acolyte, a creepy mystery in the end days of the High Republic Era.
• A Droid Story — a new series guided by C-3PO and R2D2
• And now, the moment we've been waiting for WILLOW. It will be set decades after the movie, continuing the adventures and humor of the original. Warwick Davis will be back. Jon Chu shoots the pilot which begins shooting next year for 2021.
• James Mangold is directing  the final Indiana Jones movie, coming in July 2022, with a very old Harrison Ford starring. Mangold knows old people so good.
• And now a new world! Children of Blood and Bone by Tomi Adeyemi will be adpted in a new series.
• A new Star Wars feature is being developed by Taika Waititi, He's hard at work writing it.
• Patti Jenkins will direct the next new Star Wars film, Rogue Squadron, which is about a new squad of pilots!!! Coming to theaters in 2023!
I'm SPENT.
6:30 – we are taking a break and recovering from all that with National Geographic! Spoiler: Jacques Cousteau, but I'm dreaming of Steve Zissou.