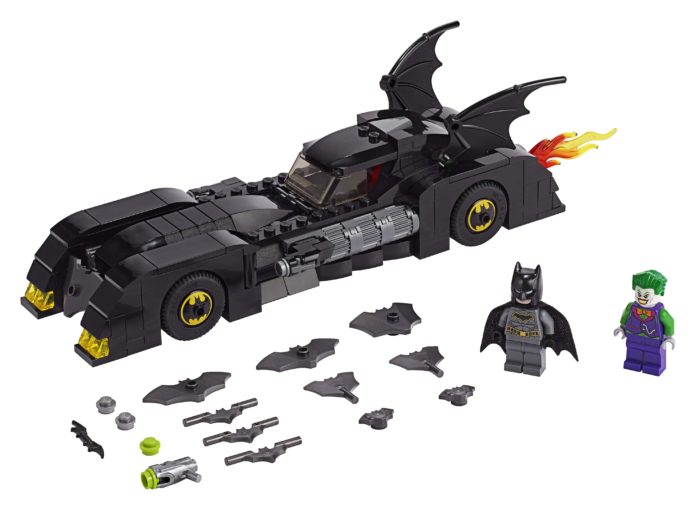 In celebration of Batman's 80th anniversary, LEGO has unveiled six new construction sets featuring the Dark Knight and his extended cast of characters. The new sets feature iconic vehicles like the Batmobile and Batwing, plus mini-figures of Bat-family mainstays like Robin, Batwoman, and Commissioner Gordon; classic rogues like The Joker, Two-Face, and Catwoman; and a special appearance by big-screen star Shazam!
Here's a rundown of the newly-announced sets, and when you'll be able to get each one:
Mr. Freeze Batcycle Battle

This set featuring the dynamic duo, their frigid nemesis, and a two-seater Batcycle (that actually sort of resembles the Tumbler from the Nolan Batman films) will retail for $19.99. The set will first be available at Walmart on July 1st, 2019, before going into wide distribution on August 1st.
Batmobile: Pursuit of the Joker

This new version of the Batmobile features Batman's signature ride as it has appeared since the DC Rebirth initiative began in 2016. The set also includes minifigures of Batman (in his Rebirth costume) and The Joker. Retailing for $29.99 US, the set will be available on August 1st, 2019.
Batwing and The Riddler Heist

This set contains three decent-sized vehicles—Batman's Batwing, an escape copter for The Riddler, and a Gotham City Police car for Commissioner Gordon to drive – plus Shazam!, who doesn't need any vehicle to get around. The Batman minifigure is again in his Rebirth suit, while The Riddler minifig is also Rebirth-esque with some spectacular mutton chops. The safe that The Riddler drags from his helicopter is pretty cool—you can store loot in it and even lock the door. This set will retail for $49.99, and will be available August 1st.
And if you're looking for a place for all of your new vehicles to call home, look no further than…
Batcave Clayface Invasion

…a new version of the Batcave! This set includes a ton of great features for Bat-fans, from the red Batphone in Wayne Manor to a trophy room with dinosaur statue, giant penny, and Joker card. The jail feature also includes a vertical landing dock for the Batwing from the previous set. Minifigures of Batman and Robin are again included in this set, as are Bruce Wayne, Catwoman, Batwoman, and Two-Face, plus a buildable Clayface figure. This set will be available on August 1st for a retail price of $99.99.
Additionally, two of the new sets will be geared towards younger kids ages 4 and up:
Batman vs. The Riddler Robbery

This smaller set features another one-seater Batmobile for the Dark Knight, The Riddler and his trusty skateboard (who could forget that iconic getaway vehicle), and an ATM for the prince of puzzles to knock over. The set will retail for $9.99, and be available August 1st.
And not to be outdone in the War of Jokes and Riddles…
Batman and The Joker Escape

With buildable features like the Batcopter and the iconic gates of Arkham Asylum, this set also includes minifigures of Batman, The Joker and Harley Quinn in prison garb, and an Arkham security guard. The set will retail for $39.99, and be available on August 1st.
Look for these sets in stores later this year!