---
In Geek News: The St. Louis Rams football team will be moving back to Los Angeles.
(Yes, sports fans are geeks… they possess esoteric knowledge, wear and collect items denoting their fandoms, engage in tabletop gaming and endless discussions about who would beat whom, and even cosplay.)
The Los Angeles Times has a nice story feed about the NFL Owners recent vote. Here are the bullet points:
The Rams will develop the old Hollywood Park land, near LAX airport and the Forum, paying all costs of construction for the stadium. (Any annual tax revenue in surplus of $25 Million will be reimbursed to the developers to cover public services and infrastructure costs until those bills are paid.)
The proposal by the San Diego Chargers and Oakland Raiders, chaired by Disney CEO Bob Iger, to build a stadium in Carson was not approved.
The Chargers have one year to decide if they want to move into the Rams' stadium.
The NFL has added $100 Million to a possible loan for San Diego's construction of a new stadium (to be repaid via club ticket sales).
The Chargers want a new stadium, downtown, next to Petco Field.
The Chargers have wanted a new stadium since…at least 2009 (possibly since 2002).   Their current home, Jack Murphy Stadium, has hosted them since 1967, which is an eternity in the NFL.
The Chargers are hoping for a stadium/convention center hybrid, but hoteliers would prefer any new convention center space to be connected to the current convention center, and not an annex on the other side of Petco.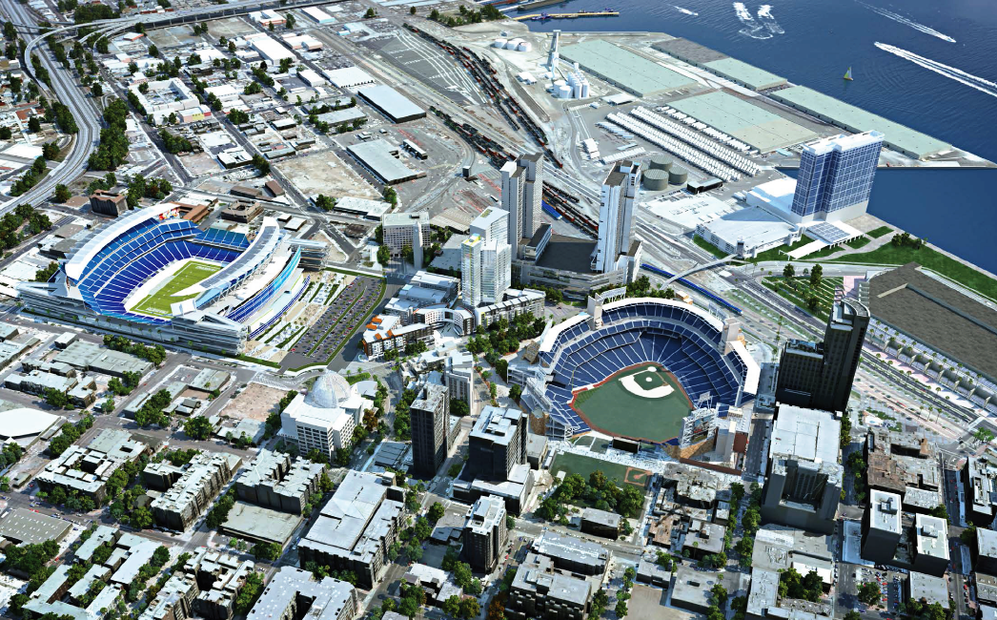 The public funding for the stadium, and the new tax scheme for funding the convention center expansion, must go before voters for approval.
It might be cheaper for the Chargers to build a new stadium in San Diego than to move to Los Angeles. (There's a $550 Million moving fee for each team, plus there are other costs and monies involved.  The San Diego Union-Tribune has a good analysis.)
Dean Spanos, Chargers CEO and son of the owner, would have to defer to gazillionaire Stan Kroenke, owner of the Rams, regarding the new stadium.
My thoughts…
The tax initiatives are unlikely to pass (which creates another headache for convention center expansion). The hotel tax might pass, given the local support for Comic-Con.
San Diego will move back to Los Angeles once the new stadium is completed.
San Diego will likely not seek a replacement team, given the costs involved. (It would appear unlikely that a new owner in a smaller media market would build a new stadium with no city funds.)
With a further delay in convention center expansion, WonderCon in Los Angeles might become as large as CCI, if not larger. (Los Angeles has sllightly more exhibit space, and LA Live and the Staples Center offer interesting venues for major events.) Los Angeles is expanding its convention center as well.
Developing, as we say in the biz. Very slowly…
---