It's not just San Diego which is having problems funding convention center growth.
Many other cities, citing city pride and tourism dollars, are trying to attract a finite (if not shrinking) market of trade show business.
If tourism boards are smart, they will start to mentor local promoters to stage annual consumer shows, which will bring in tourism dollars while not having to depend on trade shows which are nomadic. (My hometown of Omaha was one of the pioneers, hosting the NCAA College World Series since 1950, through at lease 2035.)
We might even see cities court national promoters to bring a show to their city, perhaps for a five-year stint with a certain ticket-sales guaranty.
---
Kansas City
Heywood Sanders, author of Convention Center Follies, offers an opinion piece against the building of an 800-room convention center hotel. He cites examples from nearby St. Louis and Overland Park, KS:
With an expanded convention center and domed stadium, consultants told St. Louis city officials they needed a big, new hotel. The 1,081-room Renaissance Grand Hotel and Suites was supposed to be filled by a wave of new convention attendees as the number of major conventions grew from 33 to 56, almost doubling the city's convention business. But by 2008, the city garnered only 24 major conventions and fewer hotel room nights than in 1999 and 2000 — before the Renaissance hotel opened. Without new convention attendees, the hotel couldn't pay its annual debt service and the bondholders foreclosed in 2009. They finally were able to sell the hotel, at a serious loss, in May 2014.
The city then voted to approve the project.
The development is expected to cost about $311 million, including the $4.5 million value of the land that the city would contribute for the project.

Under the proposed plan, the city would also contribute $35 million in cash, which would be bonded over 25 years and would actually cost about $2 million per year in convention and tourism taxes.

The project requires tax abatement and substantial tax incentives to be viable, according to the plan. The total public contribution adds up to more than $160 million, or more than 50 percent of the cost.
I recommend his book, which offers numerous case studies on convention center funding and expansions, and why they usually are not successful. Kansas City's history is featured in the book as an example. The City is also in the process of trying to repurpose Kemper Arena, but must accommodate the American Royal, a mini-state fair which involves rodeo, barbecue, and livestock shows over three months in the Fall.
---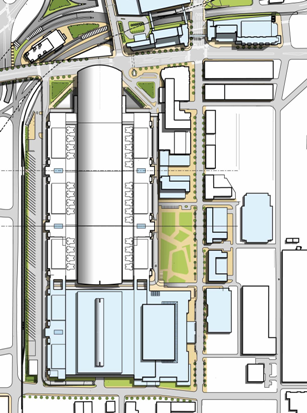 Boston
In Boston, the governor has put a halt to a $1 Billion expansion of the existing convention center. The governor wants a new Massachusetts Convention Center Authority board to review the revenue projections, and the center's ability to pay off the public financing.
Expansion plans would double the size of the current facility adding:

335,000 square feet of exhibit space (new total of 850,000 square feet)
100,000 square feet of meeting space (new total of 260,000 square feet in 121 meeting rooms)
Additional column-free ballroom of 75,000 square feet (existing ballroom of 40,000 square feet)
A second headquarters hotel with a minimum of 1,200-1,500 rooms, as well as approximately 100,000 square feet of meeting/function space (two hotels totalling 510 rooms are currently under construction)
Even with the expansion, Boston would only rank fifteenth among national convention centers.
After looking at the market, [Administration and Finance Secretary Kristen ] Lepore said hotel room occupancy nights have never lived up to the initial projections for the South Boston convention center of 670,000 nights a year. In 2014, the BCEC and the Hynes Convention Center generated a combined total of only 472,000 hotel-night stays, Baker administration officials said.
The city is the official United States bid city for the 2024 Summer Olympics, although there is a grassroots movement against the proposal. The convention center would host Judo, Table Tennis, Taekwondo,Volleyball, and Wrestling, and is not dependent on an expanded venue.
Boston currently hosts Penny Arcade Expo East, which sells out online.
---
Los Angeles
Los Angeles has selected the architectural team of team of Populous and HMC Architects to renovate and expand the 44-year-old convention center. Budgeted at $350 Million, the plan will add more meeting space, a ballroom, and outdoor landscaping.
Previous plans had suggested building an NFL stadium on the site of the West Hall with new exhibition space over Pico Boulevard, but AEG, which developed the adjacent LA Live entertainment district, dropped the project after the Raiders, Rams, and Chargers all proposed their own stadium plans. (The LA Times has a nice slideshow of current and former LA-area stadium proposals.) Looking at that plan, I hope that they expand the South Hall northward over Pico, connecting it to the West Hall. This would create one big linear space, which is more attractive to planners, and easier on attendees.
2,600 more hotel rooms are under construction and planned, but the 7,000 rooms in downtown L.A. is small compared to the 20,000 in both San Diego and San Francisco. It currently ranks fifteenth among national convention centers, and lags far behind San Diego and San Francisco for convention business.
Los Angeles hosts Anime Expo through 2019. This year's show had an attendance of 90,500, with a turnstile of 260,700.
It will host WonderCon in 2016.
---