By all accounts, it was one of the biggest Free Comic Book Days yet, with most stores reporting "sell-outs" early on and crowds and — importantly — SALES that rivaled their biggest days ever. It was also a media event as over 200 news stories show.
Free Comic Book Day is Saturday, May 7th, 2011! And there are very likely some comics-related festivities happening in your area, or at the very least some free comic books.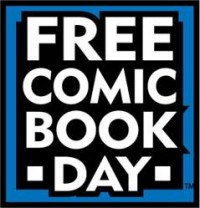 There are way too many happenings to cover here. Diamond has a master list of events, including interviews by Darwyn Cooke and Humberto Ramos and the FCBD site has a monster list of signings organized alphabetically by state!
"We are also lucky to have a huge number of returning guests to this year's Free Comic Book Day," Munn continued, " With members of the 501st LEGION of STAR WARS RECREATIONISTS, phenomenal SKETCH ARTIST JESSE MUNOZ, the folks from the LAKEWOOD REGAL CINEMAS will be on hand to give out FREE POSTERS, comic book fans dressed up as a myriad of characters, including BLACK CAT, OUR COSTUME CONTEST a chance to meet some of Tacoma's Own Phenomenal Rollergirls, THE DOCKYARD DERBY DAMES and MORE!
…To celebrate the release of its widely anticipated Free Comic Book Day flip book featuring fan-favorite properties Mouse Guard and Fraggle Rock™, Archaia is excited to announce RED FRAGGLE will make a live appearance on Free Comic Book Day (May 1, 2010) at Meltdown Comics in Los Angeles, Calif.
…FREE COMIC BOOKS DAY – BUYING & SELLING – Plus FREE APPRAISALS!!!WHEN: SATURDAY, MAY 1st from 10:00AM to 5:00PM WHERE: Phoenix Comics, 4 Gray Rock Road, Scarsdale, New York 10583 Joel Rosenberg, founder and owner of longtime Westchester institution, Phoenix Comics in Scarsdale, welcomes Joseph (The Avalanche of Wonder) Koch and Michael (Big Apple Conventions) Carbonaro to celebrate "Free Comics Day" with an unprecedented buying and selling extravaganza!
…Along with the free books and sketches, each location will be raffling off special prizes such as year long subscriptions to some of the most popular comics on the market today, autographed books, statues and toys plus there will be a "scavenger hunt" that will encourage people to visit all three locations for a chance to win a huge prize!
Top Cow Productions, Inc. is proud to announce today its plans for this weekend's Free Comic Book Day, Saturday, May 1st, which takes place in comic shops across North America.  Free Comic Book Day is an annual event where participating direct market stores give out free comics to anyone that walks into their store.