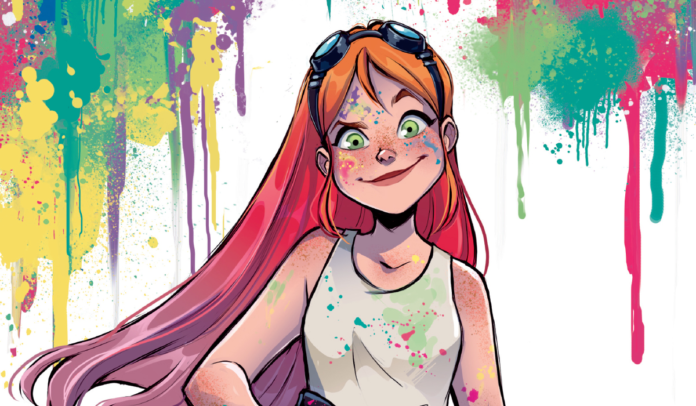 Whistle and Primer, two DC YA characters who first debuted in standalone graphic novels, quietly made their in continuity debuts this week.
The duo did so in Teen Titans Academy #9, continuing a somewhat emerging trend in which new DC Comics characters transition from the publisher's more experimental comics to the monthly in-continuity superhero universe proper (see also Sojourner "Jo" Mullein, who moved from the Young Animal imprint series Far Sector to the main Green Lantern title). Check out the debuts in the panel below:
This is probably somewhat significant for collectors, who tend to chase these kind of debuts, known as they are as key issues. And this particular comic flew a bit under the radar when it hit yesterday. The current run of Teen Titans tends to do that most months, but even more so during a week like this one wherein a whole slew of high profile DC Comics arrive in shops, from Wonder Woman Historia: The Amazons #1 to the second issue of Tom King and Greg Smallwood's Human Target to the latest Crisis-esque multiverse shenanigans series, Justice League Incarnate. 
For the unfamiliar, Whistle and Primer have both been introduced previously in out-of-continuity standalone comics that feature their names for titles. Primer was published in June 2020, from the creative team of writers Jennifer Muro and Thomas Krajewski, and artist Gretel Lusky. In this story, the young heroine comes across a set of body paints that when applied give her super powers. The paints were developed by the military, and our hero must use them to do good while avoiding a military in search of its missing weapon. The character looks relatively unchanged in the new in-continuity appearance, albeit some of the colorfulness has been traded for a jumpsuit or whatever.
Whistle, meanwhile, was published this summer. It's set in Gotham City, and it stars 16-year-old Willow Zimmerman, a burgeoning social activist tasked with caring for her mother who has recently been diagnosed with cancer. After an accident gives her the ability to communicate with a dog named Lebowitz, Willow and Lebowitz decide to use their newfound abilities to take on Gotham's criminals, including her "uncle" Eddie. That book was the work of writer E. Lockhart, artist Manuel Preitano, colorist Gabby Metzler, and letterer Troy Peteri. Check out Whistle and her pup below…