This is for the cat lovers out there.
The future of the Marvel Universe rests in these cats' paws!
With a series of Cat Cosplay Variant Covers for December, Valiant has rewritten the entire comics industry in one fell swoop.
Yep, it's that time of year. Comic-Con is coming! I haven't been delving into all the specifics yet but as in year's past there...
Andrew MacLean sat down with Comics Beat to talk comics, cats, and post-apocalyptica.
Yesterday was National Cat Day and Marvel celebrated by showing casing these covers by Jenny Park, who specializing in painting famous pop culture...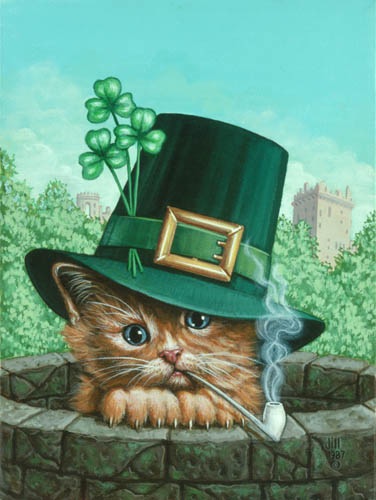 Above art by
Jill Bauman
, a World Fantasy Award nominated artist who specializes in horror and fantasy. Bauman has a whole set of cat holiday paintings in the link. Confession: back in the day I had a bunch of these prints hanging up in my office at Vertigo. Bauman is an accomplished artist but I find these cats a bit more disturbing than endearing! I'm not sure if that was the intent or not, but one thing is certain: YOU CAN'T LOOK AWAY.
Umbrella Academy/Fabulous Killjoys author Gerard Way has been using his down time since disbanding My Chemical Romance to learn photoshop, apparently, and reacquaint himself...
A very cute cat with an extra claw named Lil Bub visited Marvel Comics, and thus perhaps the greatest post ever on the Marvel...