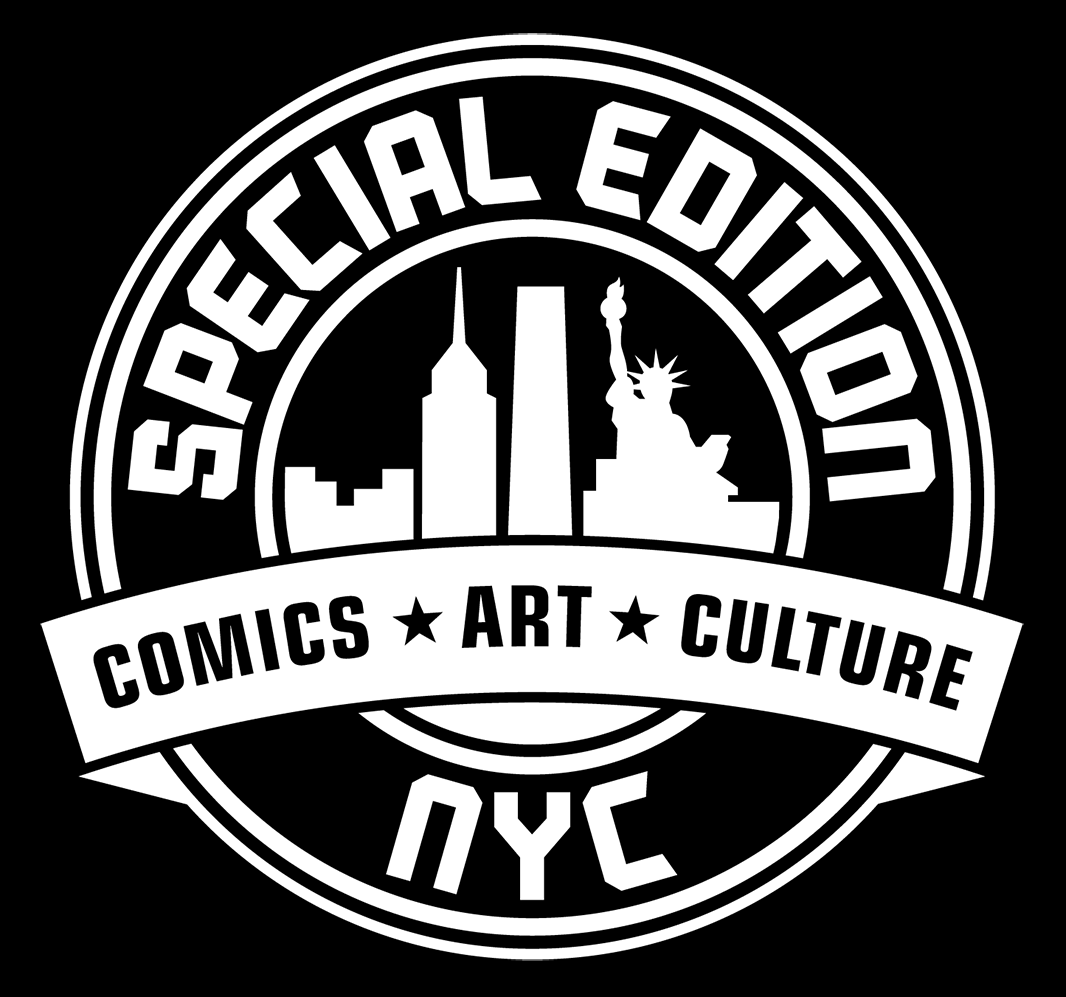 For the second year, ReedPOP has hosted a comics-focused mini-con on the Hudson River: Special Editon: New York City, promoted as "a pure celebration of comic book culture created specifically for die-hard comic book fans, creators and publishers!"
Which, it was.  It was the size of MoCCA Fest (and recalled those shows at the Armory), and almost duplicated the Wizard World show held at the same pier in 2009. The show seemed to be little changed from last year's inaugural show at the Javits Center, although the new venue offered some new challenges.
Here are my observations, with some caveats.  ReedPOP does advertise on this site, and overall, we like them, and they've been nice to us here at The Beat. I didn't attend this show under a press pass…I was here strictly as a consumer, to meet artists, find some cheap comics, and just relax and enjoy the show. I also wanted to support the show, because, frankly, I love dealer shows, and even smaller comic cons, which this most definitely is. The hype level is lower, the personal space a bit wider, and I know I'll meet most of the people I meet at other shows, but with more time to chat. With the Internet, I no longer feel the need to sit in a panel room, especially when someone will post a summary a few hours later. But that's just me. Everyone has their own reasons for attending shows, and when people can do what they want to do with minimal headaches and snafus, most people are happy.
So… my observations.
I've attended almost all of the MoCCA Fests, I attended the Wizard World "con war" show hosted at this pier in October 2009. I've wandered the decaying aisles of the Hotel Pennsylvania during Big Apple shows. I've been to myriad comics shows all over the New York metro area.
So let's talk about the venue: Pier 94.  This was the same venue used by Wizard World in 2009. It's not "on the waterfront", it's ON THE WATER.  It's a pier, once used for shipping goods to and from Manhattan.  (The cruise ship terminal is just a few blocks south.) The building is a giant field house shed. Exposed rafters and HVAC. Plain concrete floors. Rooms created by basically building a box on the floor.
So, this means that the roof leaks.  (I felt one drop, and one Facebook comment noted that a sketch was splotched by an errant drop.) Thankfully, the weather was perfect this weekend, or else there would have been more complaints, both inside and walking outside.  When I attended the venue in October 2009, the weather was damp and dreary, and the venue had little heating. (This might be due to the organizers not wanting to pay extra for climate control, for which MoCCA frequently was criticized when they used the Puck Building during Summer months.)
So, yes, I wouldn't have been surprised to see Babes In Arms cosplay. That's the basic DNA of a smaller comic con: find an affordable space, sell booths to retailers, tables to artists, and hope the general public shows up. That space can be a barn, an armory, a hotel, an arena, a pier, even a cruise ship! If done right, the show feels like a mini-con, with famous guests, events and panels aimed at specific fandoms, and a general feeling of "this is so great!"
But, there were some mistakes made.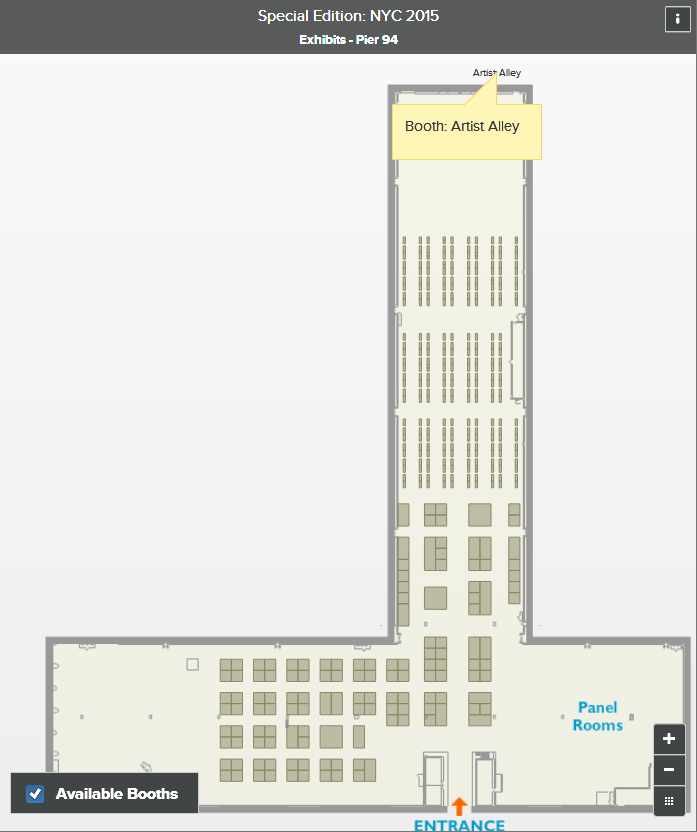 The T-layout of the building (pier plus road-front building) caused a bit of a challenge with layout. The big open space made the panel rooms difficult to manage, as sound carried from one to the other. (This is a smaller problem at Javits, but even there, noise from one room can filter over to the next.) Curtain-and-drape does not muffle sound. This could have easily been solved by placing one of the panels at the far western end of the pier, on the other other side of Artist Alley which was used as a concessions area, far from the other panel which was at the front of the building. By placing a destination point at the back of the space, you encourage attendees to wander through artists alley, increasing the traffic and potential sales.
The booth layout was generally good and easy to navigate.  Artist Alley aisles did get crowded at times, especially those along the far north wall, (You can see the big empty space their, in the middle third.) Having one of two bathrooms in the building located there did not help matters, especially after the men's room towards the front was taken out of service.
Yet, the 2×2 booth layout didn't work very well. (NYCC generally uses 2×3 or 2×4 layouts.) Booths felt spread out, some felt lonely, and the giant space of the building made it feel, well, dystopian. (Did anyone else expect Batman to come crashing through the ceiling to fight the Joker?)
But this is a problem all event planners face in New York… how do you rent a space, budget the show so that exhibitors will show up and ticket prices can be kept affordable so that people show up to buy stuff? I'm an armchair architect, and I love looking at venues, measuring spaces, and wondering if a show that took place in one venue can transition to someplace else. But it's not easy, especially for shows of this size. Javits North (where SENYC14 was held) has 80,000 square feet of space. Pier 94: 133,000 sq.ft. (A football field, minus the endzones, is 48,000 square feet.)
The Armory Hall where MoCCA used to be? 45,000 sq.ft. The Marriott Marquis offers 21,550 and 28,258 sq.ft in two ballrooms. Here's a site listing the ten largest venues in NYC for events. Javits North is #1, Pier 94 is #2, Resorts World way out by JFK airport is #3. The Penn Pavilion, which hosted the Big Apple shows back in the day, has 40,000 sq.ft. over two floors.
So… there are few places where a show like this can be in New York City. Even if a hotel were used, with a box office and event rooms elsewhere, the ballroom space available wouldn't be large enough. I count 164 10×10 booths at SENYC15. That equals 16,400 sq.ft., not counting the aisles (~20,000 sq.ft.), or Artist Alley (~5,000 sq.ft. for the tables, ~10,000 for the aisles, as well as space behind the tables.). Over 50,000 sq.ft of space needed for a show floor, probably more given my sloppy back-of-the-envelope calculations.
ReedPOP's Special Edition shows are small comic cons, and seem to be designed to compete with Wizard World.  A show like this would easily fit into a local convention center, not a hotel.  Wizard World Des Moines, scheduled for next week, will utilize 147,000 sq.ft. (147 booths, 117 artist tables, 6 fan tables).
I do hope that Special Edition continues, and as an attendee, I hope it moves back to Javits North.  That hall is big, brand new (2010), clean, and has multiple clean bathrooms. Fans are familiar with the space, and if panels are housed in 1-A, then it's a short walk, and there's space to hold more than two tracks of programming.  Even better… the northernmost exit… it's two blocks to 42nd Street, and the 7-Eleven and Subway sandwiches.
---