---
Forbes reports on New York Comic Con's record attendance:
If you spent any time at all at New York Comic Con last weekend, you know there were lots and lots and LOTS of people crowding the Javits Center on the west edge of Manhattan. Official attendance numbers now confirm that observation. ReedPop just confirmed to me that the official attendance at the show topped 167,000 people for the four day event.

That figure tops last year's announced attendance of more than 150,000. ReedPop attributes the increase to the expansion of the convention to offsite locations, principally the Hammerstein Ballroom, a 12,000 square foot facility on west 34th street nearby the Javits Center that hosted programs on Friday and Saturday. It does not include attendance at various "Super Week" events around the city held in conjunction with the show, which did not require an NYCC badge or admission.

ReedPop counts unique attendees per day, not badges sold. People with multi-day badges are counted for each day they attend. The 167,000 attendance figure means 167,000 turns of the turnstile over the course of the four days of the convention.
EDIT: As mentioned in the comments, and via an email from ReedPOP: ReedPOP counts unique badges sold, not turnstile numbers. Forbes updated their post, and I am doing the same here. We appreciate any and all corrections and clarifications. This means that the number below is conservative, as multi-day passes would create a higher turnstile number. [Updated 10.26.2015 10:30AM]
Let me place that in big bold numbers:
.
167,000
.
Or if you prefer a picture: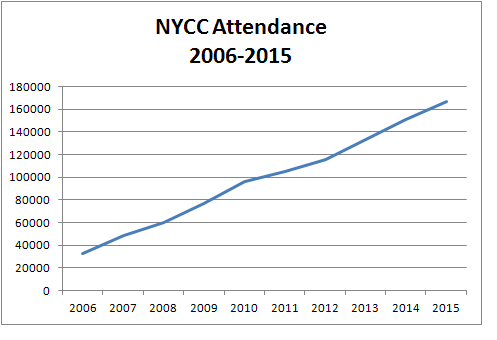 Or, a headline:  506% growth over ten years.
Over a ten year period, that's an average growth of 13,400 attendees each year, with a range of 9,000 (2011) to 19,000 (2010).
2015 saw the show expand outside Javits, as the Hammerstein Ballroom was utilized on Friday and Saturday for large events, and even Madison Square Garden hosted the season premiere of The Walking Dead on Friday!
So, how does NYCC keep growing? By scheduling programming towards Times Square, and eventually all over the city. The CMJ Music Marathon, which ran the week of 13th-17th of October, is a model, using 70 venues to feature new music, as well as hosting daytime business seminars at a central location on 16th Street.  (Here's the programming schedule!)
Just like CMJ, not every event or panel will be mobbed, or require thousands of seats.
If I limit the search to the vicinity of Javits, looking at Clinton/Hell's Kitchen and Times Square, here are some possible venues:
Hotels
NYCC already runs shuttle buses to Midtown hotels. The larger hotels all have ballroom and meeting room space.
The Marriott Marquis, located at 45th and Broadway, has 55 event rooms and 101,450 sq.ft. of event space.  The biggest ballroom seats 2550, and with the many smaller rooms, would be a good site for smaller panels which are no longer feasible at Javits.
The Marquis Theater, inside the Marriott Hotel and run by Nederlander, seats 1,611, but it's usually hosting an actual Broadway musical.
The Westin New York at Times Square (42nd and Eighth) offers 32 event spaces, the largest of which only seats 300. There are many more intimate spaces, so this might be a good site for workshops and professional development. It's right on top of the A train, cater-corner to the Bus Station, so it's very easy to reach from Javits: one stop on the 7 train from Hudson Yards, then one block of walking underground.
The Hilton Times Square, a thin tower, only offers smaller meeting rooms, but it is located halfway between two subway lines on 42nd Street, also accessible via the 7 train.
The Sheraton New York Times Square Hotel is a bit out of the area, located at 53rd and Seventh, but it has been on the shuttle bus route. Their largest ballroom can seat 1,700. It has has a separate conference center with 11,000 sq.ft. of space. Perfect for a specific track of programming, press conferences, or green rooms. Included is a Cisco TelePresence suite on the 44th floor for videoconferencing. Sheraton offers a nice online planner! Create your own comic con!
Three stops on the 7 train, and you're at Grand Central Terminal, site of the Grand Hyatt. Its largest ballroom seats 1500.
Theaters and Performance Spaces
The Hammerstein Grand seats 1200, and is located above the Hammerstein Ballroom, which seats 2200.
Surprisingly, the largest Broadway theater, the George Gershwin, seats only 1933. (It's been booked solid since 2003.) Here's a good guide to Broadway theater venues.
The Theater at Madison Square Garden seats 5,500. (Compare with 5,900 at Radio City Music Hall.) If you're a sports geek fan, then you've seen it on TV during the NFL and NBA drafts. Various networks have used the venue to promote new series to advertisers and critics, so it can handle multimedia, and the sightlines are excellent. There might be other spaces for rent within the arena (MSG once housed a 40-lane bowling alley!), but it's most likely those spaces have been repurposed for upscale clients.
Once New York City's largest movie theater, the Astor Plaza at 44th and Broadway was converted in 2004 into what is now know as the PlayStation Theater. It seats 1200.
The AMC Loews 34th Street 14 cineplex offers fourteen screens. It's located between Eighth and Ninth Avenues, right across the street from… the Hammerstein Ballroom!
The AMC Empire 25 in Times Square, located on 42nd Street, has 25 screens of various capacities over 5 storeys, including a refitted ("LieMAX") IMAX screen. They host the occasional press junket, sneak previews, and smaller niche films, such as Bollywood. During Oscar season (December-February), they frequently host studio "For Your Consideration" screenings for the various alphabet organizations (WGA, DGA, AMPAS, PGA, BAFTA, SAG). Given the smaller theaters on the upper floor, it can be cordoned off for attendees and show various screenings. Movie companies could also run sneak previews, both for fans (perhaps they get to request tickets before the general public), and for everyone else. Fathom Events could be a partner as well, running a nationwide week-long film festival anchored and branded to Super Week.
High Schools?
Well… no, not really. It's possible to run a con in a high school (or university), as Ramapo, Hawthorne, and Kids Comic Con have proven. You place the dealer's room/artist alley in the gymnasium or cafeteria, have the comic book club sell concessions and run the auction, and hold a few panels in classrooms. You could even use the auditorium for the larger panels. A Saturday event works well, but to rent space as part of a larger con like NYCC… no, it doesn't work well, and the school will probably, at best, only allow use of the auditorium.
That's not to say you couldn't run a "Comics University" programming track at a local school. Or even a parallel "Kids Con" which offers a smaller and safer, but just as exciting, experience.
And Javits itself…
Hall 1-A can be converted to a main stage like 1-E, seating about 3,500. Or… it gets merged with Halls 1-B and 1-C to become another show floor, secondary to the main floor upstairs. Reed used to do that at BookExpo, relegating children's publishers and small press downstairs. The New York Auto Show does this as well, featuring sport and utility brands, as well as special exhibitions. Toy Fair treats it like regular exhibition space, albeit with a lower ceiling height. For NYCC, 1ABC could be the home of The Block as well as small press, vendors, and other 10×10 vendors, currently found in Halls 3-E and 3-A.
OR…you make that an event space, with an estimated capacity of … 9,155! (1-B, 1-C both seat 2,670.)  But that's crazy…if you can fill that up, you might as well rent Madison Square Garden!
What's the actual maximum occupancy of those spaces?
Third Floor? 3852 + 5240 + 1680 + 3930 = 14,702
First Floor? 3815 + 2670 + 2654 + 3045 + 3090 = 15,274
North Pavilion? 5,596
Fourth Floor River Pavilion? 1,200 Banquet or 13,100 Receptions!
Grand total? 48,672 Multiply that by four days, and you get… 194,688 !!!
But the Fourth Floor is currently reserved for VIP attendees and press rooms. Column free, lots of light, one entrance, and half of the space can be used for crowd control or overflow with closed-circuit streaming. Could RP move the press space to one of the overlooks (or to a small panel room near Hall 1E) and turn the River Pavilion into another event stage? It has the same acreage as 1E.
I didn't take a look this year, but there are also rooms which overlook the show floor, on the east side. ReedPOP uses some for their show offices, and others have been rented by media outlets. These could become general interview rooms for video productions, with 1E meeting rooms partitioned into smaller interview spaces.
There is a major space at Javits which isn't being used: the outside driveway. Running from the North Pavilion to 34th Street and wrapping around the south side to Twelfth Avenue, there is a roadway as wide as the inside concourse. It has four sections:
What goes here? Well, ReedPOP could move the exit over to the 34th Street driveway. This funnels people onto 34th Street, and then to the corner of Eleventh before people spread out, making crowd control easier that letting them all onto Eleventh at 37th. Most would be headed to the subway station, which again, makes crowd control easier.
The overhang… is good for a display which doesn't need much. Since the Concourse offers better foot traffic, anything displayed here should be a destination. Outdoor displays work best here, or RP could designate this as the cosplay center, where various fandoms can schedule meetups for group photos. RP could also license a studio photographer to take professional "prom photos" for attendees. Maybe even offer a "dress up" area, where kids of all ages can grab random hats, coats, and other accessories for a silly photo souvenir!
What's the ultimate? Well, at the New York Auto Show (which you should attend if you want to see what NYCC would be like with ONLY major booths!), Jeep runs an obstacle course to demonstrate the off-road capabilities of their SUVs. But much more likely in this space, some of the distractions which one sees in San Diego at the Petco Park Interactive Zone. (For example, the Teen Titans Go! inflatables pictured above.)
Speaking of which, Javits, like San Diego, is located on the waterfront, near light industrial buildings. Is there riverfront parkland available? Well… no. Not nearby. The Hudson River has been revitalized in the past two decades, with numerous piers and parks added (some financed by Donald Trump, who also was a big player in developing the Javits Center). Behind Javits lies the New York Police Department's impound lot for Manhattan at Pier 76, CitySightseeing New York at Pier 78, and the NY Waterway ferry terminal at Pier 79. So there's no space (currently) for public events. And frankly, it's a hike to get there.
Conclusion:
While New York Comic Con has almost maxed out the space available at Javits, they haven't maxed out what one can place there.  Like the New York Auto Show, NYCC could fill up the entire exhibition space with mega corporate booths. Even Hall 1-D, generally used as a Main Stage, could be repurposed as a ticketed exhibition area.
The event stages would be located offsite, and demand would encourage attendees to travel to those venues.
Panels, retailers, and smaller exhibitors could then be located at a second location, such as the Marriott Marquis. This could even be a more "comics centric" show, with less stress on attendees, and more emphasis on comics, similar to the first NYCC in 2006, or a larger version of ReedPOP's Special Edition shows. RP could even anchor other fandoms at other locations, such as the former New York Anime Festival.
Like CMJ, ReedPOP could decentralize the panels as well. The panel schedule could be expanded to a week, in parallel with the New York Super Week events.
With decentralization, ReedPOP could even sell "sub-tickets", allowing an attendee into only one aspect of the show, such as Javits, or Marriott, or Anime, or panels, or screenings. This would make the show more affordable for attendees, and allow for a greater supply, reducing the mad online scrum for tickets.
Eventually, Javits will be replaced by another structure, and attendance numbers will be more difficult to calculate and less likely to be announced as events spread across the city. Once you toss your d20 across the Hudson, and approach the Mardi Gras event horizon, it's less about attendance, and more about the community and celebration. (And media impressions!)
---