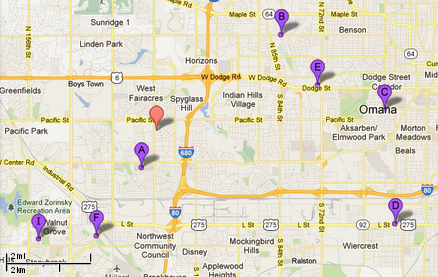 Last year, on Black Friday, my 27-year-old nephew Parker and myself attempted a Grand Tour of visit comics retailer in the Omaha metropolitan area.  We didn't succeed, but we visited most, and found lots of great comics, many on sale, and we even discovered a brand new store, Legend Comics, open just a few weeks!
This year, we did the tour on Small Business Saturday, and limited our journey to this side of the Missouri River  (see map above).  Omaha has quite a variety of comics shops per capita, mostly due to cordial relationships among the retailers, who have either worked at a previous comics shop in the area and/or shopped there.
So around 10 AM, after a hearty breakfast, we set out from my parent's home (the red marker on the map).  We decided to leave the closest comics shop, Krypton Comics (marker A), for last, so we wouldn't have to drive too far at the end of our journey.  We drove to Dragon's Lair Comics in Millard (marker I), the second location for the chain, which once had three stores in the area (the third, in Council Bluffs, closed years ago).  We arrived at 10:20 AM where I found Craig, the store manager, whom I've known since I started visiting the original store in 1985.  (More on that store later.)  We chatted about the business for a awhile, talking about what comics were good, Black Friday, and other sundry topics.  He pointed out the discount shelves for graphic novels, and I ended up purchasing the following:
The Nearly Complete Essential Hembeck Archives Omnibus ($14.95)
Metalzoic (DC Graphic Novel No.6) ($5.00)
Superman: Red Son: The Deluxe Edition ($15.00
X-Men Spotlight on Starjammers #1 and #2 (quarter bin)
Superboy #176 ($5.00)
PrinceLess #1 (of 2) ($3.99)
The New Marvel Try-Out Book #2 ($15.00)
It was a good thing they were on sale, or else I would have spent too much money!
We were then on the road again at 11:00 AM, headed towards Orcs4Hire Omaha's Table Top and Miniature Gaming Store (marker F).  It didn't open until Noon, so I just peeked in the windows.  It is two storefronts: one for gaming tables, the other for retailing.  Nothing amazing, just a serviceable space.
The next stop was to be in Gretna, Mail Order Comics, located far south near the intersection of Interstate 80 and 216th Street (incorrectly mapped by Google), a combination warehouse and comics shop.  We weren't sure if they were open, so a quick phone call confirmed that they were indeed open to the public.  However, they had moved, near the intersection of 119th and I Streets.  We arrived at 11:20 AM, and found a clean, well-lit, and spacious store.  The main floor held the retail space, shipping and receiving, and storage space.  Upstairs was an event area.  As a retail model, it is quite interesting.  However, it is only two miles away from Krypton Comics, and offers a deep discount on new releases, which are the bulk of most stores' revenue.  I purchased:
47 Ronin #1, written by Mike Richardson and drawn by Stan Sakai
Ame-Comi Girls #1 and #2 ($3.99 each)  [I get free copies, but thought this might appeal to my nieces.]
By 11:50 AM, we were heading due east, to the Omaha location of Ground Zero Hobby located near 50th and L (marker D), where we arrived at 12:10 PM.  This store wasn't as cluttered as their Bellevue location (home of Strategic Air Command, AKA "Ground Zero" during the Cold War).  The store offered a large event space, with a decent selection of new comics, back issues, gaming, and snacks.  They were offering a 50% sale during the holiday weekend, and I purchased:
Hot Rod Cartoons (May 1970) ($5.00)
Marville #4 and #7 ($2.25, #2.99)
and from the quarter bins:  Hero Illustrated #13, #11; Dark Horse Insider #18, #33; Inside Image #18; Superior Showcase#1; Blip The Video Game Magazine #5 [cover by Sam Viviano!]; Ambush Bug Stocking Stuffer #1
At 12:40 PM, we were on our way north, to Legend Comics & Coffee (marker C), housed in a registered landmark which formerly housed a grocery store.  We arrived at 12:55 PM, and my nephew powered up with an Iron Man mocha coffee.  A customer was looking for nice covers of Wonder Woman to give as a romantic gift, so I recommend a few titles.  He came across issue #49, with an awesome George Pérez cover with interior art by Colleen Doran.  He was gracious enough to let me buy it, and found some nice issues for his lady love.  (I suggested #50, with an amazing story.)  While waiting in line, I discovered that the gentleman in front of me was visiting from San Francisco!  Yup, Legend is that amazing… people come from both coasts to shop there!
This was the store I discovered last year.  It has a cafe with a reading library. (Love the book?  You can buy it for half price!)  Lots of events downstairs, and they share the building with a master chef, which means they also have the nicest restrooms of any comics shop!  (And one of the only comics shop with a cafe!)
We left at 1:45 PM, and walked across the street to Gerda's German Restaurant and Bakery for lunch.  I had a sore throat, so had the goulash soup, while Parker, my nephew and chauffeur, sampled their Reuben, a local creation.  He raved about it, considering the best he'd ever had.  The rye bread is baked fresh daily, and the sauerkraut is made on-site.  At 2:15 PM, we were back on the road, headed to the Crossroads shopping center.  Built in the 1950s, it's dying a slow death, kept alive by anchors.  But it houses a costume store and a manga/anime store (Digital Attitude, marker E), so we took a stroll from 2:25 to 2:55 PM.  Rather depressing.
So we drove on to my old local comics shop, Dragon's Lair (marker B).  We parked in front of a gift shop and since that parking was for that store, we took a brief detour. The front half of the store was crammed floor to ceiling with glass cases containing all sorts of tchotchkes! They also had a book section (carried over from the previous store's owners), where I found a 1958 edition of Miss Peach by Mel Lazarus, with an introduction by Al Capp, for $5!
Then we sauntered into Dragon's Lair Comics (marker B on the map) ten minutes later, at 3:15 PM.  I finally found the "variant" issue of The Goon I had been searching for all day (for my nephew), as well as a copy of "PS238: Saving Alternate Omaha"!  Also lots of quarter-bin treasures, including a good selection of Free Comic Book Day issues.  (I didn't recognize some… I may own them already, but for fifty cents, why not?)  I had a nice chat with Bob, who has been selling comics and games since 1975!  The store is a typical comics shop… back issue bins, games, comics, event space, cards behind the counter… not much glitz, but good service, good selection, and a big reason why so many other comics retailers are in the Omaha area.
At 3:55 PM, we were back on the road.  Parker had to drop off a water bottle for his Nutcracker dancing fiancé (produced by my sister-in-law), so we took a rest stop and watched the rehearsals until Meghan was released at 4:40.  She headed home, and we headed to the last stop, Krypton Comics!
We wandered in at 4:55, and immediately noticed the new collectibles display!  Last Saturday, they had to close early at Six, kicking out a sizable artists workshop/jam/hangout to tear out walls.  The new space looks quite nice, and adds a large chunk of space to the sales floor!  Owner Dean Phillips was busy in back, packing boxes of merchandise in preparation of Wizard World N'Orleans, taking place next weekend.  We discussed Wizard and other retailing topics (which I won't repeat here).  He does a great job of marketing and retailing in Omaha, hosting incredible Free Comic Book Days, Black Fridays, and even made the USA Today's list of places to visit in Omaha!
I didn't really have any more needs to fill, so I thumbed through the massive back issue bins.  Krypton has an amazing selection of kids' comics, with issues dating back to the 1940s!  While some were a bit pricey ($6), I did manage to find a copy of King Features' "Comics Teach Measurement and Geometry" for $2!  (I already own the "mathematics" issue.)  But then… I don't know if was zen, or my comics sense buzzing, but I remembered reading a few weeks ago about Gus Beezer, Spider-Man's cousin!  Yeah, it's a comedy.  Yeah, it's aimed at kids.  But the selling point for me?  Written by Gail Simone.  I found all four issues at a little over cover price!  The perfect end to a great day of shopping, finishing up at 5:15.
Seven hours of comics shopping!  WHEW!
I was too tuckered to go out karaoking, so headed home.  But I discovered a dark and locked house when I got home!  (The 'rents were out doing errands.)  So I hung out with Parker and the lovely Meghan, stopping off to pick up dinner at Taco Bell.  Her lovely seal-point Siamese Merlin offered some companionship as we watched "Roman Holiday" on DVD.
Then I returned home (calling first to make sure the parents were there), where I immediately began typing this column.  It's Sunday afternoon now, and I'm still recovering!  I haven't had time to read any yet, but I've got a long flight back to New York tomorrow, so I'll do it then.