.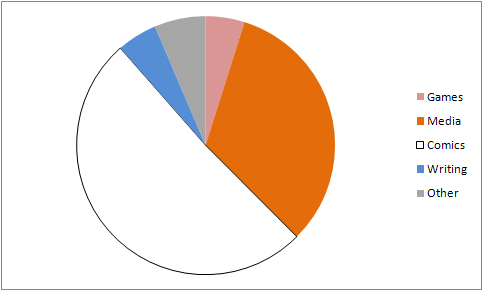 By TORSTEN ADAIR — special to The Beat

People have been complaining that "Comic-Con" is no longer about comics.
How Hollywood has slowly colonized the show, and that comics are becoming marginalized.  Is this true?
Yes, Hall H and Room 20 are packed full of film fans, celebrities, and press, and much of the news from San Diego each year is media related (even if it does tie into comic book properties).
Yet comics had a fair share of panels in the Indigo Ballroom and the various Room 6 halls, so there were large crowds for comics panels, and a lot of cosplayers dressed up as their favorite comic book characters.
But does media really dominate the programming at Comic-Con International?
Let's find out!
I used the grid charts found at the CCI site and tabulated the hours for each category.
"Media" is Animation, Movies, and Television.  I grouped them together, since most critics lump them together as well.  (Razzafrackin' Hollywood…)
I didn't count the panels or screenings occurring in the Marriott, nor the special events and playbacks scheduled in the evenings.
This is just the panels.
So, looking at the pie chart, we see that comic book programming has 51% of total programming, for an estimated 298 hours of programming!  (That's twelve days and 10 hours, if laid end to end!)
Media has about a third of the programming pie, with 190.75 hours (almost 8 days).
The remaining sixth is almost evenly divided between Everything Else (toys and other miscellany): 37.5; SF/Fantasy/Horror: 29.5; and Games: 28.5.
The grand total?  584:15 hours of programming!  24 days of programming (not including the Masquerade, Eisner Awards, and the film festivals)!
What is amazing about Comic-Con, what makes it such a mecca, is that it is a fan fest for a wide variety of tribes.  Thumb through the panel grids (ha!  A comics reference!) and look at the "Everything Else" panels.  Yes, lots of toy groups there, but also Harry Potter, costuming, sculpting, and Klingon lifestyles!  Plus a separate track for film-making.  It's diverse and chaotic, and one hopes that the fandoms cross-pollinate.  Yes, the crowds are crazy, but the energy is intoxicating.  Find a way to enjoy it, not just survive.  (And attend one of the many regional cons which tend to be smaller, but just as much fun.)  And quitcher bellyachin!  Grim and gritty is out!  We're in the "hippie" phase of the Sekhmet Hypothesis!  Grant Morrison says so! So be happy!  Accentuate the positive!  (Unless you live in New York.  New Yorkers are never satisfied.  We complain/kvetch/grumble/grouse as a form of therapy.)