As Comic-Con International approached, the comics media wonders: "Might CCI move from San Diego?" This year it became a more intriguing discussion for Bar-Con, as CCI's contract with the convention center expired next year, in 2016.
My prognostication was: CCI has a great relationship with the City of San Diego. They got a 63% discount on convention center rent this year, and next year, that discount will be 67%. Local hotels are eager to give them meeting space and rooms, as this is one of the few annual opportunities hotels have to charge the legal rack rate, as rooms are scarce during the Con. I'm certain that CCI will re-up for a few more years, and give the city time to refinance the convention center expansion. Meanwhile CCI is testing both Anaheim and Los Angeles, either as a replacement city, or as a means of flipping a smaller but growing WonderCon to San Diego and Comic-Con to Orange County. If 2015 was any indication, it seems that CCI is comfortable at the San Diego Convention Center, and enough off-site events pulled people outside to lessen the crush of humanity, each performing their own hajj, circling their own tawaffs while others circle theirs.
---
What follows is not a specific "could CCI-San Diego become CCI-Vegas?" analysis.  That will come later, once I find a copy of this year's convention schedule, calculate the square footage and occupancy used for panels at hotels and the convention center, and possibly the number of hotel rooms nearby. I also don't price what the space will cost. That's always fluid, and besides, if you can hold a Hyper-Con like this, money isn't going to be a huge concern.
For now, this is just a "Is it possible to hold a Hyper-Con in Las Vegas?" think piece.
The short answer, is "Why, of course!" (That is, if you can manage a giant comic con, you can easily manage a giant comic con in Las Vegas.)
The longer question to that short answer, which I can't answer, is "If it's so easy and such a great destination, why hasn't anyone yet succeeded in staging such a show?" The weather isn't a problem, as the Electronic Daisy Festival has shown. (400,000 attendees over three nights (7 PM – 5:30 AM) at the Las Vegas Motor Speedway.)
One should also realize that, before 2006, it was difficult to stage a large comic con in New York City. But someone cracked that nut. I wonder if they've ever hosted a show in Vegas?
---
There are three major convention centers in the Las Vegas area:
Las Vegas Convention Center. It. Is. HUGE. (And getting bigger!) CCI would fit in ONE hall, leaving two extra. There's lots of meeting space. The Westgate (formerly the Hilton) hotel next door has 2,956 rooms.  There are two monorail stations. Problem: it takes forever to walk anywhere else. (15 minutes to walk to the Strip.) Shuttle buses are parked outside in the heat.
The Sands.  Two levels of exhibition halls, two large ballrooms, meeting rooms are VERTICAL, sited above the exhibit halls. It connects internally to the Palazzo and Venetian, with 7,092 rooms. It's on the Strip. There's an outdoor connnection to Harrah's (2,677 rooms) and the monorail.
Mandalay Bay.  Three hotels, Mandalay Bay (3,309 rooms), Luxor (4,407), Excalibur (4,008), are connected together via a private monorail. The intersection at Flamingo has outdoor overpasses connecting Excalibur to New York New York (with arena) (2,024), MGM Grand (with arena) (6,852), and the Tropicana (1,467).
Mandalay Bay is the best spot.
The number of hotel rooms nearby:
Mandalay Bay 3309  (#7 worldwide)
Luxor  4407  (#8)
Excalibur  4008 (#10)
New York New York  2024  (#51)
MGM Grand  6852  (#2)
Tropicana  1467  (#66)

That's 22,067 rooms, in one mile of The Strip.  Further north past New York New York is Monte Carlo, Aria… There are 62,000 hotel rooms on The Strip; 15 of the 25 largest hotels in the world are located there.
(For comparison, the Manchester Grand Hyatt in San Diego has 1,628 rooms – the largest in California.  The San Diego Marriott Marquis & Marina has 1,362 rooms.)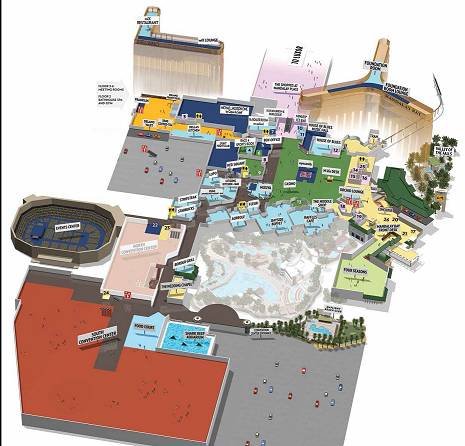 1,000,000 square feet (#5 in the country)
South Convention Center
Level One: "Bayside" ABCD  577,173 sq.ft.  2652 10×10 booths (San Diego Halls A-G = 460,859 sq.ft.)
Level Two: Ballrooms

Shorelines exhibition hall: 359,133 sq.ft. / 1789 10×10 booths (Imagine 3000+ Artist Alley tables!)
Mandalay Bay Ballroom 100,014 sq.ft. /  10,528 theatre seating
Breakers  15,138 / 1,621 theatre
Surf  7,920 / 845
Lagoon  23,985 / 2,549
Reef  6,708 / 824

Level Three: Meeting rooms

Jasmine  9374 / 1113
Banyan  5148 / 542
South Seas Ballroom  48,327 / 5115
15 additional meeting rooms

North Convention Center (located just outside the South Convention Center)

South Pacific Ballroom 44,496 sq.ft. / 4728 seats
Islander Ballroom 31,536 / 3351
Five additional meeting rooms  145 – 741 maximum capacity, 16 breakouts

Additional meeting spaces in the arena and hotel towers.
…and a food court. As well as dining options in the main casino.
12,000 seats
It has hosted the Latin Grammys and Miss Universe pageant.
In close proximity to the Mandalay Bay Convention Center
Two ballrooms.  Nothing else.
When combined together, the Egyptian Ballroom has 15,680 sq.ft. and seats 1500.
The Great Hall has 12,226 sq.ft. and can seat 853 in a theater setting.
There is also the Tournament of Kings Arena (dinner theater) with horseshoe seating, and the Thunder From Down Under (male strip) showroom, which appears to be more of a lounge.
Eight rooms, all New York themed.  (I like the triangular Tribeca room.)
Staten Island is the largest: 6,467 sq.ft., 550 theater seating.  The rest: 65 – 220 theater seating.
Five boardrooms, which might connect to hotel rooms? 12-16 people per conference.  Sounds like a good meeting room for a corporate suite.
There's a replica of the Brooklyn Bridge which can host 1,000 for a reception, or 600 for a banquet.
Due to be completed in 2016, the Las Vegas Arena will seat 20,000, and be located behind the casino.
The MGM Grand is the second largest hotel in the world.  (The Venetian is #1)  This is by number of rooms, not by volume.  That said, MGM has a lot of square footage.
The MGM Grand Garden Arena (capacity: 16,800) is located to the west of the pool. It hosts the Billboard Music Awards, the Academy of Country Music Awards, and lots of boxing. The event floor is 49,481 sq.ft., there are ten "studios" on the first floor which seat 61-388, and another 55,195 sq.ft. of space on the second floor. Also, there's a Studio Ballroom of 9,934 sq.ft. which can seat 1,008 in a theater configuration.
The conference center is located at the back of the complex, east of the pool. Three levels:

1: Grand Ballroom 61,575 sq.ft.  seats 6,120.
2: Meeting rooms, boardrooms.
3:Premier Ballroom 49,225 sq.ft., seats 4,344; and meeting rooms.

Then there's the Marquee Ballroom, which is a column free space south of the pool area with 92,000 sq.ft., seats 6,140.  Lots of restrooms!
That's… 212,734 sq.ft. of space in four ballrooms. That, by itself, is enough space for a mid-size comic con.
The Las Vegas monorail terminates here. (It might eventually reach the airport.)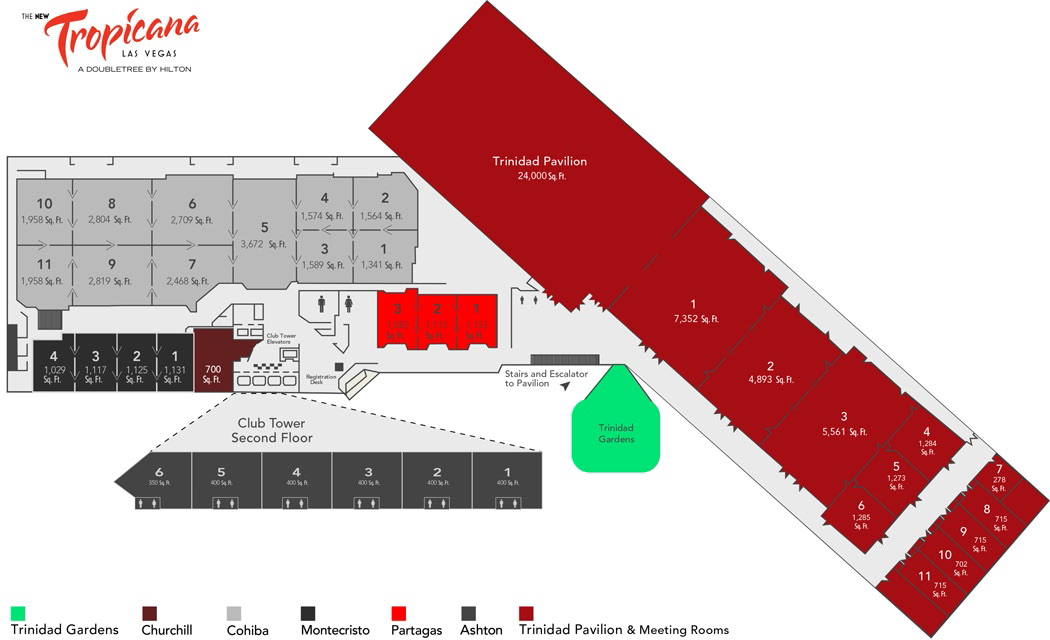 This is the one hotel/casino in the cluster not owned by MGM Resorts International. It is also one of the oldest on the Strip, constructed in 1957.
Trinidad Pavilion 45,648 sq.ft / 5,133 theater seating
Cohiba  24,456 / 2,700
Montecristo  4,402 / 500
Partagas  3,328 / 380
Tropicana Theater  1,200 seating
Also, there is the MGM Resorts Village, across The Strip from the Mandalay Bay and Luxor, which is used for outdoor concerts. 15 acres/653,400 sq.ft.  A good spot for food trucks, outdoor movies, flea market, music festival…
The Scorecard:
22,067 rooms in the immediate area.  62,000 rooms on The Strip. (And an RV park at Circus Circus!) (Not to mention various pied-à-terre apartments available via Airbnb, plus cheaper hotels off the Strip.)
Three indoor arenas: 12,000; 20,000; 16,800 (Three "Hall H" sites, each twice or thrice the seating capacity of what currently exists in San Diego.)
At least three ballrooms which are equal in capacity to Hall H in San Diego.
All of those large venues have pre-function and public spaces to handle large crowds efficiently.
1,000,000 sq.ft. of convention space, which serves as the Show Floor. Here's a sample (the smallest booths are 10×10, just like at most comic cons; the largest booths are on par with the megabooths at CCI). This is just the lower level (Bayside). There's another hall on the second floor.
An abundance of meeting rooms for numerous programming tracks.
Different fandoms can be headquartered in different hotels.
Each venue could sell site-specific tickets. Not interested in gaming? Just want to cosplay and learn about crafting? Just want to see the show floor? Buy only that ticket, and get front-of-the line seating over the generalists for those tracks.
30 airlines service the Las Vegas Airport.  145 direct flights (and many more via connections). Many of them via Southwest Airlines!
So… who'll be first? Wizard World has another Vegas show scheduled for March, at the LVCC. But who will be the first to max out one of the three convention centers in Vegas?
---