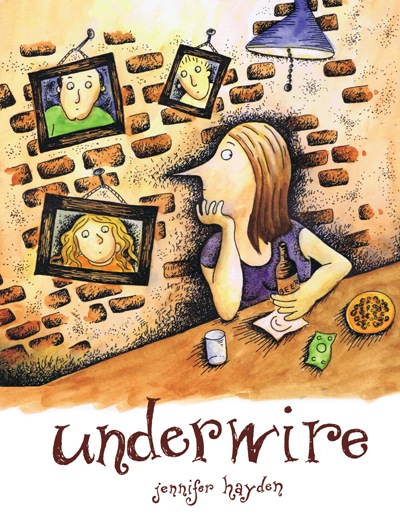 Due to the crazy-ass snowstorm hitting the east coast tday this event is postned until November 12.


One of the most entertaining new members of the Top Shelf family, "politically incorrect mother of two" Jennifer Hayden, is hosting a launch party for her new book Underwire — and you're invited!
WHEN: Saturday, October 29, 8-11pm
WHERE: Bergen Street Comics (470 Bergen Street, Brooklyn, NY 11217)
WHAT: Buying books! Getting 'em signed! Meeting the author and her family! Hearing inappropriate anecdotes! Enjoying light refreshments! Most importantly, getting a little culture in your life before you head out for wild Halloween shenanigans.
ABOUT THE BOOK:
Sometimes you just gotta pick yourself up by your brastraps.
Underwire collects the wise and witty stories of Jennifer Hayden, cartoonist and politically incorrect mother of two. She may not have all the answers, but she's not gonna let that stop her from enjoying the prime of her life — her forties!
ABOUT THE PARTY:
Jennifer says: "Let me deface a copy for you! And meet a couple of special guests: my husband, and my daughter Charlotte–the star of many of the stories in Underwire. She'll be drinking Shirley Temples, but there'll be plenty of beer and bubbly for the rest of us!"