.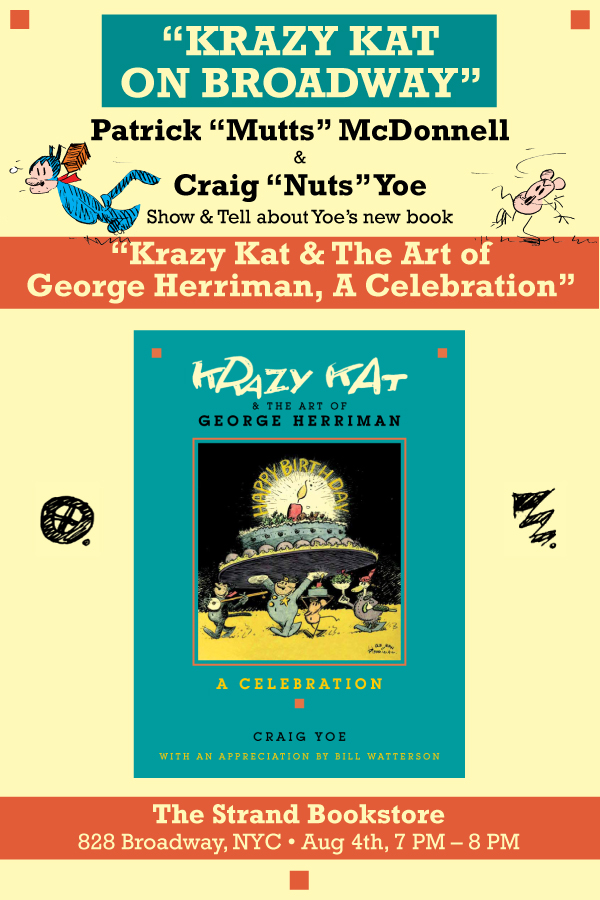 Tonight, at the Strand Bookstore located at the corner of Twelfth Street and Broadway, Craig Yoe and Patrick McDonnell will discuss the art of George Herriman, focusing on his masterpiece, Krazy Kat.  The fun begins at 7 PM!
Craig Yoe, as many of you know, is a comics archeologist, discovering treasures long forgotten or only remembered as myth and legend.  Last year, he collected the "Tiger Tea" storyline from Krazy Kat, which was infused with a strong narcotic subtext.  Now, in partnership with Patrick McDonnell (with an assist by Bill Watterson), he celebrates the artistic mastery of George Herriman.
Patrick McDonnell is best known for his comic strip, Mutts.  McDonnell also wrote one of the earliest "art books" of comics, Krazy Kat: The Comic Art of George Herriman, way back in 1986 for Abrams.  McDonnell's strips are frequently inspired by comics art, and he was recently awarded the Bob Clampett Humanitarian Award at the 2011 Comic-Con International held in San Diego for his service with the Humane Society of the United States and his environmental activism.