Since Discovery took over Warner Bros from AT&T back in April, reading the tea leaves on top man David Zaslav has been a cottage industry. Here at the Beat, with no public-facing indication of his attitude towards superheroes, we took on an optimistic tone. This was based on the hope that he might have the affinity for pulpish entertainment that greenlighting a show called Naked and Afraid might suggest.
But this week, he is proving to be the kind of flinty bottom-line watcher who doesn't play favorites. Or really care what anyone else thinks at all. OK, having to save $3 billion is a big task, and it has to be done. But if you were hoping for a big push for DC projects as a way to start paring down that $55 billion in debt, things took a very different turn.
It's hard to know where to begin in the current conflagration – and today's details on the reorganization of HBO Max and other streaming assets may change the details quite a bit. But let's try to get up to speed. There is so much to cover that I'm going to have to turn to bullet points just to pacify my thoughts.
• The gas leak that lit the barn on fire was the shocking news that the Batgirl movie was being shelved FOREVER. (Along with Scoob: Holiday Haunt, let's not forget that.) Originally conceived as an HBO Max Original film, the $70 million budgeted movie was no fly by night but starred breakout star Leslie Grace, with supporting turns from Brendan Fraser as Firefly, Michael Keaton as freaking Batman and JK Simmons as Commissioner Gordon.  At one point it had even been considered for a theatrical run. The budget had risen to $90 million due to COVID delays but instead of trying to get SOME money out of it,  WBD decided to shelve all of that and just not release it at all anywhere.
With the Bargirl burial initially positioned as "change in strategy", today's analysis suggests that an even bigger reason was so WBD could take both Batgirl and Scoob as a tax write off. 
There were initial cries that the scrapping of Batgirl carried bad optics because the title role is played by a Latina. But there were reasons for the move. In both cases, the filmmakers were told that it came down to a "purchase accounting" maneuver available to Warner Bros Discovery because the company has changed hands, and also changed strategy from the previous regime. This opportunity expires in mid-August, said sources, and it allows WBD to not have to carry the losses on its books at a time when the studio is trying to pare down $3 billion in debt across its divisions.
WBD did release a statement about the cancellation: "The decision to not release Batgirl reflects our leadership's strategic shift as it relates to the DC universe and HBO Max. Leslie Grace is an incredibly talented actor and this decision is not a reflection of her performance. We are incredibly grateful to the filmmakers of Batgirl and Scoob! Holiday Haunt and their respective casts and we hope to collaborate with everyone again in the near future."
• And well, about that…the Batgirl filmmakers, Grace and the rest seem to have learned about the cancellation at the same time everyone else did – reading it on the interweb. Directors Adil El Arbi and Bilall Fallah are hot after directing the well-received Ms. Marvel, and Bad Boys for Life and revealed they were "saddened and shocked" in an Instagram post.
Grace also was shocked and saddened in her own IG post:
Also shocked and saddened: pretty much the entire Hollywood creative community. If all this work – and Scoob! – could be killed dead because of a tax write off, is anything sacred any more?  WB was already in trouble with creatives after FORMER head Jason Kilar made the decision to release big budget films like Dune and Wonder Woman 1984 simultaneously in theaters and on HBO Max in the depths of the first COVID wave. This led to lots of recriminations and big bonuses to stars and filmmakers to make up for lost box office incentives. But it destroyed trust in the studio for a time, and even led star director Christopher Nolan to stray to another studio.
• And that seems to be a big part of all of this: Zaslav, in the spirit of conquerors everywhere, is paving over a predecessor's plots and deeds. His erasure campaign seems particularly targeted at Jason Kilar. When AT&T and Kilar were running things, streaming was king and HBO Max was the bleeding edge.
Now, a couple of bad quarters from Netflix later, streaming is just another business model, not the ultimate form of human existence, as people seem to be eager to leave their couches for more active pursuits.
• But what about the rest of the DCEU you ask? Well…oh jesus, where do you even start?
Is it Henry Cavill MAYBE having to cancel a return to Hall H for the WBD panel because he had Covid? (He spent time rebuilding his computer's fans instead.)
Is it Jason Momoa palling around with Ben Affleck also on IG, because Affleck's Batman is replacing the KEATON Batman that was going to be in Aquaman because it now takes place before The Flash instead of after and people were confused?
Is it the revelation that the "grassroots movement" to restore the Sndyer Cut was really a targeted bot army, possibly encouraged by Zack Snyder himself?
Is it the Snyder Cult revelling in all of this turmoil, hoping it can lead to the return of the Snyderverse? (Ain't gonna happen.)
Is it the fact that while all of this was going on the Fall 2024 release date for Joker 2 was revealed?
Is it that Ezra Miller is still at large and no one really knows what is going on with them?
Is it that The Flash may have cost as much as $300 million and is absolutely critical to the studio's future and can't be cancelled but is absolutely unreleasable until the Miller Matter is somehow cleared up?
I mean, how do you even make this shit up? It took the combined powers of veteran film reporters Aaron Couch, Kim Masters, Rebecca Sun and Borys Kit to try to sum it up for THR – and they report there is even MORE potential turmoil ahead for Shazam Fury of the Gods and Aquaman and the Lost Kingdom, both of which may be moved back again!
The Batgirl news comes ahead of Warner Bros. Discovery's earnings call Thursday, with rumors swirling that Warners is considering moving the release dates for two of its upcoming films — Shazam! Fury of the Gods (currently slated for Dec. 21) and Aquaman and the Lost Kingdom (currently set for March 17, 2023). On Wednesday, the studio revealed an October 2024 date for the Joker sequel, Joker: Folie a Deux.
We do know that Black Adam will be released in October, but many other DC film projects are feared lost:
• A Wonder Twins film starring KJ Apa and Isabel May that was headed for HBO Max was killed dead earlier in the year.
• A Supergirl film in development starring Sasha Calle (above) – who was to be introduced in The Flash  – is likely to be shelved, according to Rolling Stone.
• Also MIA: the Blue Beetle film that was to introduce the first headlining Latine superhero, THR reports:
Just months after Grace was cast as Batgirl, Cobra Kai star Xolo Maridueña joined the DC universe as Blue Beetle — the fourth Latino actor cast in a DC movie that year (Colombian American actress Sasha Calle had been cast as Supergirl in The Flash, and West Side Story star Rachel Zegler previously joined Shazam! Fury of the Gods). Blue Beetle was originally developed for HBO Max before being upgraded to a theatrical release in December. As soon as Batgirl was shelved, a number of tweets circulated asking the studio to save Blue Beetle. Among those who liked those tweets? Angel Manuel Soto, the film's director, underscoring the uncertainty Warners talent faces at this time.
• And Michael Keaton's role as Batman – which was to function as an older character to guide viewers through the connected films, ala Nick Fury –  is now in limbo as well. Twitter scooper ViewerAnon spoiled it for you:
OK well no point holding info anymore: Michael Keaton only had 5 scenes in BATGIRL. He didn't train Barbara, she just dressed up as Batman for a Halloween party, stopped some terrorists, and tweaked the costume to be a superhero.

— ViewerAnon (@ViewerAnon) August 2, 2022
• And what about TV you are also asking? Well, later today, observers expect WBD to announce they are scaling back  – or even stopping dead – original programming on HBO Max and merging it with Discovery+ in some entity yet to be named. We know that Peacemaker Season 2 survived, because James Gunn tweeted that, But there has been a drip drip drip of cancellations elsewhere, as laid out in a Reddit post that someone tweeted: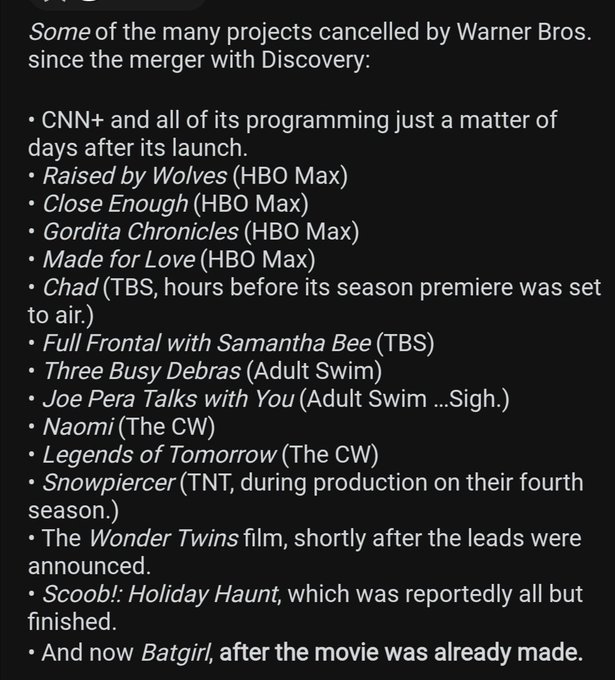 Add to this, the end of the The Flash tv show was recently announced. It is RUMORED that Gotham Knights is the next to be cancelled.
Also rumored: what ever happened to that Green Lantern show that has been teased for years? A recent update on its progress touted HBO Max as a cozy home for DC content and…that doesn't seem likely any more.
• What makes all of this so confounding – along with the stumbles and confusion in general over the DCEU over the last, oh 20 years or so –  is how easily everyone else does it. Sony released Morbius TWICE – WBD can't even release Batgirl once. Sony is similarly chugging along with Madame Web, starring Emma Roberts, another Spider-verse spinarette, and just cast ex Girls star Zosia Mamet in it.
Meanwhile, in the DCEU you have a real life rogues gallery of malcontents and ruffians – from Zack Snyder to Joss Whedon to Amber Heard to Ezra Miller to Ray Fisher – making just putting out a movie 10 times harder. Marvel isn't without its own issues – the VFX controversy isn't going to go away, Jeremy Renner has problems  – but they are just so much better at dealing with them.
There's an even more troubling issue bubbling under the surface at the new WBD: a lack of diversity.
As David Zaslav prepared to take over Warner Bros. Discovery Inc., one of the largest media companies in the world, he told friends in Hollywood that he would hire the best people he could find. Gender and racial diversity, while a factor, would not be his top priority, he said, according to multiple people he told. 

His methods have resulted in a notable amount of homogeneity at the top of the new media giant. Given six seats on the new company's board, Zaslav and Discovery appointed a roster of all White male directors. The majority of the chief executive officer's 13 direct reports, many of whom were recent hires, are White men. Meanwhile, Zaslav in April fired Warner Bros. chief Ann Sarnoff, one of the highest-ranking women in Hollywood — without filling her role —  and replaced WarnerMedia's heads of communications and finance with White men from Discovery. 

Lawmakers and advocacy groups say these staffing changes have heightened concerns that Discovery is bringing its poor track-record on diversity since merging with WarnerMedia in April.
As we know, it wasn't long ago that a movie starring a female superhero was considered impossible to succeed, and Batgirl's evaporation resurrects that notion. Batgirl was also to feature the DCEU's first trans supporting character – Alysia Yeoh from the comics, to be played by actress Ivory Aquino.  Cancelling a bunch of projects starring Latine actors has a similar chilling effect. And of course, Snyder Bros. are revelling in all this.
There is one teeny ray of light – or should I say non-disaster – that I've learned. While 70% of HBO Max's employees are expected to be laid off tomorrow, an appallling number, the plucky crew at DC Comics may be spared this time. That particular division doesn't seem to be the focus of this round of cost cutting. Could be wrong but here's hoping.
DC Comics survival has long been dependent on the success of their characters in films. The Batman was a big hit earlier this year, and Black Adam is getting a full theatrical release. But you don't have to be a visionary prophet to suggest that a movie starring Batman or The Rock is going to be successful. Where the real skill comes is finding the background characters who can blossom into full blown media stars. The Guardians of the Galaxy were once a C-list team at Marvel. Now they are household names.
David Zaslav has a library of content at his disposal that can help make up some of that $55 billion in debt by making money from box office and streaming and toys and Happy Meals. Unfortunately, all signs point to him thinking it's all the same as another season of Honey Boo Boo Grew Up. And that's a shame.