The United Federation of Planets has never looked so crisp and full of dimension.

CBS Paramount gave Trekkers reason to throw their pointy ears in the air Thursday with the announcement that all 79 episodes of the original Star Trek are getting digitally remastered and will be heading into syndication next month for the first time in 16 years in honor of the sci-fi classic's 40th anniversary.

Many of the series' beloved yet decidedly dated visual staples, from the galaxy glimpsed in the opening title sequence to the myriad otherworldly landscapes seen from the bridge of the starship Enterprise, will receive a CGI makeover to appeal to the sons and daughters of 1960s-era Star Trek fans who actually found someone to mate with.

In other news, CGI experts will be giving Dorothy an iPod in THE WIZARD OF OZ, and Humphrey Bogart's Sam Spade will now be yakking on a Razr in THE MALTESE FALCON.

UPDATE: Here's the new Enterprise, via comments, which looks just like something from a video game. Excuse me, while I barf into a juniper bush. This is SO DUMB. Give me a world where men were men, and women were women, phasers weren't always on stun and the most fake things around were the padded bras.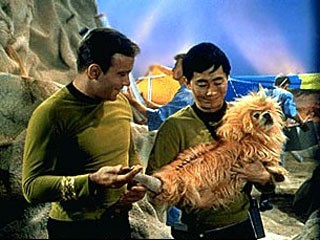 In my day, we used our IMAGINATIONS, and IMAGINED that a minature spaniel wearing a wig and some horns was a savage alien creature! That's all it took! And we loved it, we LOVED IT! Rassem frassem…