Let's gooooooooo! Finger pointing and blame casting is well underway for the poor performance of Shazam: Fury of the Gods, and now it's basically Dwayne Johnson vs the World…a position I'm sure he's very comfortable in. Even Shazam star Zachary Levi has joined the fray…and by the time you read this, The Rock may have clapped back…something he's never shy about doing.
It started yesterday with a story in The Wrap, reported by Umberto Gonzales and Scott Mendelsohn, with the title "How Dwayne Johnson Kneecapped 'Black Adam' and 'Shazam 2' While Trying to Take Over DC."
The story is paywalled but suffice to say it ties together many bits and pieces that have been lying about for the last few months concerning Johnson's ambitious plans to…well, take over the DC(E)U.
The main shocker explains the curious fact I noted in Shazam director David F. Sandberg's THR interview: that there had been plans for some characters from Black Adam to appears in Shazam 2 but that didn't pan out so characters from The Suicide Squad/Peacemaker were used instead.
As the Wrap explains, it was Johnson himself who explicitly VETOED an earlier version of the cameo for the post credit scenes in Black Adam:
Johnson did plenty of work in public to undermine "Shazam," chiefly by promoting a face-off between Black Adam and Superman instead of the more canonical link between the hero Zachary Levi played and the former pro wrestler's own character. Privately, he vetoed a planned post-credits scene in "Black Adam," which would have seen Shazam recruited by Aldis Hodge's Hawkman, and other costumed heroes, into the Justice Society of America, TheWrap can report exclusively, thanks to disclosures by two high-level Hollywood insiders.
Instead, Shazam 2 producer Peter Safran (also now co-head of DC Studios) came up with a version of the scene for the Shazam 2 post credits scene – and Johnson once again vetoed use of the Black Adam characters, meaning the Peacemaker characters were called in from the bullpen.
There's tons more tea from insiders in the piece, generally painting a picture of The Rock on a rampage to run the DCEU his way, as an extension of the Dwayne Johnson Brand.
"Instead of making a movie, he wants to extend his brand and make a brand centered on himself," said the Hollywood executive who criticized Johnson. An Instagram post in which he declared that "the hierarchy of power in the DC Universe is about to change" was an implicit statement that Johnson's Black Adam should be the new focal point of the universe. That meant positioning himself to go up against Henry Cavill's Superman, not Zachary Levi's goofy Shazam.
Johnson's refusal to unite the C.C. Beck comics universe on film goes back a long way: in the mid 2010's, during Black Adam's very very long development process, he vetoed the idea of a film that would have introduced both Black Adam and Shazam.
Anyone with knowledge of the source material who followed this long process was probably a little puzzled by this. After all, Shazam and Black Adam have the same costume, the same powers, and are a perfect example of the "bad twin" trope used in so, so many superhero movies. (The early MCU is rife with it, from Obadiah Stane to the Abomination, Loki and on and on to Venom and beyond.) Making Black Adam a standalone character meant introducing the universe not once but twice. It just didn't add up.
Instead, in wrestling terms, The Rock "went into business for himself," and that usually has dire consequences. Johnson famously brought in Henry Cavill as Superman for a cameo in Black Adam against DC Films Head Walter Hamada's wishes (WB studio heads Michael De Luca and Pamela Abdy okayed it.) And the press tour for Black Adam turned into a campaign to become the "Shadow Feige" of the DCU, bringing back Cavill , in the words of the Wrap "used in a way as to further fan the flames of an ongoing civil war between those in the so-called SnyderVerse and the mainstream DCU."
Clearly all of this explains some of the pregnant pauses in the Shazam 2 press tour. Following The Wrap story, Levi jumped in with an Instagram story that seemed to confirm the crossover veto: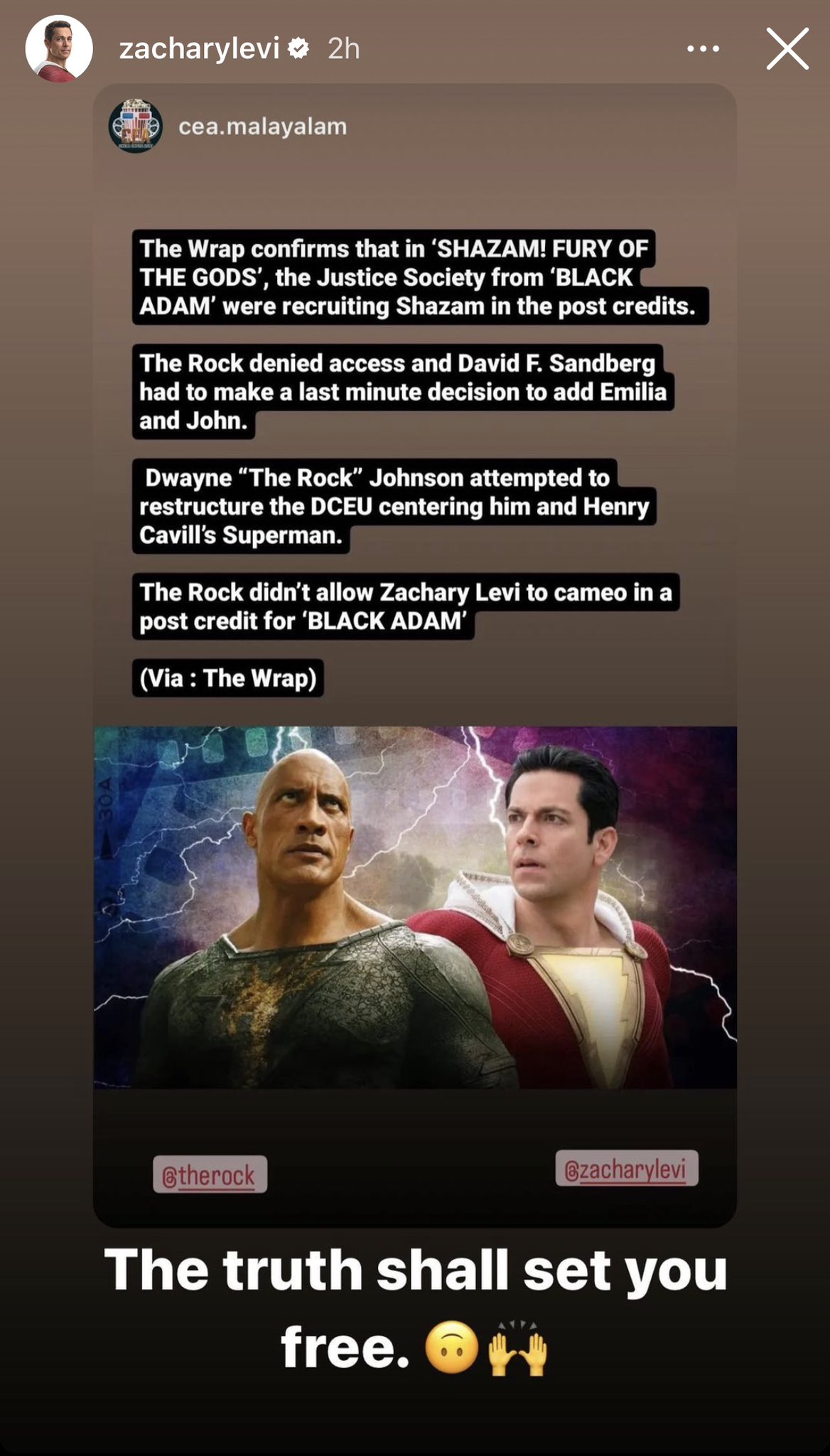 As we mentioned up top, Johnson doesn't take being crossed lightly. He engaged in a bombastic campaign to prove that Black Adam actually made money, as the WB and the Johnson camp planted opposing stories in the trades, and he's prompt in calling out any roody-poo candy ass who dares take him on. I fully expect some pushback to be planted somewhere quite soon.
There will be ample material. The DC(E)U was already the most dysfunctional unit north of Pump. You can hardly blame Johnson for all of the pre-existing mess, and sources at WBD are clearly fingering him as the fall guy for a lot of falls. Still, his brand driven production methods, and penchant for wrestling-style promos just stirred up an already toxic pot.
As you'll recall, it's not the first time. After joining The Fast and the Furious franchise, Johnson proved that this was one family he did not want to be a part of, feuding with godfather Vin Diesel for years. Even the death of Paul Walker did not reunite the clan, despite Diesel's social media overtures:
"Vin's recent public post was an example of his manipulation," he told CNN. "I didn't like that he brought up his children in the post, as well as Paul Walker's death. Leave them out of it. We had spoken months ago about this and came to a clear understanding."
When FatF co-star Tyrese defended Diesel, The Rock cut this epic, NSFW promo:
Damn. The Rock made a heel turn after cutting a promo on Tyrese's new album pic.twitter.com/Q0J7bM61KV

— Troydan (@Troydan) October 11, 2017
Meanwhile, the age old war between Zack Snyder Fans and regular folks is now being examined as part of the Shazam 2's failure. Once again Levi took to social media, although he wisely deleted the tweet. A fan wrote:
"There is no denying that at the moment there are many Snyder fans who are happy for the failure of your film and many of them wish that everything that is to come fails just for not continuing with the films of their director"
And Levi wrote (and then deleted)
"This is also true. Sad, but true. How much that actually affects the box office is anyone's guess. But I think the biggest issue we're having is marketing. This is a perfect family movie, and yet a lot of families aren't aware of that. Which is just a shame."
Yes, what a big shame. Is the Shazam/Black Adam feud going to fill headlines for a few more days, or have we reached peak hostilities? Refill that popcorn bucket and remember…..just another day in the DCU.