by Pam Auditore
 Among the faux Heroes in spandex came a true, real life one, in suit and tie, to San Diego's Comic-Con one Saturday morning.
Representative John Lewis, Democrat, of the Congressional 5th District of Georgia, and sole surviving speaker of the 1963 Freedom March on Washington, made his Comic-Con debut promoting his  autobiographical Graphic Novel MARCH: Book One
Written with Lewis's Congressional staffer, Andrew Aydin, and drawn by artist Nate Powell (Any Empire, Swallow Me Whole) March:Book One is about Rep. Lewis's  coming of age in the Civil Rights era and the awakening of his activism. Learning how to  champion Civil Rights through Non-Violent methods advocated by Mohatma Ghandi and adopted by Martin Luther King.
Rep. Lewis began life on his family's tenant farm,  in charge of raising the chickens.
"Those chickens taught me something. They taught me patience.  They listened to me.  More than the current Congress."
He cared for them, learned from them, and even practiced preaching to them, hoping one day to become a Pastor.
What then was his inspiration to take another course?
Rosa Parks, Martin Luther King and–a Comic Book.
Frankly awed to be sitting next to Rep. Lewis before a packed panel of  fellow Comic Book Fans,  Aydin explained:
"In 1957 an organization called the Fellowship on Reconciliation produced a book to help explain the Movement and their Non-violent Methods"
"Martin Luther King and the Montgomery Story,"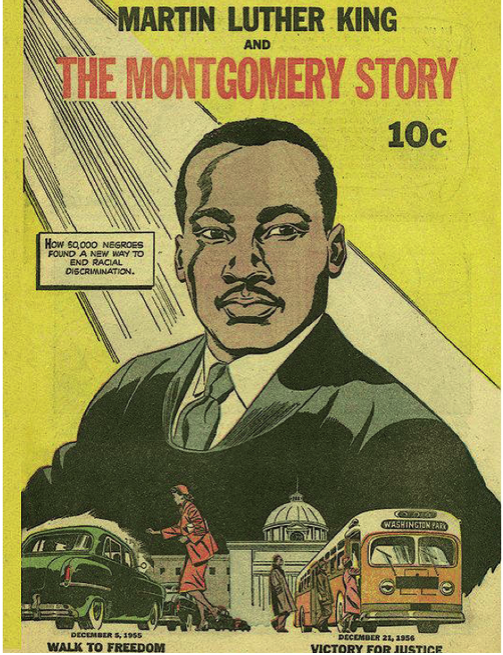 "This 16-page comic book  illustrated the work and achievements of the Montgomery, Alabama bus boycott and the nonviolent methods of King and his fellow civil rights activists sold 250,00 copies" Aydin continued.
By audience reaction, it was clearly a surprise for Comic Fans to learn a comic was instrumental in helping to educate, organize and inspire participation in the Civil Rights Movement.
Further, according to Aydin,  "The book continues to have influence around the world. "
It made its way to South Africa and copies have been said to have appeared in Tariqh Square during the Arab Spring.
Now one of our country's great orators, the 26 year Veteran of the House, Lewis was the youngest Speaker at the Famous 1963 March on Washington and was the 6th Speaker. Martin Luther King was the 10th.
Two years later,  Rep. Lewis, then Chairman of the Student Non Violent Coordinating Committee (SNCC),  lead a march in Selma, Alabama in 1965.  It forms one of the stories covered in MARCH:Book One
Lewis, and other Civil Rights Activists  were peacefully crossing the Edmund Pettus Bridge when attacked by Police.
Rep.Lewis suffered a fractured skull as a result.
Escaping, he took refuge in a Church.  Before going to the hospital, John Lewis, bloodied, appeared before television cameras calling on President Johnson to intervene in Alabama. He still  bears visible scars from the incident today.  More  were to come.
Demonstrating what it takes to fight injustice, is one compelling reason Aydin and Rep. Lewis  put his story the story into Graphic Novel form.  "I fell in love with Comics and their Ethic of Justice being done" Aydin later said in an interview.
At the SDCC panel, after  Aydin finished describing the book's genesis, Nate Powell  went through his process for creating the art.
"Going from the Script to the Page, I spent a lot of time just doodling things.   For details going through photographs to get a sense of clothing, cars, storesfronts, etc.  As someone who grew up in Arkansas, Alabama, I have a natural sense of the places in the story."
While Aydin and the Congressmen have been working on
MARCH  for five years, in light of this year's Supreme Court's ruling effectively gutting the 1965 Voting Rights Act while state legislatures around the country are attempting to restrict Voting, it seems an appropriate moment for another Comic Book to inspire and educate. 
According  to  Rep. Lewis, "MARCH is about the struggle to create a Beloved Society and lay down the burden of race and move on."
"The Dark Knight" Cameo Actor and Comic Book Fan, Sen. Patrick Leahy of Vermont endorses the reading of MARCH:Book One  to his colleagues.
With MARCH: Book One Congressmen Lewis hopes to inspire another generation.
Arriving before the 50th Anniversary of the August 28th March on Washington, MARCH: Book One debued at the TopShelf  booth at SDCC  and is now available through your local comic book retailers and at Amazon.com
Excerpts from the SDCC_2013 MARCH: Book One panel