Many reports tonight via Twitter that the Atomic Comics chain in Arizona is shutting down, and confirmed on an employee's Facebook page. The four-store chain, owned by Mike Malve, was one of Diamond's biggest accounts and a huge, progressive retailer known nationwide for its signings and aggressive, innovative promotions. Atomic and its logo were included prominently in the KICK-ASS movie, after Mark Millar became a fan following a signing. The four stores were located in Phoenix, Mesa, Chandler, and Paradise Valley.
While the closings had not been confirmed on the Atomic website, their origin, 23 years ago, was told in full:
It all began in 1988 when comic book fan Michael Malve opened Bubba's Comic Store in Phoenix. Following a successful opening year, Mike moved the business to Mesa, renaming it Atomic Comics and forever changing the face of comics retailing in Phoenix. Instilling Atomic with an attitude of helpful customer service and product diversity enabled Mike to build and offer a new kind of comic book store, wholeheartedly different from the traditional "Android Dungeon"-type store. This fresh new attitude allowed the mainstream public to experience the thrill and adventure of comics and gaming without having to enter the dreaded "comic store."

Malve's Twitter feed did not betray signs of distress, although the last tweet, posted on August 16, read
Man this might be the smallest New Comic week in the history of comics this week. All stores boxed up and out the door by 1 today

However, as news spread over Twitter, the subject is already coming up for debate.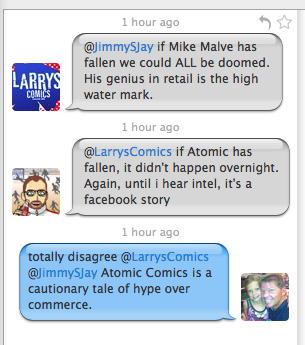 The news comes as the industry prepares for seismic changes, with DC's relaunch, the advent of digital day and date, and the evolution of the periodical-based business. While predictions of the death of comics shops have been only a hypothetical — if ubiquitous — debate of late, the closing of Atomic Comics is the first concrete sign that this is in fact more than a hypothetical.
Developing.