Home
Authors
Posts by Marc-Oliver Frisch
April brought a hat trick for recently crowned DC Entertainment executive Geoff Johns, who wrote the three top-selling North American comic books. Thanks to the strong debuts of Brightest Day and The Flash, DC Comics' April numbers remained rock-solid after the conclusion of Blackest Night. The two new titles took the two top spots in the Top 300 chart, while Green Lantern, Batman and Robin and Green Lantern Corps also placed in the Top 10. Compared to Marvel, the publisher was still a distant second in terms of market share, however, and DC's average and total sales have seen better days. At WildStorm, average comic-book sales fell below the 6K mark for the second time in the imprint's history. This wasn't unexpected, given that neither of WildStorm's two top-selling series, Astro City and Ex Machina, came out in April. At Vertigo, meanwhile, average sales appear to be solidifying around 10K again, thanks to a range of books that are selling well for a change. See below for the details, and please consider the small print at the end of the column. Thanks to Milton Griepp and ICv2.com for the permission to use their figures. An overview of ICv2.com's estimates can be found here.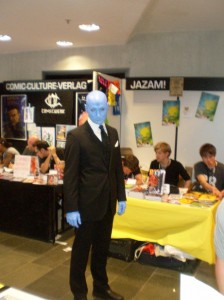 This week: Marvel gets ready to shift serial business away from comics retailers; Comic-Salon Erlangen foto parade, with cocks and blue people; more conversations worth having from Tom Spurgeon; DC editor Ian Sattler calms the critics, ends debate; why translating from English is a challenge; and your new comics recommendation of the week, delicious like a bag of boogers.
o
"Form Can Determine Content More Than Even the People Making the Content Generally Realize"
Douglas Wolk and the
Techland
crew discuss the hardcover edition of
Wednesday Comics
(
so does the Comics Alliance crew
, by the way). I'm in the liked-it-in-theory camp on
Wednesday Comics
. I bought all the issues, but found most of the strips so mind-numbingly dull and nostalgia-driven that I lost interest after the first one.
Wednesday Comics
has some great art by Paul Pope, Karl Kerschl, Ryan Sook, Kyle Baker and many others. But with few exceptions, it reads like a bunch of people paying homage to the kinds of comics strips they liked as kids, rather than some of the most promising storytellers in the field making a serious attempt at exploring an off-beat format.
o "I've Never Sent a Prose Reader to Amazon Because Amazon Doesn't Leer; I'd Like to Stop Doing It in Comics" Comics reporter Tom Spurgeon...
o "Forget Everything You Know"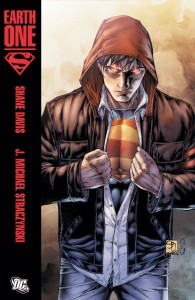 The major publishers started releasing their advertisements for comics shipping in August 2010. At DC, the big thing of the month is J. Michael Straczynski and Shane Davis's Superman: Earth One paperback, an original book-length reinvention of Superman at 136 pages, with a retail price of $ 19.99.
I'm inclined to say that there's potential in this move and it's about time and such, but then again, I'm not even sure how to measure that book's success right now. Will it have to reach people in bookstores to do what it's supposed to? Probably. On the other hand, though, I'm thinking that it could be a major step in the right direction even if it "just" manages to break, say, 25K in the direct market in its first month.
That sort of success would be a limited one, but in the long term, it might lead to a transformation of that market segment that the field as a whole could stand to profit from tremendously, even if it doesn't catch on with a mainstream audience immediately.
In other DC news, they're starting to test the waters for 22-page, $ 3.99 comics with the new ongoing series Green Lantern: Emerald Warriors, in addition to the previously launched miniseries Time Masters and The Mighty Crusaders.
o "Getting Jerked Around by Some Editor at a Big Publisher Is Almost Like a Palette [sic] Cleanser for the Real Shit That's on Deck" Joe Casey talks in detail about his recent experiences at DC Comics, without holding back. The interview, conducted by Tim Callahan, is a must-read if you're interested in the present state of creativity in U.S. mainstream comics. I've enjoyed Casey's work since he took over Cable in stealth mode back in, oh, 1997 or something. I remember a lot of Casey comics that didn't succeed, but not many that were boring. No matter what he does, Casey is one of a select few American mainstream comics writers that keep coming up with mad, cocky idea comics and just won't compromise, no matter how often they keep running into walls and have the rug pulled right out from under them. And I love him for it, because that's precisely why a failed Joe Casey comic is still a thousand times more interesting and rewarding than anything successful by, say, Geoff Johns. He also made a film recently, titled Hit Parade. o "Pat, It's True That You Have What Can Be Considered a Controversial Past" I don't know Troy Brownfield, and I'm not aware of what's going on at Newsarama, so maybe there's a perfectly good reason why they chose to conduct and run this appallingly, offensively spineless piece on Canadian artist Pat Lee, formerly of Dreamwave Productions, the way they did.
o "The Weight of Dead Plot" New Yorker film critic Anthony Lane reviews Iron Man 2 and is relieved, "to find a comic-book hero who...
by
Marc-Oliver Frisch
March brought jolly good sales for DC's comic-book business!
In fact, even considering that it was a month with five delivery days for new comics instead of just four and, consequently, one extra week of re-orders, the numbers seem almost too good on a range of titles, but maybe I'm just paranoid.
In particular, DC's Vertigo imprint is beginning to look more solid than it has in ages. Partly, that's because Vertigo released a whopping 19 new comic books in March, a new record for them, but also because many of those books performed well.
The big launch of the month was American Vampire, of course, a new ongoing series co-written by Stephen King. It sold an estimated 33,762 copies, the highest first-month sales for Vertigo since Diamond started providing data on sales to retailers in March 2003. (Andy Diggle and Enrique Breccia's Swamp Thing #1 came close: It moved 33,382 units in March 2004.)
More significantly for Vertigo's long-term health, there are signs of moderate success with a number of other recent launches. Sales on titles like The Unwritten, Joe the Barbarian and -- to a lesser extent -- Sweet Tooth indicate that the practice of publishing debut issues with low introductory prices is bearing fruit. The Fables spin-off Cinderella and the maxiseries Daytripper are also turning out to be solid sellers. Blackest Night and its tie-ins keep the publisher's DC Universe line in reasonably good shape in March, while the WildStorm imprint saw an increase of 35% in average comic-book sales. The latter is a mixed blessing, though. The spike is entirely due to a highly irregular three new issues of WildStorm top-sellers Astro City and Ex Machina, neither of which came out in April, and one of which has two more issues to go before reaching its conclusion.
by Marc-Oliver Frisch The sky is falling, in case you hadn't heard. Well, the ceiling in the direct market seems to be, at any rate, although...
We're on the road today with no reliable internet access, so no posting on all the exciting news, like Rob Liefeld's exclusive comics for...
On the occasion of the German edition of CHEW, which debuted from Cross Cult Verlag last week, I had the opportunity to talk to Layman about the series, his prospects in the comics industry and his experiences at WildStorm. An abbreviated and translated version of the interview, which was conducted via e-mail over the course of several weeks, appears in CHEW - BULLE MIT BISS 1: LEICHENSCHMAUS.