Good morning, hungover Brits and Americans who are staying up far too late. And, of course, hello to all our other friends across the World, all of whom experience the joy of different time zones. Titan have released their solicitations for July, so in the spirit of The Brit Zone, here they are: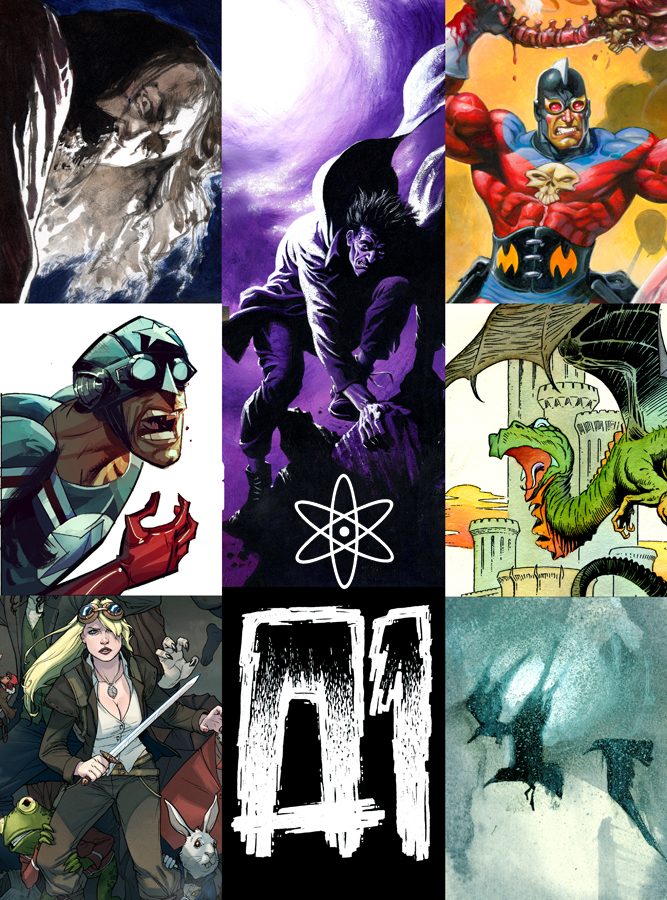 A1 Annual
 Writers: Ron Marz, Matt Wagner, Dave Johnson, Tom Raney, Rufus Dayglo, Andy Kuhn, Dave Dorman, Mark A. Nelson, W.H. Rauf and more…
Artists: Jim Steranko, Dave Wilkins, Sami Basri, Alex Horley, Tom Raney, Brian Smith, D'Israeli, Garrie Gastonny, Mark A. Nelson, Stanley 'Artgerm' Lau, Garry Leach, Dave Johnson, Barnaby Bagenda, Sakti Yuwono, Dave Dorman, Steve White, Kai Lim, Andy Kuhn, Philip Tan, Rhoald Marcellius, Michael T. Gilbert, Sunny Gho, Doug Braithwaite and more…
Page Count: 176pp
Retail Price: $22.99
ReleaseDate: October 9, 2013
 A1 has always been a laboratory for creators to experiment and innovate, to break away from corporate creations and unleash their own ideas. Already proving a success with the new monthly comic book, this first all-new A1 Annual marks the thrilling return of the award-winning graphic anthology series to bookshelves everywhere!
Inside these oversized pages, a Who's Who of comics'  talent – past, present and future – spread their imaginative wings across a gripping selection of all-new short stories. Which ones will be the breakout, creator-owned characters of tomorrow?!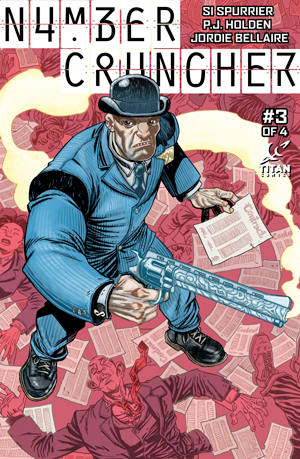 Numbercruncher #3 (of 4)
Writer: Si Spurrier
Artist: P.J. Holden
Colorist: Jordie Bellaire
Page Count: 32pp
Price: $3.99
Release Date: September 11, 2013
Bastard Zane is hot on the Mathematician's heels, as the reincarnating schemer dives back through time and lifetimes to be with the woman he loves, again and again, across a hundred different incarnations!
The Divine Calculator wants the Mathematician's mind under his contract, and Zane wants his freedom from the fulfilment of the same… so it's time to warm up his maths-driven accident gun – and kill the bloody genius as many bloody times as he can bloody reincarnate!
But when you're dealing with a dead man as smart as this one, things are never going to go smoothly!
Chronos Commandos: Dawn Patrol #3 (of 5)
Writer: Stuart Jennett
Artist: Stuart Jennett
Page Count: 32pp
Price: $3.99
Release Date: September 4, 2013
Trapped in the past, surrounded by starving velociraptors, and liberally daubed in blood, the Sarge and his squad are in their tightest spot yet!
But there's no time to linger on their slim chance of escape – they're sharing the Cretaceous with the Nazi time crew who've stolen an Allied Chronosphere – a piece of tech that could tilt the Time War in the Nazis' favor! It's up to the Sarge to take it back – or die trying!
Pulse-pounding painted pulpcore action, just like Mama always made!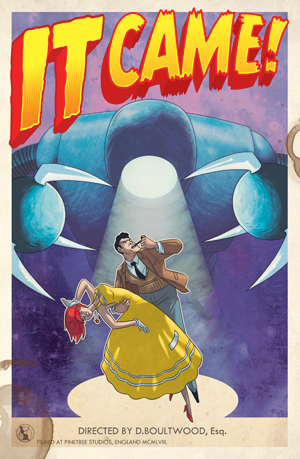 IT CAME! #2 (of 4)
Writer: Dan Boultwood
Artist: Dan Boultwood
 Page Count: 32pp
Price: $3.99
Release Date: September 4, 2013
Director Dan Boultwood contains his lost B-movie SF 'classic'!
The alien robot known as GRURK has been temporarily waylaid by industrial quantities of bunting, but its inexorable march towards London cannot be stopped! In the village of Trumpington Abbey, space scientist Dr. Boy Brett and his lady-assistant Doris Night (a lady) welcome the arrival of the British Army – but do the soldiers herald a heightened level of competence… or a right royal Carry On? And what part does a field-full of mouldy turnips have to play in the enfolding cosmic drama?!
A blast for fans of Mystery Science Theater 3000 and classic low-budget science fiction, this gorgeous, affectionate pastiche will keep you guessing – and laughing – throughout!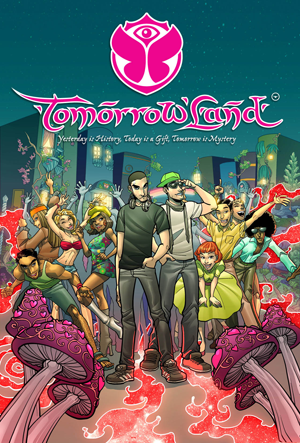 Tomorrowland #2 (of 4)
Writer: Paul Jenkins
Artists: Alti Firmansyah, Beny Maulana of Stellar Labs
Page Count: 32pp
Price: $3.99
Release Date: August 21, 2013
The music-led adventure from the Eisner award-winning writer of Wolverine: Origin and The Darkness continues!
Dimitri Vegas and Like Mike, DJs at the world-renowned Tomorrowland festival, have been pulled into an eternal war between the forces of creation and destruction. Can they turn the tide in favour of creativity over the course of just one festival – even with William Shakespeare, Oscar Wilde, and hundreds of creators from throughout history on their side?!
Buckle in for a fantasy ride like no other!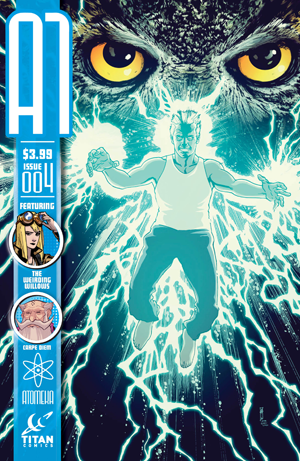 A1 #4 (of 6)
Writers: Dave Elliot, W.H. Rauf
Artists: Barnaby Bagenda, Sami Basri, Sakti Yuwono, Jessica Kholinne, Garrie Gastony, Rhoald Marcelius
Page Count: 36pp
Price: $3.99
Release Date: September 4, 2013
WEIRDING WILLOWS: There's a dinosaur from Hollow Earth loose in the Weir and she's eating Farmer McGregor's sheep! Can Alice and Frankenstein's Monster stop her – before McGregor puts down this purple T-rex for good?!
What do you get when you cross soldiers, superheroes, supervillains with a truckload of guns, in a children's hospital in Iraq?! This month's ODYSSEY, that's what!
CARPEDIEM: NINE IRON
Grab your woods and irons, and join the CarpeDIEm agents as they battle a haunted putt-putt golf arena – where deadly surprises wait in every hole!