It's Dynamite Tuesday with three new books announced! James Bond: Moneypenny  A mini series spotlighting James Bond's oft mocked but always doughty sidekick. The writer is...
"There's no such thing as a little bit of madness."
Miss Fury is a golden age heroine who was actually crated by a lady cartoonist, June Tarpe Mills. Originally published by Timely, Miss Fury...
Tula Lotay is a comics artist and illustrator from the UK. Her published works include Supreme: Blue Rose, Bodies, Elephantmen. She also serves as the Festival Director for the lauded Thought Bubble show in Leeds. On a very busy Saturday of San Diego Comic-Con 2015, Tula and I caught up on her work on Supreme and Zero as well as her upcoming work in The Wicked + The Divine and Heartless.
by Harper W. Harris Certainly one of the busiest artists at HeroesCon 2015 was Tula Lotay, who has burst onto the mainstage of comic artists...
Alex Alice, Audrey Benjaminsen, David Palumbo, James Turner and Lisa Wood (aka Tula Lotay) are the comics finalists for the 2015s Spectrum 22, the awards given to fantasy influenced art in a number of disciplines. Justin Gerard, Virginie Ropars, Greg Ruth, Annie Stegg Gerard and Dice Tsutsumi were this year's judges, and the selected finalists for Gold or Silver medla sin eight categories. Winners will be announced at the Spectrum 22 Awards Ceremony held in conjunction with the Spectrum Fantastic Art Live event in Kansas City, Missouri on Saturday, May 23th. Spectrum 22, edited by John Fleskes, will be published by Flesk Publications in November.
by Zachary Clemente Tula Lotay (aka Lisa Wood) is a comic artist hailing from the UK. Her work includes Elephantmen, Bodies, and the new Image book Supreme: Blue Rose with...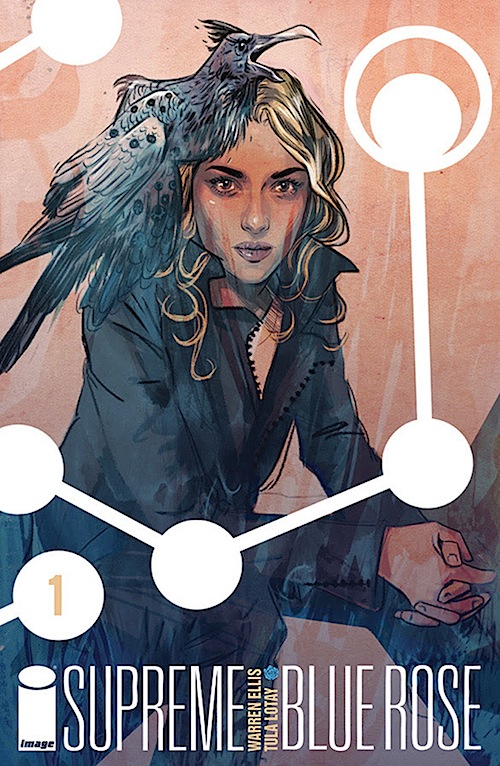 Back in the original days of Image Comics, Rob Liefeld's Supreme was one of the central characters, a Superman analog who later enjoyed a fantastic run with Alan Moore at the writing helm. And now, with other Extreme STudios character completely rehabilitated (Glory, Prophet) Supreme is getting a new look with Warren Ellis and Tula Lotay (ELEPHANTMEN, The Witching Hour) taking on SUPREME: BLUE ROSE.
Lisa Wood is the founder of Leeds' Thought Bubble Festival, which is now only ten days away (AIIEEEE indeed, readers), but last year also...