Will people buy a printed version of something they can read for free? I think we all know the answer to that, but the graphic novel version of the massive webcomic hit Lore Olympus proves they will yes again.
According to some pr from Webtoon, the collected Volume I just hit #1 on the New York Times graphic novel bestseller list. The list for December hasn't been published yet but we can take them at their word.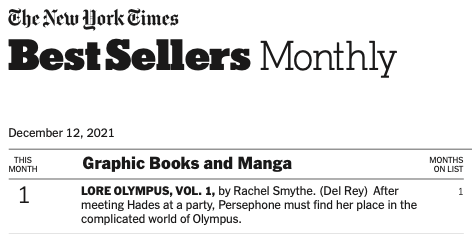 Volume I of the print version of Rachel Smythe's mythological romance was published by Del Rey Books on Nov 2 2021. Volume II will be released on July 5, 2022.
Just as impressive, back in November 15 the book hit #5 on the overall bestseller list from Publishers Weekly. That's OVERALL. And some 44,000 copies sold.
As noted by ICv2, it was also the first non-manga title to top NPD Bookscan's adult graphic novel bestseller list in months.
All three of the non-manga titles in the top 20 are webtoon collections, a sign of the massive audiences the new digital format is garnering.  The top two slots are taken by the hardcover and paperback editions of Rachel Smythe's Lore Olympus, a comic that started out on the Webtoon platform, where it had 5.1 million followers (see "Massively Popular Webtoon 'Lore Olympus' Coming to Print").  The third non-manga title is Vol. 3 of Solo Leveling, a Korean comic that also started as a webcomic, at number 7.
As noted by WEBTOON, which hosts the webcomics version, Lore Olympus has already accumulated more than 1.2 billion reads online. It won a Harvey Award in 2021, is nominated for a Best Book of the Year from the Good Reads Choice Awards, and is one of NPR's critics' recommendations for 2021. AND it's been previously nominated for an Eisner Award and Ringo Award. Finally it's currently in development as an animated series from Wattpad WEBTOON Studios and the Jim Henson Company. 
The story, for those who haven't dipped in yet, is sort of Gossip Girl meets Greek mythology, as new-to-the-summit-of-the-gods Persephone deals with a potential romance with Hades and more social drama among the jet set of the deities. It all accompanied by stylish art, great character designs and the je ne sais quoi that all great comics have.
"Rachel's incredible work and achievement show what's possible when a new, diverse generation of creators can reach a global audience on WEBTOON," said Ken Kim, CEO, WEBTOON Entertainment in a statement. "Comics have always pushed boundaries, bringing new perspectives and creativity to people who love visual narratives. Rachel and WEBTOON artists around the world continue that tradition, using our storytelling technology to build the future of comics on WEBTOON, showing that comics and graphic novels are truly for everyone. We're so proud of Rachel's success and congratulate her on this wonderful milestone."  
"As a lifelong comic fan, it's refreshing to see a new generation of artists like Rachel breathing new life into the format," said Aron Levitz, President, Wattpad WEBTOON Studios. "Digital comics on WEBTOON are read by millions of passionate fans around the world, and this recognition shows that these fandoms will follow their favourite artists to new formats. I want to congratulate Rachel for all of her success, and I can't wait to work with her to bring Lore Olympus to screens everywhere." 
And Lore Olympus is just the most noted success for WEBTOONS, as more comics originally released as mobile comics are being adapted to print and other media.
Miriam Bonstre Tur's global WEBTOON phenomenon and graphic novel Hooky was published in September 2021 by HMH Books, reaching New York Times best-seller status within weeks of release. Netflix has had a number of WEBTOON-originated hit projects this year, including the recent streaming sensation Hellbound. Originally created as a digital comic on WEBTOON, Netflix reports that the streaming adaptation was the #1 most-streamed Non-English series the first weekend it launched, with more than 43 million viewing hours. According to FlixPatrol analytics, the series was at the top of Netflix ratings in more than 80 countries a day after debuting. The Netflix series Sweet Home was also based on a digital comic from WEBTOON. 

Other recent WEBTOON TV adaptations include, Tower of God, which has more than 4.5 billion reads online, and is now a hit anime adaptation on Crunchyroll and HBO Max; and the 5.1 billion-read True Beauty, adapted as a series, and upcoming feature film. 
I'm sure you already figured this out by now, but mobile comics are the real deal.