Happy August! Somehow, it's already the eighth month of the year, and that means it's time for Weekend Reading 19!
AVERY KAPLAN: This weekend, I'm going to be reading Tank Girl Colour Classics Book Two: 1990 – 1993 by Jamie Hewlett, Alan Martin, Tracy Bailey, and Sofie Dodgson. Plus, I'll be checking out The Art of Invader ZIM by Chris McDonnell.
JOSH HILGENBERG: I've got a handful of shorter comics on the list this weekend, and first is Emily Riesbeck's It's Your Funeral, which is a work place comedy taking place in the afterlife. After that, I've got a few ShortBox selections to check out. Namely, Two Of Us by Jessi Zabarsky, Gonzalo by Jed McGowan, and Homunculus by Joe Sparrow.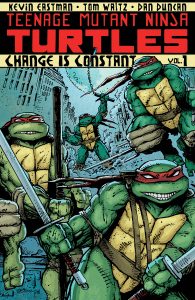 TAIMUR DAR: It's no secret Ninja Turtles was a seminal part of a childhood and continues to be. When IDW relaunched the series, I'll admit I wasn't fully on board but I was quickly won over. There were a couple of issues in the first year I missed out on, so I figure it's a great time to revisit the the first arc in the Teenage Mutant NIna Turtles Vol. 1 Change is Constant TPB by writers Tom Waltz and Kevin Eastman and artist Dan Duncan. 
NANCY POWELL: I have been doing a lot of reflecting ever since the passing of John Lewis. To honor him, I will be reading Good Trouble: Lessons from the Civil Rights Playbook by Christopher Noxon. And for fun, I'm going with Weathering With You, a light novel adaptation of the animated film by Makoto Shinkai. 
RICARDO SERRANO: It's been a while since I've read one of those thick comics compendiums holding at least half a full series. So this weekend I'm diving head first into the first Wasteland compendium, written by Mike Johnston and illustrated by Christopher Mitten. The story has the pacing of The Walking Dead and the look and feel of Mad Max and Waterworld, minus the cars and the flooded world. Needless to say, I'm excited. Other than that, looking crack open Max Brooks new book Devolution, a book about Bigfoot by the guy that wrote World War Z!
BILLY HENEHAN: Seeing a recent ad for a Barry Windsor-Smith Weapon X t-shirt left me wanting to both buy the shirt and reread the legendary writer-artist's origin story of Wolverine. I haven't bought the shirt yet, but I'm diving into Weapon X today! I'm bummed that Marvel Unlimited only has the main story of those issues of Marvel Comics Presents and none of the backup stories from the anthology series, but at least that is keeping me focused on BWS fantastic story and art.