After a 3 year absence, Marvel is back this year at NYCC and unveiled what's to come for the Marvel U with its NYCC '22 Marvel's Next Big Thing Panel. Moderated by Marvel editor Nick Lowe the panel included Editor-in-Chief C.B. Cebulski, associate editor Lauren Amaro, as well as comic creators/writers Gerry Dugan, Jed MacKay and Zeb Wells.
After delightful panel introduction, Cebulski detailed the previously announced Avengers Assemble crossover that serves as the culmination of writer Jason Aaron's run on the franchise. Continuing the subject of crossovers, Lowe unveiled a trailer for the upcoming Dark Web crossover as Spidey and the X-Men take on the combined efforts of vne'er-do-well clones Ben Reilly (now known as Chasm) and Madelyne Pryor.
Current Amazing Spider-Man writer Wells was inspired for the story after bringing Pryor back in his Hellions title run for the X Books as well as putting Ben Reilly through the ringer transforming him into Chasm.
Thanks to the most recent fan vote that brought Firestar on the team, Duggan divulged that his X-Men tie-in book with feature a Spidey and his Amazing Friends team-up.
With Eddie Brock/Venom sporting a different look the Marvel U, Lowe coyly hinted at something going on with the appearance of the classic looking Venom.
The Mary Jane & Black Cat one-shot from earlier this year was a huge seller for Marvel, so bringing this duo back together in a Dark Web tie-in by MacKay was a no-brainer. Cebulski joked that he was skeptical when Lowe pitched him a book about Peter Parker's 2nd and 3rd greatest loves.
Norman Osborn will be taking on a new identity known as Gold Goblin. Fans will get a glimpse of it in Amazing Spider-Man #13 before he gets his own series from writer Christopher Cantwell.
On the subject of Goblins, the panel revealed its first announcement with a Red Goblin series from writer Alex Paknadel and artist Jan Bazaldua launching out of Dark Web in February. Yet another villainous miniseries was announced with Hallow's Eve miniseries by writer Erica Schultz and artist Michael Dowling. Though details are scarce, Lowe teased that Hallow's Eve is in fact a well established character in comics. Let the speculation begin and look for the character to appear in Amazing Spider-Man #14.
Interior art from X-Men #16 by artist Joshua Cassara was shown featuring a fight between brothers Scott and Alex Summers.
Details for previously teased storyline Sins of Sinister were unveiled including a trailer and reveal of the first cover. The Mister Sinister story threads introduced from the very beginning of this X-Men revamp since the House of X/Powers of X, Sins of Sinister will tackle how the machinations of the character affect the universe in three separate time periods as each consecutive issue propels the storyline 10/100/1000 years into the future.  Years… 100 Years… 1000 Years.
Very much inspired by the Age of Apocalypse storyline from the according to the panel, the current X books will be on hold and replaced by alternate books during this time.
In the place of X-Men Red, Legion of X, and Immortal X-Men respectively will be Storm & the Brotherhood of Mutants from writer Al Ewing, Nightcrawlers by Si Spurrier, and Immoral X-Men by Kieron Gillen.
Marvel is taking a unique with the art with Paco Medina drawing the first issue for all three titles while Patch Zircher and Alessandro Vitti will be handling the second and third issues respectively.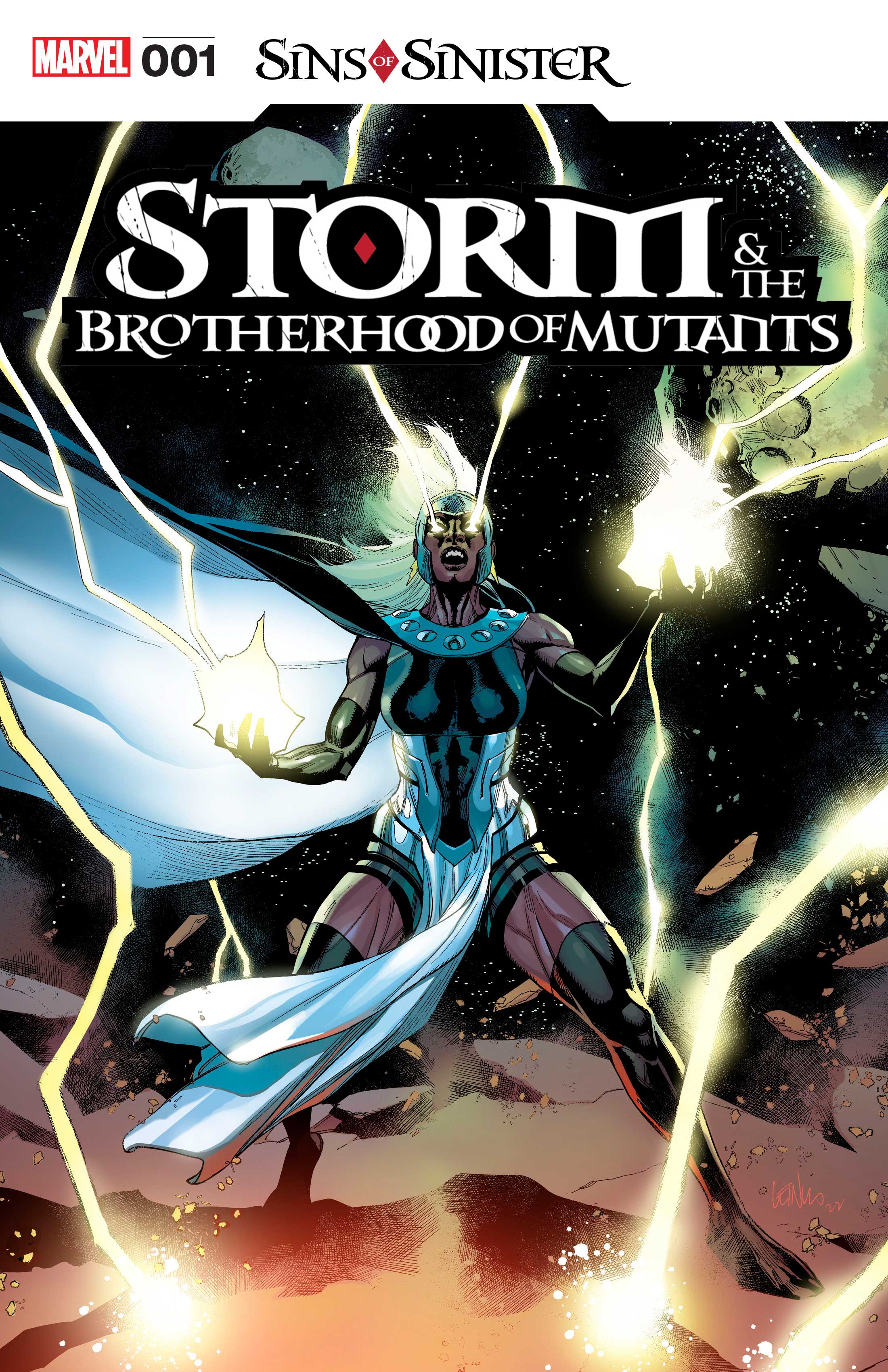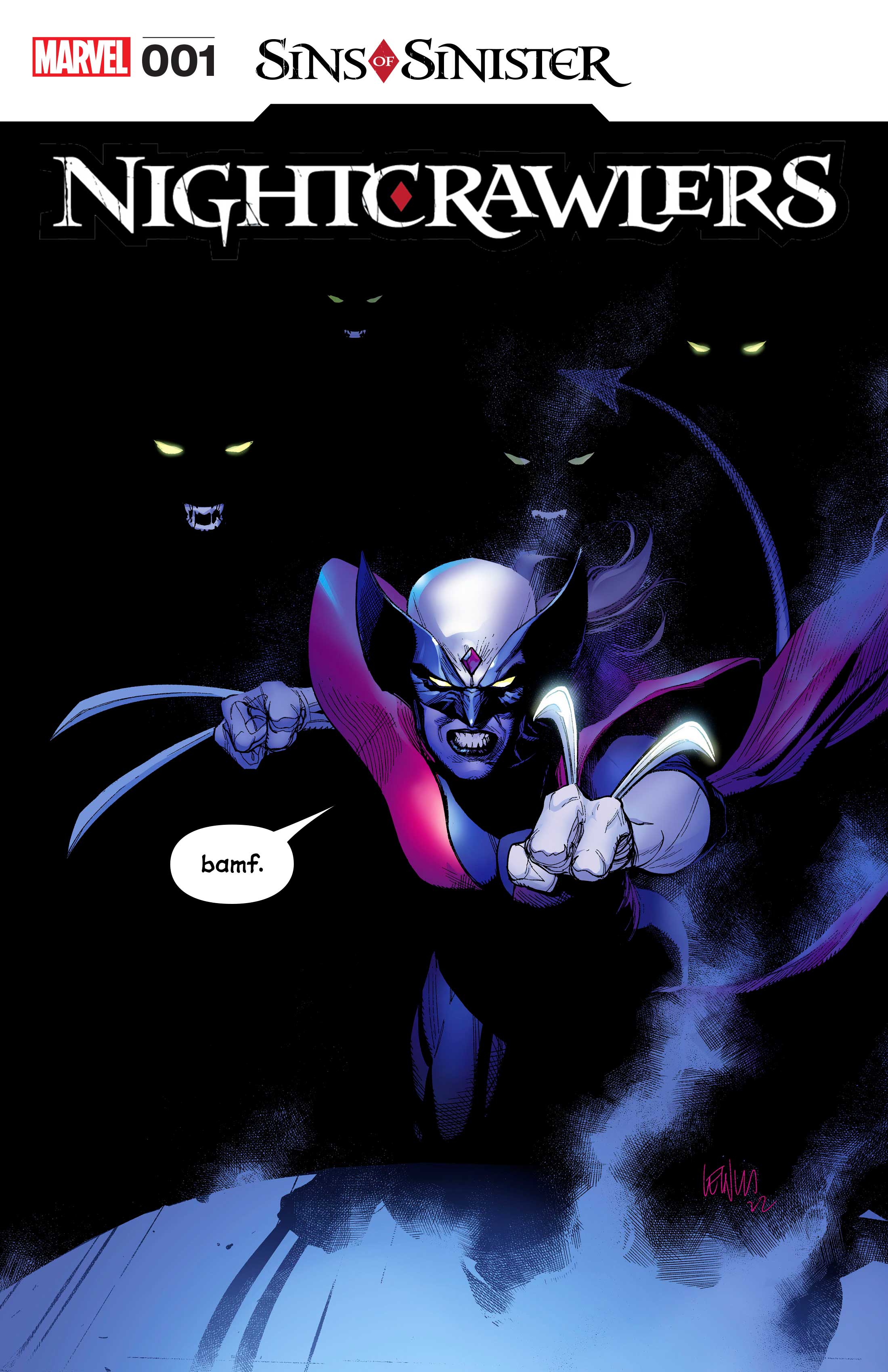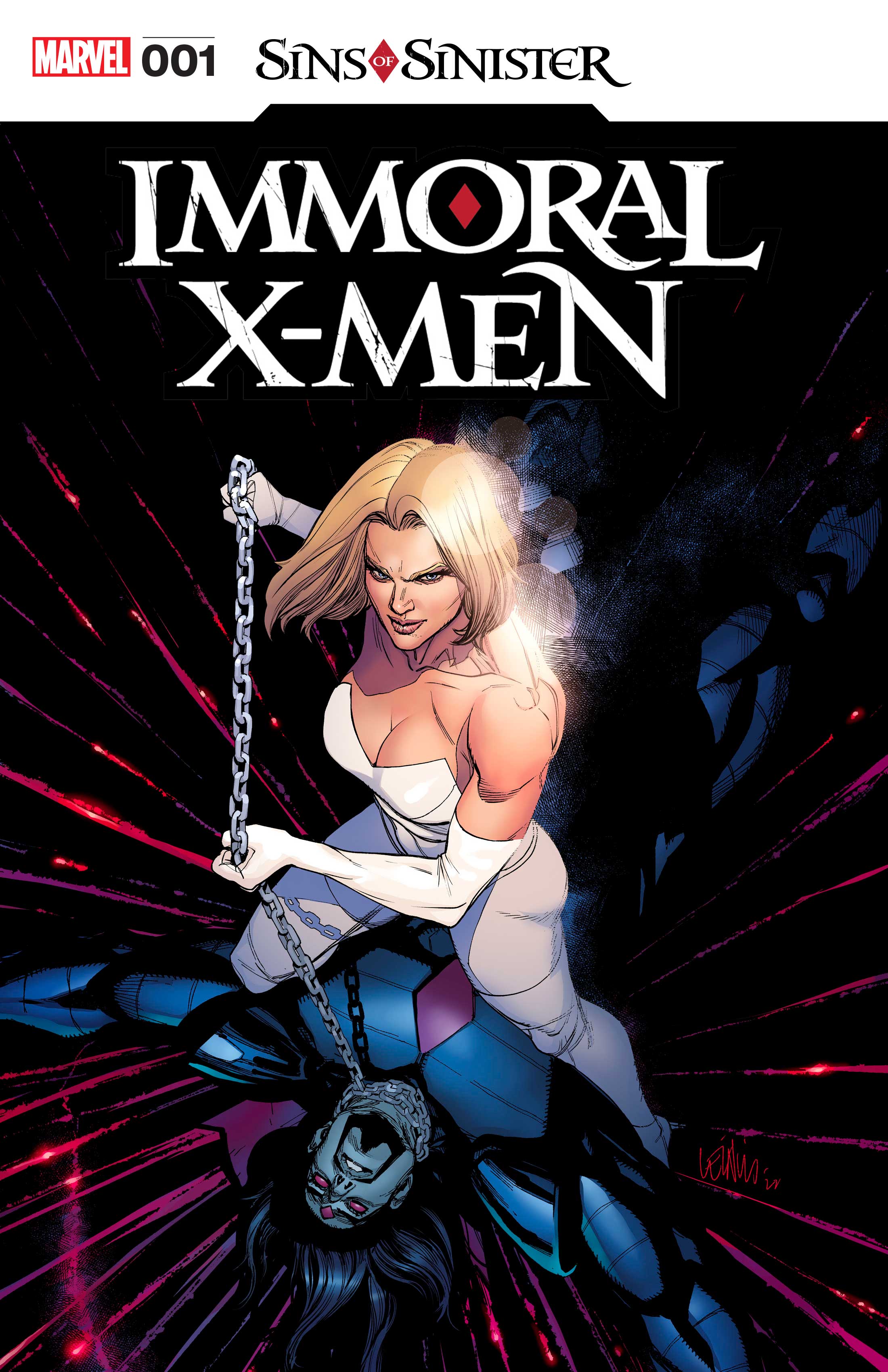 The event kicks off with a Sins of Sinister #1 giant-sized one-shot this February from writer Kieron Gillen and artist Lucas Werneck.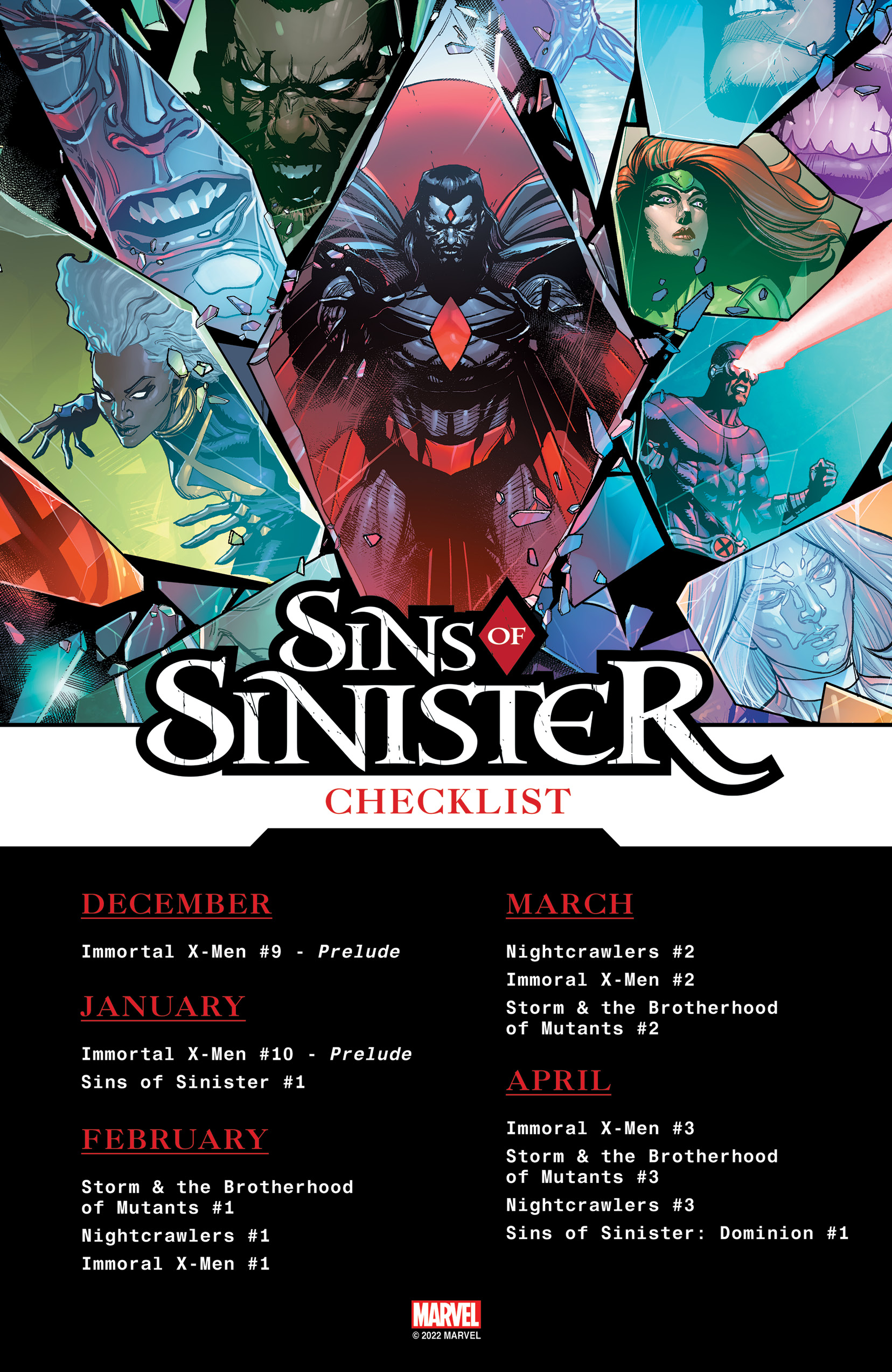 Take a cue from Marvel Studios, the panel unveiled slate of upcoming storylines including a Summer of Symbiotes event next. The tagline for the storyline apparently is "Sun's out, tongue's out." Fans have come to expect a Hellfire Gala in the X books every summer, Marvel is upping the game by doing some "serious damage" to the X-Men with the Fall of X event.
With Guardians of the Galaxy Vol. 3 hitting theaters, it won't come as a surprise that a teaser for a GotG book was unveiled right before fan Q&A.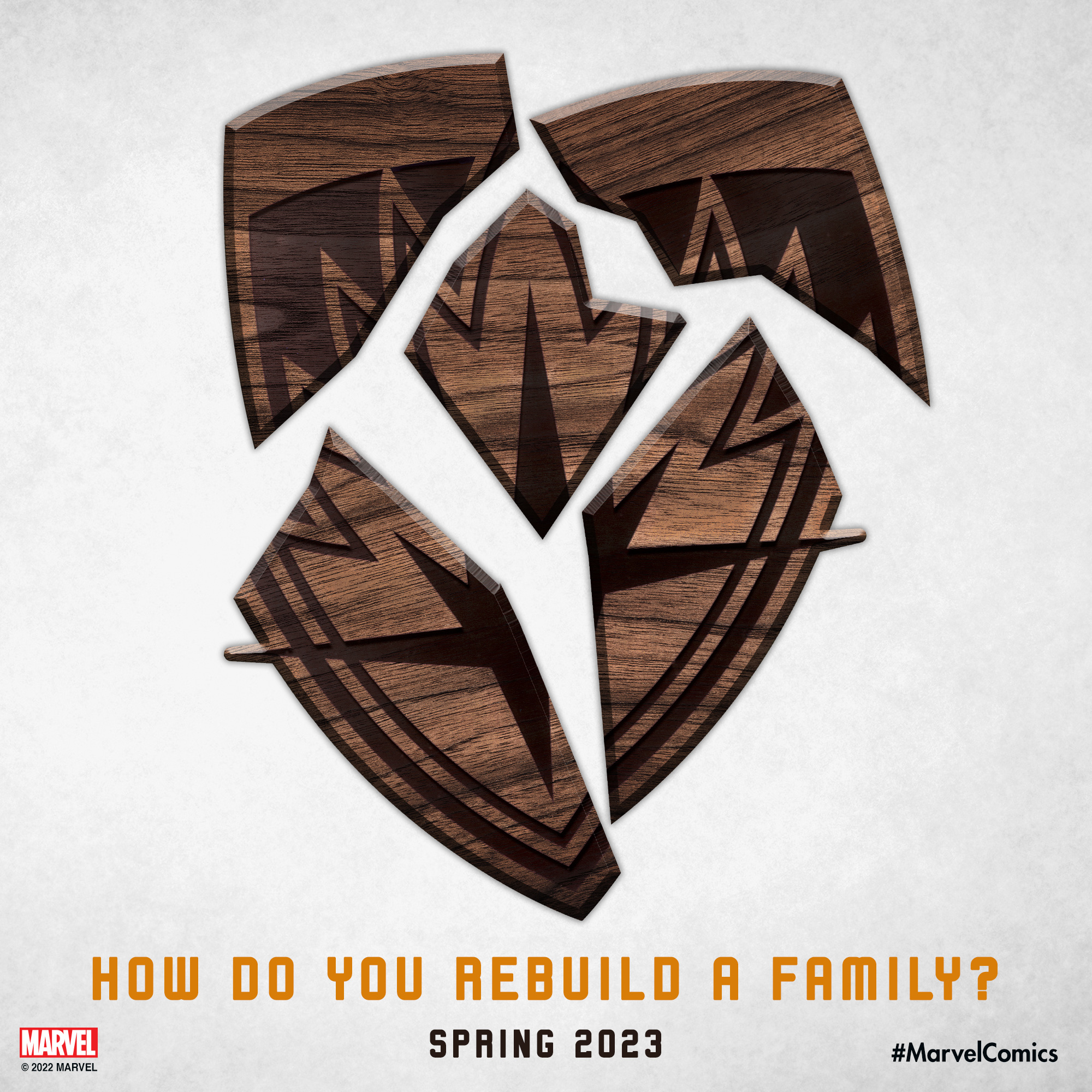 NYCC '22 Marvel's Next Big Thing panel Q&A highlights:
Cebulski teased that fans may be seeing breakout Loki character Miss Minutes appearing in the actual comics.
When asked about his Iron Man, Duggan discussed his upcoming Iron Man run which will feature the return of the Silver Centurion armor.
Though Norman Osborn's sins have been washed away in a previous storyline, the question remains whether or not he can be redeemed.
Apparently former Marvel writer Brian Michael Bendis wasn't sold on the name for the All-New X-Men book title but eventually came around. Same thing with Cebulski and the title Strange Academy.
Miss any of our other NYCC '22 coverage? Find it all here!