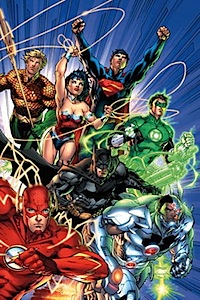 Over on their blog, DC has announced the rollout for the New 52 collections. Instead of dumping 52 trades in one month, they will be staggered from May-November, with 7 or 8 books released a month. Justice League, Batman, Green Lantern, Detective, Batman & Robin, Batgirl, Batwoman, Batman: The Dark Knight, Aquaman, Green Lantern Corps, Green Lantern: New Guardians, Action, Superman and Flash are all getting hardcovers; the rest get TPBs.
Missing from the list: Wonder Woman.
UPDATE: It's been noted that these erroneously list Scott Snyder as the writer for STORMWATCH when it is in fact Paul Cornell.
Coming in May 2012:
JUSTICE LEAGUE VOL. 1 HC
Writer: Geoff Johns 
Artists: Jim Lee and Scott Williams
 Collects: JUSTICE LEAGUE #1-6
 $24.99 US, 176 pg
ANIMAL MAN VOL. 1 TP
Writer: Jeff Lemire
 Artists: Travel Foreman, Jeff Huet and John Paul Leon
 Collects: ANIMAL MAN #1-6 
$14.99 US, 144 pg
BATMAN VOL. 1 HC
Writer: Scott Snyder 
Artists: Greg Capullo and Jonathan Glapion 
Collects: BATMAN #1-7
 $24.99 US, 176 pg
JUSTICE LEAGUE INTERNATIONAL VOL. 1 TP
Writer: Dan Jurgens 
Artists: Aaron Lopresti, Matt Ryan and Marco Castiello
 Collects: JUSTICE LEAGUE INTERNATIONAL #1-6 
$14.99 US, 144 pg
GREEN LANTERN VOL. 1: SINESTRO REBIRTH HC
Writer: Geoff Johns 
Artists: Doug Mahnke and Christian Alamy
Collects: GREEN LANTERN #1-7 
$24.99 US, 176 pg
CATWOMAN VOL. 1 TP
Writer: Judd Winick 
Artist: Guillem March
 Collects: CATWOMAN #1-6
 $14.99 US, 144 pg
STORMWATCH VOL. 1 TP
Writer: Paul Cornell
Artists: Miguel Sepulveda and Al Barrionuevo 
Collects: STORMWATCH #1-7
 $14.99 US, 160 pg
GREEN ARROW VOL. 1 TP
Writers: J.T. Krul, Keith Giffen and Dan Jurgens
Artists: Dan Jurgens, George Pérez, Ignacio Calero and Ray McCarthy
 Collects: GREEN ARROW #1-6
 $14.99 US, 144 pg
Coming in June 2012:
BATMAN: DETECTIVE COMICS VOL. 1 HC
Writer: Tony S. Daniel
 Artists: Tony S. Daniel, Ryan Winn and Sandu Florea 
Collects: DETECTIVE COMICS #1-7
 $24.99 US, 176 pg
RED LANTERNS VOL. 1 TP
Writer: Peter Milligan
 Artists: Ed Benes, Rob Hunter and Diego Bernard
 Collects: RED LANTERNS #1-7 
$14.99 US, 160 pg
BATWOMAN VOL. 1: HYDROLOGY HC
Writers: J.H. Williams III and W. Haden Blackman
 Artist: J.H. Williams III 
Collects: BATWOMAN #1-5 
$22.99 US, 144 pg
MISTER TERRIFIC VOL. 1 TP
Writer: Eric Wallace
 Artists: Giancarlo Gugliotta, Wayne Faucher, Scott Clark, Dave Beaty and Oliver Nome 
Collects: MISTER TERRIFIC #1-6
$14.99 US, 144 pg
FRANKENSTEIN, AGENT OF S.H.A.D.E. VOL. 1 TP
Writer: Jeff Lemire
 Artist: Alberto Ponticelli
 Collects: FRANKENSTEIN, AGENT OF S.H.A.D.E. #1-6
 $14.99 US, 144 pg
STATIC SHOCK VOL. 1 TP
Writer: Scott McDaniel and John Rozum 
Artists: Scott McDaniel and Andy Owens 
Collects: STATIC SHOCK #1-6 
$14.99 US, 144 pg
LEGION OF SUPER-HEROES VOL. 1 TP
Writer: Paul Levitz 
Artists: Francis Portela, Walter Simonson and Dan Green 
Collects: LEGION OF SUPER-HEROES #1-7
 $14.99 US, 160 pg
Coming in July 2012:

BATMAN AND ROBIN VOL. 1 HC
Writer: Peter J. Tomasi
 Artists: Patrick Gleason and Mick Gray 
Collects: BATMAN AND ROBIN #1-6
 $22.99 US, 144 pg
SUICIDE SQUAD VOL. 1 TP
Writer: Adam Glass 
Artists: Marco Rudy and Federico Dallocchio 
Collects: SUICIDE SQUAD #1-7 
$14.99 US, 160 pg
BATGIRL VOL. 1 HC
Writer: Gail Simone
 Artists: Ardian Syaf and Vicente Sifuentes 
Collects: BATGIRL #1-6
 $22.99 US, 144 pg
DEMON KNIGHTS VOL. 1 TP
Writer: Paul Cornell
 Artists: Diogenes Neves, Oclair Albert and Mike Choi
 Collects: DEMON KNIGHTS #1-7
 $14.99 US, 168 pg
BATWING VOL. 1 TP
Writer: Judd Winick 
Artists: Ben Oliver and ChrisCross
Collects: BATWING #1-6
 $14.99 US, 144 pg
MEN OF WAR VOL. 1 TP
Writers: Ivan Brandon, Jonathan Vankin, B. Clay Moore, Matt Kindt and John Arcudi
 Artists: Tom Derenick, Phil Winslade, Paul McCaffrey, Patrick Scherbeger, Dan Green and Richard Corben
 Collects: MEN OF WAR #1-6 
$16.99 US, 192 pg
GRIFTER VOL. 1 TP
Writer: Nathan Edmondson
 Artists: Cafu, Jason Gorder, Scott Clark and Dave Beaty 
Collects: GRIFTER #1-6 $14.99 US, 144 pg
Coming in August 2012:
ACTION COMICS VOL. 1 HC
Writer: Grant Morrison 
Artists: Rags Morales, Rick Bryant, Brent Anderson, Gene Ha, Andy Kubert and Jesse Delperdang
 Collects: ACTION COMICS #1-8
$24.99 US, 200 pg
SUPERBOY VOL. 1 TP
Writer: Scott Lobdell
 Artists: R.B. Silva and Rob Lean
Collects: SUPERBOY #1-6
 $14.99 US, 144 pg
DEATHSTROKE VOL. 1 TP
Writer: Kyle Higgins 
Artists: Joe Bennett and Art Thibert
 Collects: DEATHSTROKE #1-8 
$16.99 US, 176 pg
O.M.A.C. VOL. 1 TP
Writers: Dan DiDio and Keith Giffen
 Artists: Keith Giffen and Scott Koblish 
Collects: O.M.A.C. #1-6
 $14.99 US, 144 pg
BATMAN: THE DARK KNIGHT VOL. 1 HC
Writer: Paul Jenkins and David Finch
Artists: David Finch and Richard Friend
 Collects: BATMAN: THE DARK KNIGHT #1-6
 $22.99 US, 144 pg
HAWK AND DOVE VOL. 1 TP
Writers: Sterling Gates and Rob Liefeld
 Artist: Rob Liefeld 
Collects: HAWK AND DOVE #1-7
 $14.99 US, 160 pg
SWAMP THING VOL. 1 TP
Writer: Scott Snyder 
Artists: Yanick Paquette, Victor Ibanez and Marco Rudy 
Collects: SWAMP THING #1-8 
$16.99 US, 192 pg
RESURRECTION MAN VOL. 1 TP
Writers: Dan Abnett and Andy Lanning 
Artists: Fernando Dagnino and Fernando Blanco 
Collects: RESURRECTION MAN #1-7 
$14.99 US, 160 pg
Coming in September 2012:
AQUAMAN VOL. 1 HC
Writer: Geoff Johns 
Artists: Ivan Reis and Joe Prado
Collects: AQUAMAN #1-6 
$22.99 US, 144 pg
TEEN TITANS VOL. 1 TP
Writer: Scott Lobdell
 Artists: Brett Booth and Norm Rapmund
 Collects: TEEN TITANS #1-7
 $14.99 US, 160 pg
BIRDS OF PREY VOL. 1 TP
Writer: Duane Swierczynski
 Artists: Jesus Saiz and Javier Pina
 Collects: BIRDS OF PREY #1-7 
$14.99 US, 160 pg
THE FURY OF FIRESTORM: THE NUCLEAR MEN VOL. 1 TP
Writers: Gail Simone and Ethan Van Sciver
 Artist: Yildiray Cinar and Norm Rapmund
 Collects: THE FURY OF FIRESTORM: THE NUCLEAR MEN #1-6
 $14.99 US, 144 pg
GREEN LANTERN CORPS VOL. 1 HC
Writer: Peter J. Tomasi 
Artists: Fernando Pasarin, Scott Hanna and Geraldo Borges 
Collects: GREEN LANTERN CORPS #1-6 
$22.99 US, 144 pg
LEGION LOST VOL. 1 TP
Writer: Fabian Nicieza
 Artist: Pete Woods
 Collects: LEGION LOST #1-6
$14.99 US, 144 pg
VOODOO VOL. 1 TP
Writer: Ron Marz
 Artists: Sami Basri and Hendry Prasetya
Collects: VOODOO #1-6 
$14.99 US, 144 pg
Coming in October 2012:
I, VAMPIRE VOL. 1 TP
Writer: Joshua Hale Fialokov
 Artist: Andrea Sorrentino
Collects: I, VAMPIRE #1-6
 $14.99 US, 144 pg
JUSTICE LEAGUE DARK VOL. 1: IN THE DARK TP
Writer: Peter Milligan 
Artist: Mikel Janin 
Collects: JUSTICE LEAGUE DARK #1-7
$14.99 US, 160 pg
NIGHTWING VOL. 1 TP
Writer: Kyle Higgins 
Artists: Eddy Barrows, J.P. Mayer, Paulo Siqueria and Trevor McCarthy 
Collects: NIGHTWING #1-7
 $14.99 US, 160 pg
GREEN LANTERN: NEW GUARDIANS VOL. 1 HC
Writer: Tony Bedard
 Artists: Tyler Kirkham, Harvey Talibao and Batt
 Collects: GREEN LANTERN: NEW GUARDIANS #1-7
 $22.99 US, 160 pg
SUPERGIRL VOL. 1: LAST DAUGHTER OF KRYPTON TP
Writer: Michael Green and Mike Johnson 
Artist: Mahmud Asrar
Collects: SUPERGIRL #1-7 
$14.99 US, 144 pg
THE SAVAGE HAWKMAN VOL. 1 TP
Writer: Tony S. Daniel and James Bonney
Artist: Philip Tan 
Collects: THE SAVAGE HAWKMAN #1-6
 $14.99 US, 144 pg
ALL-STAR WESTERN VOL. 1 TP
Writers: Justin Gray and Jimmy Palmiotti 
Artists: Moritat, Jordi Bernet and Phil Winslade
 Collects: ALL-STAR WESTERN #1-6
 $16.99 US, 192 pg
Coming in November 2012:

THE FLASH VOL. 1 HC
Writers: Francis Manapul and Brian Buccellato 
Artist: Francis Manapul
 Collects: THE FLASH #1-7 
$22.99 US, 168 pg
RED HOOD AND THE OUTLAWS VOL. 1 TP
Writer: Scott Lobdel l
Artist: Kenneth Rocafort 
Collects: RED HOOD AND THE OUTLAWS #1-7
 $14.99 US, 160 pg
SUPERMAN VOL. 1 HC
Writer: George Perez 
Artists: George Perez, Jesus Merino, Nicola Scott and Trevor Scott
 Collects: SUPERMAN #1-6 
$22.99 US, 144 pg
BLUE BEETLE VOL. 1 TP
Writer: Tony Bedard 
Artists: Ig Guara and J.P. Mayer
Collects: BLUE BEETLE #1-7
 $22.99 US, 160 pg
BLACKHAWKS VOL. 1 TP
Writer: Mike Costa 
Artists: Ken Lashley, Graham Nolan, Norm Rapmund, Alessandro Vitti, Cafu and Bit
 Collects: BLACKHAWKS #1-7
 $14.99 US, 160 pg
CAPTAIN ATOM VOL. 1 TP
Writer: J.T. Krull 
Artist: Freddie Williams II
 Collects: CAPTAIN ATOM #1-7
$14.99 US, 160 pg
DC UNIVERSE PRESENTS VOL. 1 TP
Writers: Paul Jenkins, Dan DiDio and Jerry Ordway 
Artists: Bernard Chang and Jerry Ordway 
Collects: DC UNIVERSE PRESENTS #1-8
$16.99 US, 176 pg