AnimeNYC 2022 at the Javits Center November 18-20 was the show's second post-pandemic event. It seems that the showrunners have learned from last year's mistakes, although that hasn't stopped the convention's growing pains from making themselves that much more obvious. As a regular attendee since 2019, I'm here to give you the scoop on who had the best and worst showings this year.
WINNER: TurtleMe and Tapas
This year has been a huge win for Webtoons and vertical scrolling digital comics in general, but this year saw the face reveal of one of the most famous creators of them to be shrouded in mystery, TurtleMe, who made The Beginning After The End. With over 21.5 MILLION views and 1.4 MILLION subscribed readers on the webcomic alone (the webnovel also being published concurrently online), it came to no surprise that fans came out in droves to meet and support their fave after Tapas Media was able to fly him in from the west coast. He had a healthily filled panel room on Friday and autograph line on Sunday.
Got an autograph from TurtleMe! He was super chill and I got to talk a small bit about my experience reading TBATE during pandemic. Check out the series (comic and novel) on @tapas_app pic.twitter.com/5lynr0zdd9

— marion psycho 100 (@microwaevy) November 20, 2022
"Got an autograph from TurtleMe! He was super chill and I got to talk a small bit about my experience reading TBATE during pandemic. Check out the series (comic and novel) on @tapas_app"
LOSER: Other digital Korean comics publishers
Oddly enough, there was no presence from companies like Naver, C&R Revolution, D&C Webtoon, Touyou's Dream, or the many others that publish digital webtoons in Korea and license them out here in the west. They had a big presence at New York Comic Con, at the KOCCA (Korean Creative Content Agency) booth sponsored by the Korean government, but it seems like ANYC was not in the cards. I found this strange since the intersection between manga and manhwa is immense, and if the showing at the TurtleMe & Tapas panel was anything to go by, western fans are ready for more webtoons in the manga and anime sphere.
WINNER: Aniplex Enjoyers
Fans of Aniplex IPs like Fate/Grand Order and Kaguya-sama: Love Is War got to enjoy two big Main Stage events with ticketed screenings that were also streamed online internationally and to Japan. They also had a small stage in the Exhibit Hall that had fans participate in games and streamed content. This was all managed with minimal lines and delays.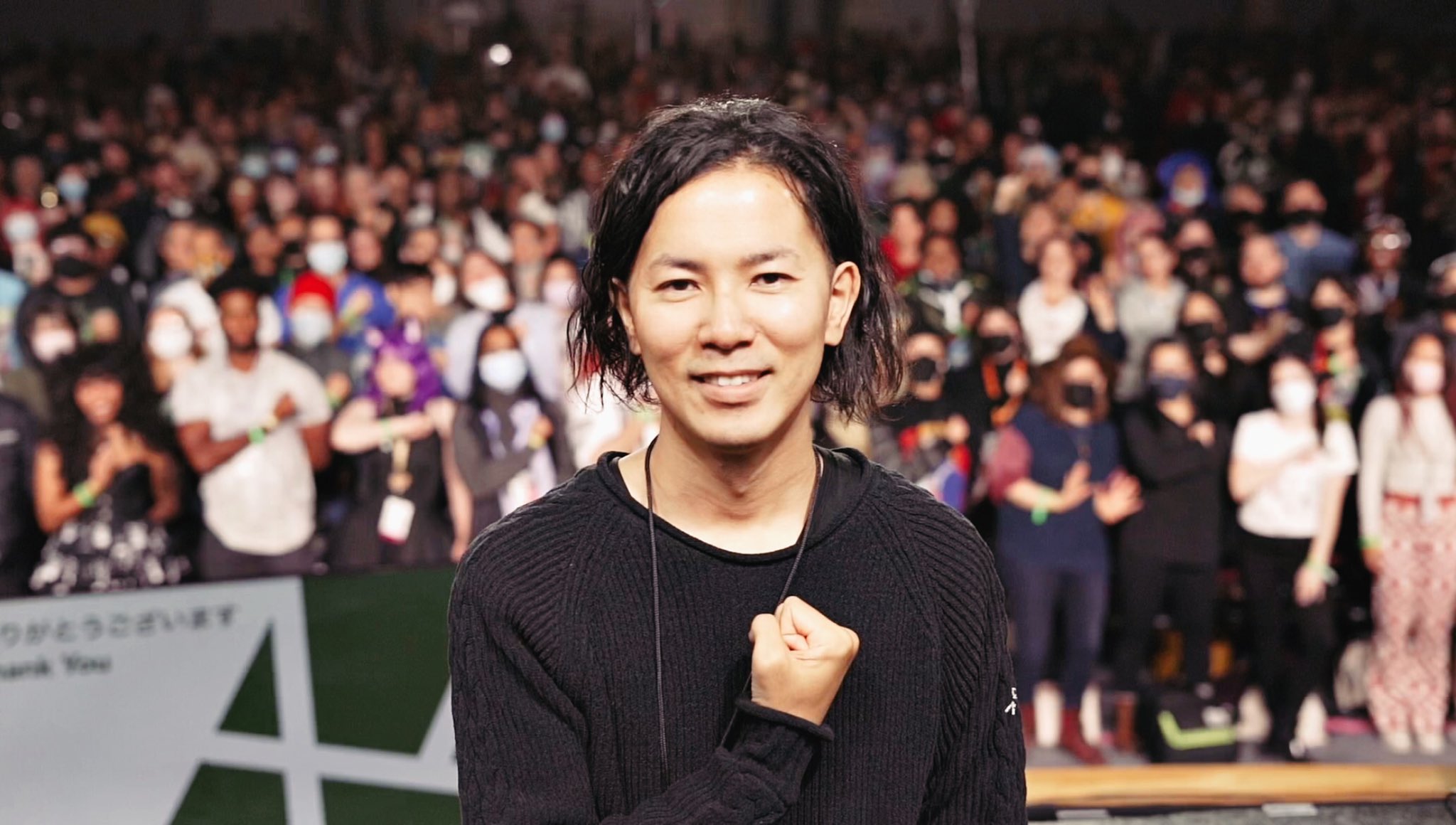 LOSER: Waitlisted Fans for the Hajime Isayama Panel
ANYC's main event this year was bringing out the creator of Attack on Titan, Hajime Isayama. After the original panel reservation site crashed due to overloaded traffic, the convention planners had to opt for a lottery system to give out reserved seats to con-goers. The day of, this came to a head as people swarmed to try and make it in the panel, but event staff had trouble containing the fervor. Even media had issues getting in on time, unless they were able to get special wristbands by directly contacting Kodansha USA staff, who were in charge of handling PR and logistics for their talent. Overall, the miscommunication on all fronts made it so that tons of people had to miss out on a highlight that could have been streamed online or at least to other screens in the same convention center. 
Welcome to New York City, Hajime Isayama! #AnimeNYC2022 #AttackonTitan pic.twitter.com/pVy8MIcx9J

— marion psycho 100 (@microwaevy) November 19, 2022
(I will say, at least, as someone who could actually make it into the panel, the energy inside was electrifying.)
WINNER: Gundam Fans
With Gundam: The Witch From Mercury airing this season, GUNDAM EXPO USA and other franchise names like Shuko Murase, director of Gundam Hathaway and BLADE RUNNER: BLACKOUT 2022, made way to New York for fans to celebrate all things Gundam. Saturday also had Adam Savage from the YouTube channel Tested host a challenge to the GUINNESS WORLD RECORDS™ title "Most People Assembling Plastic Robot Models Simultaneously (Multiple Venues)," which was broken! To top it all off, the Exhibit Hall had two GIANT Gundam statues of both the Wing Zero and Witch From Mercury's Mobile Suits.
LOSER: Anime on Home Video
This year saw a sharp decline in 3rd party sellers who visit the con to sell dirt cheap home video and physical books. There were still a few scattered throughout the exhibit floor, but it felt starkly sparse compared to earlier years. Instead, there were more merch sellers and industry booths.
WINNER: Industry Publishers Who Showed Up
Companies like Yen Press, Denpa, J-Novel Club, and VIZ Media, who publish plenty of manga, were able to sell out most of their wares by the final day. I spoke with Mark from Yen Press and he informed me that even after he prepared to bring an even larger stock after seeing the presence at NYCC, they still managed to outsell their projections by the end of the con. It might be due to the lowered 3rd party presence, but it's clear that fans will put their wallet where their mouths are when it comes to supporting the content they love. On top of commercial sales, every Publisher who had their own industry panel also had major announcements that proved their success in staying afloat this year.
https://twitter.com/yenpress/status/1594824731013914635
LOSER: Artist Alley
Last year Artist Alley was closer to the northmost entrance of the exhibit hall, which is also closer to where all the panels are. This made the foot traffic move naturally from the entrance to the food courts, panel rooms, and exhibit halls. This year though, Artist Alley was simply too far away for me to naturally spend some time in and it felt like I had to go out of my way to get over there. I had to do a lot of panels this year, and my time was sucked out via all the walking. It felt unfortunate because I genuinely enjoy seeing what that side of the con has to offer.
WINNER: Digital Comics Readers
This year brought back the presence of digital manga publishers like Azuki and Comikey, who both offer different kinds of experiences on both mobile and PC. Azuki is an a la carte subscription service, who licenses manga already translated, or translates them with contractors. Comikey licenses, translates, and publishes manga, Korean manhwa, and Chinese manhua online, with their own in-house team, while making it available with a pay-to-unlock pricing model similar to Tapas, Tappytoon, and Webtoon. At their industry panels, they both announced several different partnerships with international companies that will help them expand their libraries with varied content. As more groups like pop up and find success in this industry, more consumers will be offered different kinds of stories at competitive prices. It also helps that these smaller companies also build relationships with a lot of indie artists and JP publishers as well!
LOSER: Scalpers
It's common to see scalpers outside the venue, trying to sell badges to people who might not have made it in time before sales were capped. This year, I happened to see way fewer than I did last year, or even at this year's Comic Con. I'm not sure what it was, but it looks like they'll probably be laying low until next year when the venue usage expands again.
WINNER: Cosplayers
This year saw by far the LARGEST variety in cosplay I've ever seen at this con. Last year was infamously referred to as "MihoyoCon," where 85% of the cosplay was all Genshin Impact or its related properties owned by parent company Mihoyo. This year though, I saw cosplay from anime that haven't aired in years, like Kekkaishi or Yona of the Dawn. There were also plenty of Tokusatsu cosplayers in the likeness of Kamen Riders like Kuuga and Saber, and folks cosplaying video games like Guilty Gear and Persona also made the rounds! 
I have a TINY bit of downtime before J-Novel Club's panel, so here's a cosplay thread of cool folks I found on the show floor! Starting it off right with Berserker Armor Guts! #AnimeNYC2022 pic.twitter.com/lTn6AHytRn

— marion psycho 100 (@microwaevy) November 19, 2022
LOSER: Newer Anime Fans
If you were a more casual or newer anime fan at this convention, you might not have really known what to do or where to go. There were a lot of fan-driven events like mahjong tournaments, cosplay meetups, and guest panels you could have gone to, but unless you are comfortable mingling with strangers, you might've had trouble deciding what to do. This year's programming for ANYC definitely felt like it was more dedicated for those who have stuck around, especially after last year's lines and mismanagement echoed issues usually lobbed towards Anime Expo.
WINNER: TRIGUN FANS
The Trigun: Stampede premiere was amazing. As a casual older fan who only watched a few episodes of the original anime, I knew exactly how much love was going into this new project after seeing the producers talk about all the research and planning that they did together with author Yasuhiro Nightow. 
TRIGUN STAMPEDE in New York

Thanks everyone who came aboard. This is where the journey of TRIGUN STAMPEDE begins, please continue to look forward to it as we are just a month away from its on air in January !#TRIGUN pic.twitter.com/4AtRk4UNH9

— 『TRIGUN STAMPEDE』アニメ公式 (@trigun_anime) November 19, 2022
(That's me in the yellow hoodie on the lower right!)
LOSER: Staff in charge of lottery panel check-ins
While I unfortunately didn't get accepted into any interviews, I lucked out and won a lot of panel lotteries. It didn't feel like that really mattered though, because only about 4 of them were actually scanning my QR code. For the others, once they saw I had a Press badge, they let me in and escorted me to reserved seating. I hope next year there's more clear communication on what panels can be entered for Press seating without needing to do the lottery process. It felt like the staff got the short end of the stick by not being informed more clearly about it.
WINNER: $1 Pizza
Being a 10-15 minute walk away from $1 pizza spots on 40th street and 9th ave was a lifesaver, because I was not paying con venue prices for food. Thank you for surviving the pandemic, 2 Bros Pizza.
LOSER: Ichigo Kurosaki (BLEACH) Fans
Sadly, Johnny Yong Bosch had to cancel his appearance on Sunday's reserved BLEACH panel with Michelle Ruff (voice of Rukia Kuchiki) and Derek Stephen Prince (voice of Uryu Ishida). 
WINNER: Oshi no Ko
Volume 1 coming out in print + digital in January by Yen Press, anime will be streamed on HIDIVE. By the author of Kaguya-sama: Love Is War, and artist of Scum's Wish. None of you are ready for one of the most insane rides in comics history.
LOSER: Me on Friday Night @ 8PM
I had to bit the bullet and choose between three events on Friday night, and ended up going to Crunchyroll Presents: New Simulcast Premieres #1 in order to watch the first episode of The Tale of Outcasts, a show adapted from a Weekly Shonen Sunday manga I've talked about on my podcast, Saturday Night Shoggy. I had to choose between that, my beloved the AMV Contest, which I love to vote for every year, and Katsura Sunshine, Rakugo Master Storyteller: An Authentic Rakugo Performance. I've been a fan of rakugo since the TV anime series Showa Genroku Rakugo Shinju, and Kodansha's release of the manga that came out afterwards. I've also heard a lot about Katsura Sunshine through the grapevine, and knew he's been to conventions before. Hopefully I'll have another shot some other year. I don't regret going to that screening, though, the show was good enough for me to watch to keep up with weekly.
Overall, this had to be one of the most fulfilling con experiences I've ever had! If you're interested but have yet to take the plunge, next year is looking like the year to make the trip down to Anime NYC. With confirmation of their lease now expanding to the whole venue, they'll finally be able to address the growing attendance without having to sacrifice badge sales. Hope to see you there.
---
Marion Peña is a Dominican writer based in NYC. They've been reading manga and comics since childhood, and writing/podcasting about them since 2015. If you'd like to see more of their work, all their projects are here: https://microwavey.carrd.co/