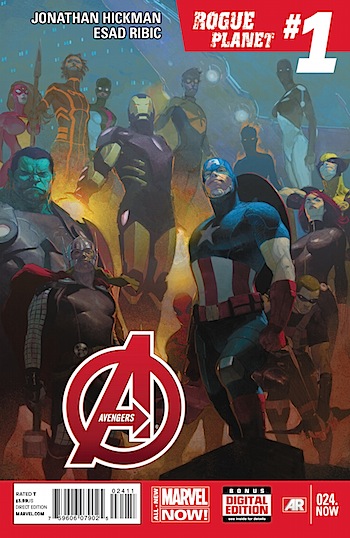 By Paul O'Brien
[Editor's Note: As noted this is Paul's last column for now. He's been an incredible collaborator and commentator, and I think we all owe him a big round of applause! And yes I know these are late — we'll have the new guys in place VERY shortly! Thanks again, Paul.]
And so the end of an era is upon us. No, I do not speak of the latest cancellation of DEFENDERS, nor even of the final OZ miniseries. As Heidi explained a little while back, this will be my final sales column, after over a decade of writing these things. Good luck to whoever takes over for this; I'll be reading with interest, and with a sense of relief that I didn't have to do the number crunching.
So. One last time!
December sees a barrage of Inhumanity tie-ins, all building to the launch of the new series that's since been delayed. We also have the start of ORIGIN II, and the first of the Marvel Now Wave 2 titles.
As per usual, Marvel had the largest share of the North American direct market, leading DC by 37% to 31% in unit terms, and 35% to 28% in dollars.
Thanks as always to ICV2.com for permission to use these figures.
1.  ORIGIN II
12/13  Origin II #1 of 5 - 131,724
Books set in the past and with no direct impact on present day continuity generally seem to be a tough sell. But ORIGIN II is the top seller of the month, presumably because Marvel have successfully portrayed it as an event – in the sense of a book fans will be talking about.