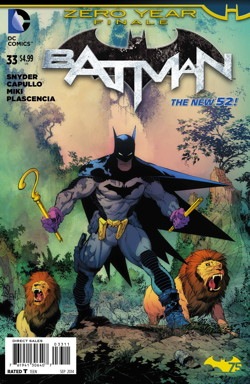 By David Carter
Greetings, sales charts fans! It's time once again to look at DC's sales figures.
The column is already running late, so I won't belabor too many points here'Ķ
July 2014 was a record-setting month in many categories for the Diamond NA-served comics market (see John Jackson Miller's analysis for the full skinny). DC shipped a whopping 83 comics this month (up from 68 in June).
As expected, the Batman 75th Anniversary covers don't do as well as the Bombshell covers did last month. Whether this is because retailers (as a group) order-ordered on the Bombshell covers and were correcting, or because there was a perceived lesser demand for the Batman covers it is hard to tell; I suspect a combination of factors. It may be several months before things settle down in the new way of ordering variants.
Despite the decline in variant cover orders, DC's overall sales were only down an average of 400 units per title, mainly due to the reappearance in July of Superman Unchained and Sandman Overture, the strong debut of Grayson, and relaunches of Teen Titans and Suicide Squad.
Warning: The commentary below may contain reasoned analysis, speculation (unfounded and otherwise), opinion, and/or snark. Those looking for a more straightforward analysis are directed to John Jackson Miller's excellent Comichron analysis, posted earlier this month right here at The Beat!
Please consider the fine print at the end of the column. Thanks to Milton Griepp and ICv2.com for the permission to use their figures. An overview of ICv2.com's estimates can be found here.
(Note that the percentage comparisons are now done with total orders including reorder activity, as opposed to initial orders as was the practice of this column under the previous administration.) [Read more…]