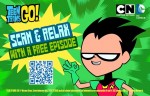 For those who don't like to be surprised about what they'll find when they arrive at San Diego for the five day time slip known as Comic-Con, a plethora of information on what you'll see and find is already out there. SPOILERS ahoy, but forewarned is forearmed.
As you may have noticed, the San Diego Public LIbrary is now a hotspot of comics-related events. I understand there'll be a whole slate of industry themed programing taking place there, but for early birds who get in Tuesday (an increasing number of people) the whole show kicks off with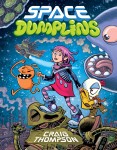 When Scholastic launched its Graphix imprint 10 years ago, graphic novels were a novelty, if you can pardon the expression, in the mainstream publishing world. And kids comics were an unknown quantity—comics shops didn't want them and bookstores didn't know what to do with them. In the first wave, there were many miscues and misunderstandings at many houses along the way. But Graphix wasn't the one making them. Granted, starting out a line with Jeff Smith's Bone is about as much a sure thing as possible—6.9 million copies in print and counting. But picking Raina Telgemeier to do a Babysitter's Club relaunch and eventually Smile, and Kazu Kibuishi to publish his Amulet series weren't as sure—but they sure paid off. Along the way Graphix has picked up multiple Eisner Award wins and nominations, a Stonewall Book Award, a Boston Globe-Horn Book Award Honor, an Edgar Allan Poe nomination, and 14 New York Times bestsellers. They've published many more top cartoonists such as Doug TenNapel, Greg Ruth, Mike Maihack and Jimmy Gownley. And there's more to come.