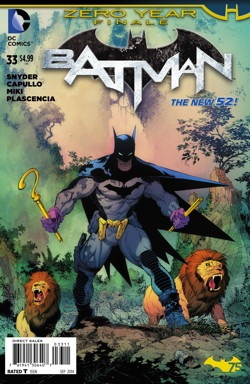 The column is already running late, so I won't belabor too many points here'Ķ
July 2014 was a record-setting month in many categories for the Diamond NA-served comics market (see John Jackson Miller's analysis for the full skinny). DC shipped a whopping 83 comics this month (up from 68 in June).
As expected, the Batman 75th Anniversary covers don't do as well as the Bombshell covers did last month. Whether this is because retailers (as a group) order-ordered on the Bombshell covers and were correcting, or because there was a perceived lesser demand for the Batman covers it is hard to tell; I suspect a combination of factors. It may be several months before things settle down in the new way of ordering variants.