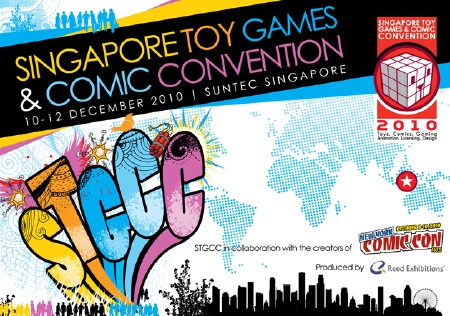 Reed Exhibitions, owner of this week's C2E2 show and the New York Comic-Con, has just announced its first foreign partnership: the Singapore Toy, Games & Comic Convention to be held December 10-12. It's quite an interesting move in many ways; Reed already runs business-to-business trade shows around the world, so the infrastructure is already there for international expansion. The move also underscores the size of the comics audience in territories that aren't necessarily known for their native comics culture, but have huge, youthful urban populations that love the pop culture aspect of the comic-con experience.
You can read the PR below, but one big question remains: Who is flying The Beat out to cover the show?


Reed Exhibitions, the world's leading organizer of trade and consumer events, has today announced that it has acquired the Singapore Toy, Games & Comic Convention (STGCC).  Launched in 2008 and owned and operated by local event planner PI Events, STGCC is a strategic fit for Reed Exhibitions, which has an existing office in Singapore, and which has consolidated a team of professionals in its North American office to work exclusively on pop culture events.  The new pop culture team will work closely with the Reed Exhibitions Singapore staff as well as maintain a strategic partnership with PI Events to stage a preeminent event in the Asian market which fits with other events in the Reed pop culture portfolio, including New York Comic Con (NYCC) and the soon to be launched Chicago Comic and Entertainment Expo (C2E2).  The last STGCC took place in August, 2009.  The next STGCC will take place from December 10-12, 2010 at the Suntec Singapore International Convention and Exhibition Centre (www.suntecsingapore.com). 
"This acquisition is the first step in our far reaching commitment to service pop culture fans all over the world by building quality events which bring enormous attention to the pop culture community, and open new markets for our exhibitors" notes Lance Fensterman, Group Vice President for the Reed Pop Culture Group.  "We want to spread the currency of cool to regions all over the planet.  We have a team in place that is wholly devoted to pop culture and which shares in the passion of the community, and we have the support of a company that is not only committed to the growth of our business, but which has offices, staff and resources around the world.  We are eager to work with our colleagues in Singapore to make the next Singapore Toys, Games & Comic Convention a massive success and a dominant show in Southeast Asia for years to come."   
Underscoring the significance of this development for the pop culture community, Kuo-Yu Liang, Vice President of Sales & Marketing for Diamond Book Distributors, the world's biggest distributor of English-language comics and pop culture products, states: "Singapore is one of our biggest export territories and it is also the gateway into the fast growing Southeast Asia and UAE markets, home to hundreds of millions of young fans who love pop culture.  The fact that Reed is making this market more accessible is fantastic.  It significantly enhances our opportunity to know our customers and to grow our business in this important part of the world."        
STGCC doubled in size at its second showing in 2009 and went from a 2 day event to a 3 day event, including a full day of conference sessions.  "While it's early to announce details of our plans for 2010 our intention is to build on what has already been successful at STGCC, while bringing in some new ideas that have worked for us on some of our other shows," Fensterman continues.  "Notably, we want to take advantage of the unique location of Singapore, being at the crossroads of Asia, and build a show with broad appeal and which combines the best of the East and the West."   
Michelle Lim, Managing Director Reed Exhibitions Singapore, says: "We are thrilled to be staging a Con in Singapore and we look forward to welcoming customers from the US.  We are confident that Asian fans will be attending STGCC to discover new pop culture brands and content.  With the emergence of a strong network of budget airlines in Asia providing affordable travel for over 500 million people in a four-hour radius from Singapore; the staging of the Youth Olympic Games in Singapore in August 2010; and the opening of two integrated resorts – Marina Bay Sands and Resort World tying up with Universal Studios this year, we expect Singapore to be a destination of choice and a top draw for many Asian markets.  STGCC will certainly provide fertile ground for US companies wanting to raise their profile and brand awareness among the fans in Asia." 
Reed's pop culture business has grown rapidly since New York Comic Con was launched in 2006.  NYCC itself has grown to become the second largest pop culture event in the world, and other major shows are being launched or have been added to the Reed pop culture portfolio through partnerships.  The pop portfolio now includes: Chicago Comic and Entertainment Expo (C2E2), PAX East & West, Star Wars Celebration V, New York Anime Festival, and UFC Fan Expo.  "We are building our presence domestically as well as internationally and the number of shows we have added to our portfolio certainly speaks to this rapid growth," Fensterman concludes.  "We will be making more announcements in the near future."