By Chris Rice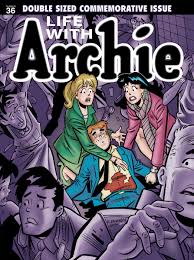 A few interesting new entries this month, headed by, of all things, The Death of Archie! That's joined by Rick Remender's new book Low, and a pair of new Doctor Who books become Titan's biggest selling comics yet. Lots of books not charting this month for reasons explained below.
Marvel went a bit bonkers this month, and seem to have released about 25-30 more titles than normal, meaning there are only 126 indie titles charting in the top 300, well down on last month's 148. Despite that, overall sales were up at 1,766,686, compared to last month's 1,624,693, so average sales this month are 14,021, a huge increase on last month's 10,977. 31 titles went up in sales and 72 went down, with the rest made up of new entries and specials.
Image are still at number one with an 8.83% dollar share and a 10.97% market share, IDW at second place with a 5.43% dollar share and 4.67% market share. Dark Horse have a 4.73% dollar share and a 4.03% market share, Dynamite have a 2.59% dollar share and 2.40% market share and Boom! have a 2.32 % dollar share and 2.14% market share.
UK and European sales from Diamond UK are not reported in this chart.
Thanks to icv2.com and Milton Griepp for permission to use these numbers, which are estimates, and can be found here.
12. The Walking Dead (Image)

07/2009: The Walking Dead #63 - 24,001
07/2010: The Walking Dead #75 - 33,079
07/2011: The Walking Dead #87 - 32,126
07/2012: The Walking Dead #100 - 388,038
07/2013: The Walking Dead #112 - 72,975

====

08/2013: The Walking Dead #113 - 70,273 (-3.7%)
09/2013: The Walking Dead #114 - 70,440 (+0.2%)
10/2013: The Walking Dead #115 - 310,584 (329,127)(+340.9%)
10/2013: The Walking Dead Tyreese Special - 40,572
10/2013: The Walking Dead #1 10th Anniversary Ed - 39,780
11/2013: The Walking Dead #116 - 69,913 (-77.5%)
11/2013: The Walking Dead #117 - 68,818 (-1.6%)
12/2013: The Walking Dead #118 - 68,020 (-1.2%)
01/2014: The Walking Dead #119 - 65,151 (-4.2%)
01/2014: The Walking Dead #120 - 65,286 (+0.2%)
02/2014: The Walking Dead #121 - 65,244 (-0.1%)
02/2014: The Walking Dead #122 - 64,810 (-0.6%)
03/2014: The Walking Dead #123 - 64,460 (-0.5%)
03/2014: The Walking Dead #124 - 64,659 (+0.3%)
04/2014: The Walking Dead #125 - 66,761 (+3.3%)
04/2014: The Walking Dead #126 - 67,853 (+1.6%)
05/2014: The Walking Dead #127 - 71,352 (+5.2%)
06/2014: The Walking Dead #128 - 74,326 (+4.2%)
07/2014: The Walking Dead #129 - 72,908 (-1.9%)
A slight drop, but still one of the stronger months for the industry's premier indie book. [Read more…]