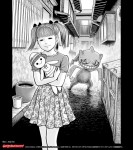 I know we've been slacking a bit with 31 Days due to the horrors of New York Comic-Con, but it's full sped ahead to the pumpkins now. And here is the best thing you will hear today, tomorrow or possibly in a lifetime: Japanese Horror master Junji Ito Is doing a Pokemon collaboration.
Yeah that's right. The creator of Uzumaki, Museum of Terror, the Long Hair in the Attic and much more, is doing POKEMON.
The news was announced in Japan as a "Collaboration," you know, like Tokidoki doing Marvel, except terrifying and unspeakable. It's called "Kowapoke," which means "Scarypoke" and a single phone wallpaper image has been released thus far. That's Banette, cute little Banette, admittedly not the nicest Pokemon, now all Kowapoke'd up. T-shirts are being given away in Japan now because life is unknowable and terrifying.