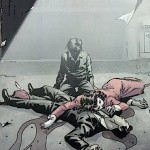 When Heidi offered her forum to me to discuss issues of diversity, I was hesitant. I admire activism, but I'm a writer and my passion is talking storytelling and character. The opportunity made me feel unsafe, like somehow I would put storytelling in danger by raising the issue of diversity within it. I realized, during a long play session of FALLOUT 4 (my chosen tool for meditation), that my safety wasn't at stake.
I was protecting my comfort.
Diversity is an uncomfortable conversation, especially on the internet. Writing popular fiction is kin to walking barefoot on hot coals. If you ignore the heat, you can make it to the other side. The moment you think about what's underneath you, the flame takes you forever.