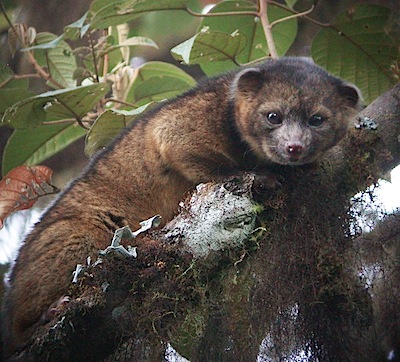 Talk about right under your nose. The National Zoo in Washington has long had specimens of an adorable creature which they thought was an Olingo. But more detailed biological investigation has revealed it is a brand new species: The Olinguito


"It's been kind of hiding in plain sight for a long time" despite its extraordinary beauty, said Kristofer Helgen, the Smithsonian's curator of mammals.
The zoo's little critter, named Ringerl, was mistaken for a sister species, the olingo. Ringerl was shipped from zoo to zoo from 1967 to 1976: Louisville, Ky., Tucson, Ariz., Salt Lake City, Washington and New York City to try to get it to breed with other olingos.
It wouldn't.
"It turns out she wasn't fussy," Helgen said. "She wasn't the right species."

A sort of adorable cat/bear/racoon-y type creature with cunning little hands, the Olinguito is a member of the Procyonidae family of the Carnivore order. This family including Raccoons (RACCOOONS ARE HOTTTTTTT), coatimundis, kinkajous, ringtails and the sweet little cacomistle of PAnama. This family is a-burstin' with adorable little critters that you want to pick up and cuddle. But don't because they are carnivores and can chomp right through bones—and fingers.
The olinguito is the first new carnivorous mammal species to be found in the Americas in 35 years. Despite all that we think we know, nature is even more unknowable.