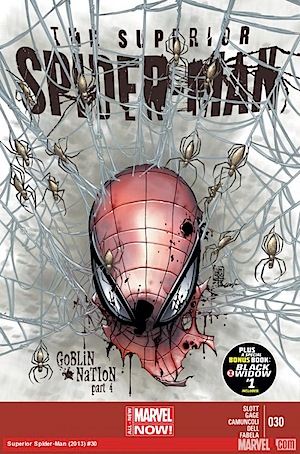 By Jason Enright
Another month of All-New Marvel Now releases is upon us. Some books end, some books relaunch, some new heroes arrive on the scene. Let's see what the numbers are telling us. First up a bit of a breakdown:
10 new #1s (not counting #1s from miniseries like Revolutionary War)
8 Avengers titles
7 X-Men titles (9 if you count X-Force and X-Factor)
10 titles that double-shipped.
Now before we get deep into the numbers, I want to point out a trend that I've been noticing, and would love to hear your thoughts on in the comments below.
So there are two types of All-New Marvel Now #1s. The first is something like Black Widow or She-Hulk, where the new #1 is a new series featuring a new or returning character and a new creative team, so basically a new book. The other is what I call the soft relaunch. They take an ongoing series with falling sales and they give it a new #1, but not much else changes, same creative team or if maybe the artists changes, the writer stays, and maybe a slight tweak on the storyline or premise. Examples of this are Secret Avengers or X-Factor.

Now the trend I have been noticing is that these soft relaunches might see the issue #1 get a big sales boost but then sales fall down very close to where it was before the reboot in the next few months. So I ask all of you fans, retailers, etc. who read this, what do you think is going on? Is the relaunch just not a big enough deal to catch reader interest? Is there not enough of a shakeup or new direction? Is this just relaunch fatigue? There have been a lot of Marvel Now relaunches. Is there just more focus and excitement on the new titles like Silver Surfer, Ms. Marvel and Moon Knight? 

So keep those thoughts and question in mind, and let's dive in to the numbers.
Thanks as always to Milton Griepp and ICV2.com for their permission to use these figures.
5,7. SUPERIOR SPIDER-MAN
03/04  Am Spi #505   –  83,612
03/09  Am Spi #588   -	 61,325
03/11  Am Spi #656   -	 59,626
03/12  Am Spi #681   -  52,143
---
03/13  Superior #5  -  94,224  (  -1.7%)
03/13  Superior #6  -  86,614  (  -8.1%)
03/13  S. S-M #6AU  -  85,807  (  -0.9%)
04/13  Superior #7  -  87,945  (  +2.5%)
04/13  Superior #8  -  85,671  (  -2.6%)
05/13  Superior #9  -  93,656  (  +9.3%)
05/13  Superior #10 -  85,346  (  -8.9%)
06/13  Superior #11 -  84,219  (  -1.3%)
06/13  Superior #12 -  82,338  (  -2.2%)
07/13  Superior #13 -  81,678  (  -0.8%)
07/13  Superior #14 -  80,839  (  -1.0%)
08/13  Superior #15 -  78,636  (  -2.7%)
08/13  Superior #16 -  78,087  (  -0.7%)
09/13  Superior #17 -  89,118  ( +14.1%)
09/13  Superior #18 -  80,178  ( -10.0%)
10/13  Superior #19 -  83,671  (  +4.4%)
10/13  Superior #20 -  85,309  (  +2.0%)
11/13  Superior #21 -  74,940  ( -12.2%)
11/13  Superior #22 -  81,250  (  +8.4%)
12/13  Superior #23 -  77,105  (  -5.1%)
12/13  Superior #24 -  76,131  (  -1.3%)
01/14  Superior #25 -  77,311  (   1.5%)
01/14  Superior #26 -  72,591  (  -6.1%)
02/14  Supr #27.Now -  86,405  (  19.0%)
02/14  Superior #28 -  75,477  ( -12.6%)
03/14  Superior #29 -  76,568  (   1.4%)
03/14  Superior #30 -  75,431  (  -1.5%)
---
6 mnth  ( -14.1%)
1 year  ( -18.7%)
2 year  (  47.0%)
3 year  (  28.4%)
5 year  (  24.9%)
10 year (  -8.4%)
Superior Spider-Man stays really strong as it heads towards its conclusion and the return of Peter Parker. The final issue should actually see a sales increase, and then rumor has it that the orders on Amazing #1 are going to be huge, like in the 500,000 range. It will be really interesting to see how much of that is hype and how much second and consecutive drop off after that. Stay tuned as we'll be watching this series very closely.
[Read more…]